Apple (NASDAQ:AAPL) has the most successful retail operation in the world on the usual measure of dollars sold per square foot. Most of this is concentrated in the USA and Europe. Yet, the company's biggest growth is coming from Asia. Population and economic growth would suggest this trend is only likely to accelerate.
The company has US$216 billion sitting offshore as of the Q4 2016 results. Putting more of this money to use by expanding retail in Asia is a very good use of funds. This can be done without significantly raising the company's capital expenditure figures. These are already forecast to rise to US$16 billion in fiscal 2017. That cost is mainly taken up by tooling/manufacturing costs and projects such as Campus 2 in California, rather than on retail.
The growth potential in Asia for Apple in general, and through retail in particular, is greater than many analysts have recognized.
Apple Retail Geographical Breakdown
Apple's full list of retail stores can be found here.
Of the 488 stores, 297 are in the USA and Canada, and 111 are in Europe. So 61% are in North America and 23% are in Europe. In 2015, the Americas in general accounted for 40.2% of revenue, and Europe for 21.5%. On that basis, one could say that North America is over-represented and Europe is about right.
In Asia, Apple has rightly focused initially on China (36 stores) and Australia (22 stores). Elsewhere, there are eight stores in Japan, six in Hong Kong, and that's it. The roll-out in China is set to continue and is important. A Shanghai store is thought to be the single busiest store anywhere. The recent gains in that market made by local smartphone manufacturers Oppo and Vivo have been achieved on the back of their strong regional sales networks. Apple's stores in the country will have doubled this year, though there will still be less stores there than there are in California.
Apple's management has expressed confidence for its next iPhone cycle. The iPhone 8 is likely to come with a curved screen, glass backing and wireless charging. Suppliers have expressed optimism there could be huge demand in the second half of 2017 for this. Forecasts that a radical redesign will boom in China in fiscal 2017 are probably correct. Apple needs a retail base which is as strong as possible to take advantage of this.
Of course, this will not just accelerate iPhone sales, but a whole retail suite. This includes the Apple Watch, computers, Home Kit products and air pods. Apple in fact has the opportunity to expand its luxury retail footprint in Asia as well. One thinks especially of signature editions of the Apple Watch. A survey by Bain & Co. supports this. Based on 2015 sales, it found that Asia now represents 31% of luxury purchases. This compares to 24% for Americans and 18% for Europeans.
For instance, when the special Premium Gold Watch was first launched, six out of the 15 first countries were in Asia. Last year, the company produced a limited edition Chinese New Year watch. This was sold in China, Singapore, Malaysia, Hong Kong and Taiwan. Beats also produced a special wireless headphone for Chinese New Year.
In September, the company introduced the special edition Apple Watch Hermes, pictured below:

This was made available immediately in China, Hong Kong, Japan, Macau, Australia, Singapore and Taiwan. It had a starting price of US$1,149. This is not high-end luxury but is quite high cost.
For luxury watches in general, China is the fastest-growing market in the world and India the third largest. Apple does not break down its Watch sales figures, but it is thought that 22% of sales are currently in China. A greater retail presence is definitely the best way to increase sales of this product, especially for the more upmarket versions.
A visual representation of store concentration is as below: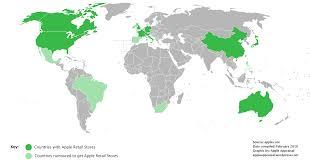 The map above also would seem to indicate that S-E Asia and South Asia are the best potential areas for future organic growth in Apple's retail footprint. The other main areas with few stores, Africa and South America, have many political and economic barriers to overcome.
The 72 stores in Asia represent 15% of the total. Yet, in 2015, revenues for Asia accounted for 38.3% of the company's total. Despite the recent slide in iPhone sales in China, Asia is likely to increase in importance for Apple year-by-year in dollar terms.
The company is moving in the right direction it seems. In Q3 2011, it had 72% of its stores in the USA. By Q2 2016, this had reduced to 55%.
Apple Retail Ethos
The company's tremendous retail success has been well documented.
The graphic below shows how successful it is on the metric of dollar sales per square foot in the USA: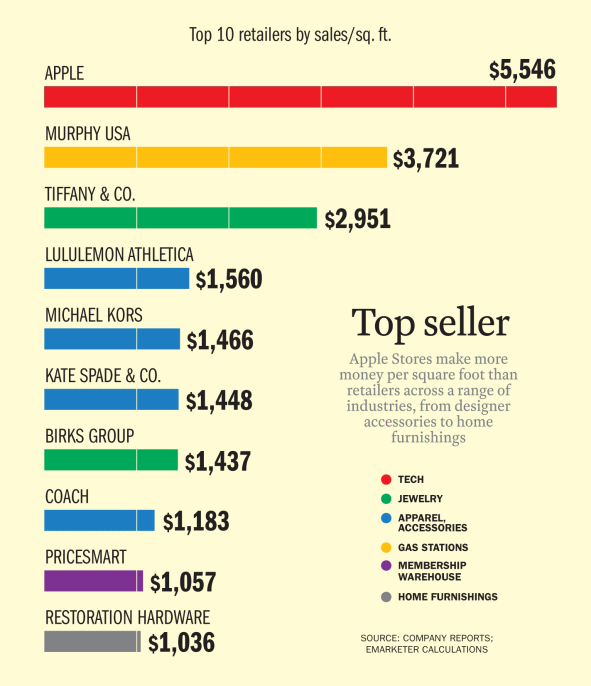 What happens next is less certain.
Apple recruited ex Burberry CEO Angela Ahrendts at great expense a couple of years ago. She recently gave details of her plans. These include a "town square" concept by which to enrich lives rather than just sell things, including lessons for children. The emphasis will be on the community. Stores will be geared to be "vibrant gathering places". There is also a new "Creative Pro" position within retail stores. These complement the Genius Bar, which is being re-flagged as "Genius Grove." Her own title has been shortened from "Senior Vice President of Retail & Online Stores" to "Senior Vice President of Retail."
These changes strike me as largely cosmetic and PR driven, but the reader can decide for himself.
Physically the stores are definitely changing under a U.S. renovation process. There is a new emphasis on wide open spaces. This was headlined in its Union Square Store in San Francisco, pictured below, with its massive 42ft glass doors.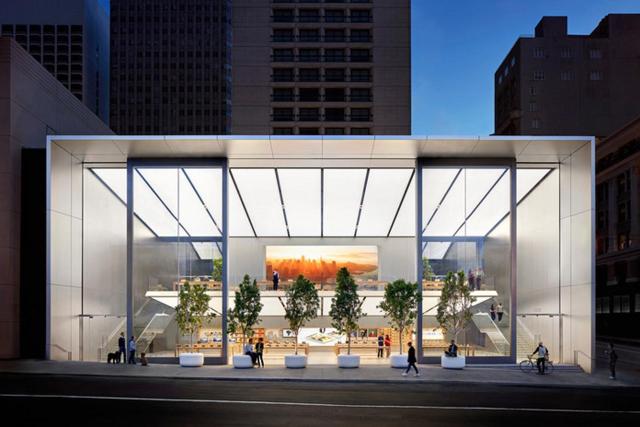 Retail Plans for Asia
The roll-out of stores in China is set to continue, and this can only be a good use of Apple's money. Elsewhere, the picture is less clear. Apple has been focusing on establishing Apple Pay around Asia as I detailed in an article some months ago. This most recently went online in Japan in October. Japan is one of the company's best markets anywhere in the world.
Shopping is well known as a pastime of choice around Asia. Yet, there is currently no retail store in many of the continent's big and more affluent cities where the Apple brand is strong and growing stronger. At the recent Q4 2016 earnings call, for instance, company executives emphasized the "very strong revenue growth" in Thailand and Vietnam.
One could cite just as an example:
Singapore (5.6 million people).
Seoul (10 million people).
Manila (12 million people).
Jakarta (10 million people).
Bangkok (8.5 million people).
Affordability will of course always be a problem, as the graphic below from iPrice confirms: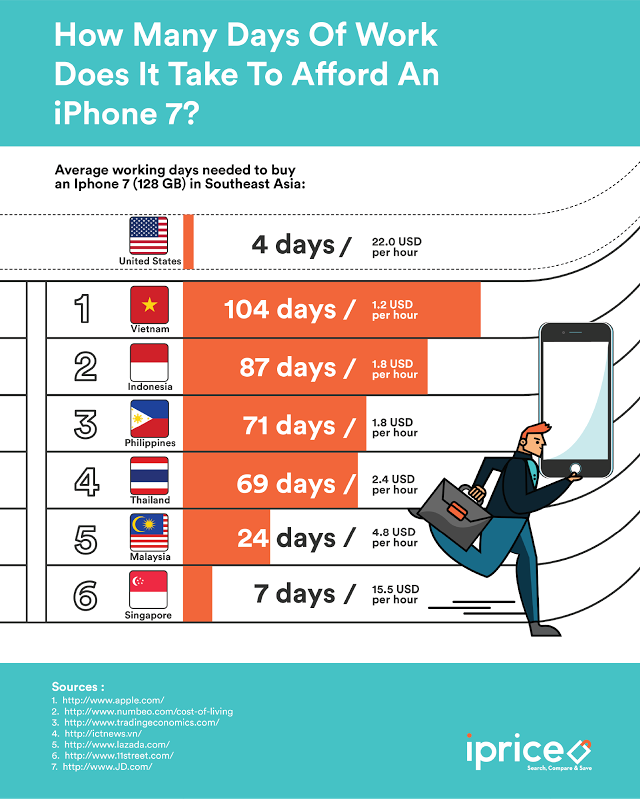 There are however less expensive options than the new iPhone 7. These include refurbished iPhones and older models which Apple keeps on, but at lower prices. The Apple SE did well upon launch in China. In fact, in China, part of the attraction for consumers is that they show they can afford an iPhone. There are limits to what price the market will bear however.
Apple's Q4 2016 year-on-year revenue comparisons came in for much negative comment from analysts. Much of this was to do with difficult comparisons from the outstanding Q4 2015. If one looks at sequential comparisons to Q3 2016 the picture is better:
China -1%
Japan +23%
Rest of Asia Pacific +13%
The retail roll-out around Asia does seem to be starting, but has been quite slow. It may well accelerate through 2017.
It is believed the first store in Seoul in Korea is planned but with no firm date. Customers there have complained about poor service from third-party retailers. Apple did well in the country when launching the iPhone 6 in 2014, but market share is reported to have declined to about 10% at present. The recent troubles of Samsung (OTC:SSNLF) would have made this an opportune time to strike in its home market. Apple Music was recently launched in Korea.
The case is similar in Singapore, where, in its early days, the company had a factory. A store was first announced in October 2015. It has no firm opening date yet, but is thought to be imminent.
In Taiwan, the company is reportedly planning a retail store, though details are not released as yet. Job listings have been posted by the company so it is probably also imminent.
Australia is a market where Apple does have a strong and successful retail presence with 22 stores in the country. It is reportedly planning a new iconic major store in Melbourne, where there are already three Apple stores. The iPhone is the biggest smartphone brand in Australia with 3.43 million units sold in 2015. Samsung is the number two brand. iOS has a 46% market share. So this could be seen as justification for the retail investment.
Of course, it is not easy for Apple to rush such stores through internationally. The company needs to get well-qualified personnel, and the stores have to be iconic and architecturally impressive.
The lack of stores has given the company reputational problems around Asia though. A recent example of this was the so-called "Staingate." This even has its own Facebook site. This is where the protective coating on certain MacBooks has been peeling off, as pictured below: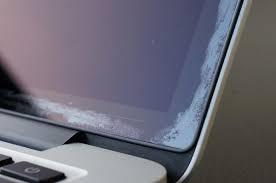 In countries where there is an Apple Store, the company has replaced the screen with no questions asked. Around Asia though re-sellers have often tried to run away from the problem. This has caused some bad publicity for the company.
In conjunction with its retail expansion plans in Asia, Apple has been looking to set up development and technical centers around the continent. It already has these in China (in Beijing and Shanghai), Japan (Yokohama) and Taiwan (Longtan). It has been in discussions with authorities in Malaysia and in Vietnam. This fits with Apple's recent increases in spending on R&D operations and property expenditures.
Apple in India
The list of countries without Apple stores leaves out the whole of the Indian sub-continent. This represents about 1.6 billion people, but where there is perhaps not the income level yet to justify many stores. Despite this, Apple has been looking at retail stores for India, but come crunching up against the country's bureaucracy.
Firstly, retail approval was turned down because the products are manufactured outside the country. Then, when Apple applied for exemption under a "state of the art" clause, it was turned down. Then it was turned down when applying to sell refurbished second-hand phones in the country. It seems India's local manufacturers successfully lobbied with the government on that issue.
Long term, it looks like Apple will be investing heavily in the country. There have been reports for some time that Apple's main manufacturing partner in Asia, Foxconn (OTC:FXCOF), would be setting up factories in the country. Apple itself has opened a technology center in Hyderabad and is planning a design and development center in Bengaluru.
Apple's iPhone has been gaining sales rapidly in India, albeit from a small base. iPhone sales were up over 50% in fiscal 2016. At the Q4 earnings call, Tim Cook cited the bullish factors. He listed the growing middle class, the young population (50% under the age of 25), and the roll-out of 4G which makes smartphones more desirable (These factors could in fact be cited in just about every country in Asia).
Recent statistics seem to give the lie to those who say Apple is not doing well in the country. A study by Counterpoint Research estimated that in October Apple got 66% market share of what it called the "premium phone" market. This was well above Samsung, the traditional market leader for upmarket phones in India.
The market for smartphones is growing at about 30% annually in India. The bureaucracy and rampant corruption in the country indicate it may be some time before an Apple store ever appears there. However, Tim Cook's recent visits to the country and investment plans there mean the company is well placed long term to replicate its success in China. Back in September 2014, my article predicted huge growth for Apple in China. There was an onslaught of responses that Apple could never make it big there, which of course have been proved to be wrong. There is no reason the same cannot happen in India, though probably at a less rapid pace than happened with China.
Conclusion
Apple's retail business accounts for 18% of the company's US$233.7 billion in sales. It is a vital part of cementing the ecosystem, providing better service, and promoting the brand.
A recent survey by JLL found that of the 20 cities in the world experiencing the fastest growth for world retail brands, 12 are in Asia. Eight of these 12 are in China. The survey also found that the fastest-growing next cities will also be in Asia. It mentioned specifically Ho Chi Minh City (Vietnam), Jakarta (Indonesia) and Bengaluru (India).
A recent report by Strategy Analytics named the next five countries where it expected rapid smartphone growth to take place. Four of these were in Asia: namely Indonesia, Thailand, the Philippines and Vietnam (the fifth was Nigeria).
In a previous article I detailed an Ogilvy & Mather survey predicting where the biggest rise in middle-class spending will occur over the next decade. These were in Pakistan, Bangladesh, Myanmar, Indonesia and the Philippines. The current population of these countries alone is 750 million amongst Asia's total of 4.3 billion.
Another survey, the annual 2016 Asia Top Brands for Consumers, found Apple the second most popular brand, behind Samsung, and ahead of Sony (NYSE:SNE).
So Apple is well positioned to get growth from secular trends in both retail growth and smartphone growth in Asia. This will be the most likely way to expand its bottom line and continue revenue growth in the next few years. An ever-increasing dollar amount in bricks and mortar around Asia to back this up would be money well spent.
Disclosure: I am/we are long AAPL.
I wrote this article myself, and it expresses my own opinions. I am not receiving compensation for it (other than from Seeking Alpha). I have no business relationship with any company whose stock is mentioned in this article.
Editor's Note: This article discusses one or more securities that do not trade on a major U.S. exchange. Please be aware of the risks associated with these stocks.