Handy & Harman (NASDAQ:HNH) is a small conglomerate. They are a collection of very profitable companies that manufacture engineered niche industrial products. I would warn readers that this is a somewhat risky investment as it is made up out of many different companies, some of them high tech. And little information is given about their business in the 10-k, with no presentations or quarterly calls. And 70% of the stock is owned by Steel Partners, who is not known for being generous to minority holders.
The business
Handy & Harman is made up out of 6 segments. Judging by their profit margins and brief descriptions in their annual report, they are not commodity businesses. They seem to have abilities that competitors do not have. For example HNH's 10-k has this to say about their Joining Materials segment:
We believe that the business unit that comprises our Joining Materials segment is the North American market leader in many of the markets that it serves.
And their Tubing segment:
We believe that the Tubing segment manufactures the world's longest continuous seamless stainless steel tubing coils, in excess of 5,000 feet, serving the petrochemical infrastructure and shipbuilding markets. In addition, we believe it is the number one supplier of small diameter (less than 3 mm) coil tubing to industry leading specifications serving the aerospace, defense and semiconductor fabrication markets.
As well as their Building Material segment:
We believe that our primary business unit in the Building Materials segment is the market leader in fasteners and accessories for commercial low-slope roofing applications and that the majority of the net sales for the segment are for the commercial construction repair and replacement market.
Those three make up the majority of their profit. Then there is their Performance Materials segment, the Kasco blades segment which creates sawing blades for the food industry and the Electronic segment which consists entirely out of the recently acquired SL industries (NYSEMKT:SLI) and their EME acquisition.
It seems they are also pretty well diversified across different markets as well:
HNH is diversified across industrial markets and customers. HNH sells to customers in the construction, electrical, electronics, transportation, utility, medical, oil and gas exploration, aerospace and defense, and food industries.
More information on the business can be found in Steel Partner's investor letter and in the SLI annual reports. Steel Partner's own 70% of Handy & Harman.
As a private investor it is a bit hard to gauge how good their business really is. Especially something high tech like their Performance Materials segment. Although looking back 10 years, it seems most of their owned companies did well even throughout 2009.
But it is hard to be confident here. How do I know as a retail investor that their high technology segments are not getting blown out of the water by a competing company? Some good faith is required here. But I think the cheap valuation makes this worth a further look.
A look at financials
I do not think this year's financials are really representative of their earning power. So let's have a look at their financials. Income statements of the past 2.5 years look like this:
It is somewhat difficult to make sense of due to all the acquisitions. So I just focused on the past 2.5 years. HNH spent $225 million on acquisitions in 2016 and a $100 million in 2015. While receiving $155 million from disposal of a business in 2015 as well.
Since YE 2014 the time line is as follows:
Sold Arlon for $155.5 million in December 2014
Acquired ITW for $27.5 million (building materials) in March 2015
Acquired JP industries for $114.5 million (performance materials) in June 2015
Increased Moduslink minority stake by $7.6 million.
In 2016 it looks as follows:
Acquired SLI or SL industries (electrical) for $162 million in June 2016
Acquired EME or Electromagnetic Enterprise Division (electrical) for $64.5 million in September 2016
Since at least part of their business is somewhat seasonal you cannot just annualize the most recent quarter. So what I did is I took earnings of the last two quarters of 2015 and the first two quarters of 2016 (a mostly acquisition free period), and that looks roughly like this:
(source: company filings)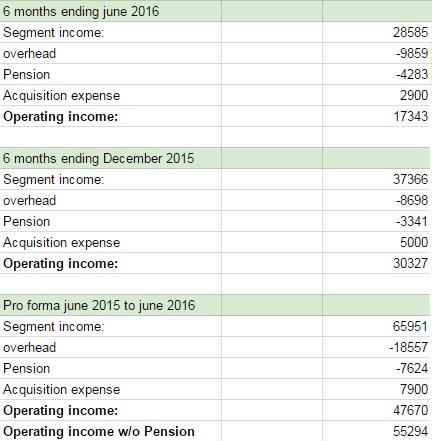 HNH had acquisition related expenses of around $10-11 million in 2015 and 2016. But I used $7.9 million in my estimate. So that would be $55 million of normalized EBIT. Since these are their numbers between June 2015 and June 2016, this number is before the following items:
The SL industries purchase in June 2016
The $64.5 million EME purchase in September 2016
Any synergies
Pension expenses
Starting with SLI first, their earnings over the past 7 years looked like this:
source: various company 10-k's)

I think it is safe to take an average of $15m of operating income here. Add that to $55 million of our above EBIT estimate, that is $70 million of EBIT before pension expenses.
As for the $64.5 million EME purchase, the company thinks their products will complement SLI. I assume a further $6 million boost to earnings here to get to $76 million of EBIT before pension expenses.
As for the expected synergies, the company seems to expect somewhere close to $30 million of synergies just from their 2015 JPI acquisition. There is only this line to go on from their 10-k:
The goodwill of $32.3 million arising from the acquisition consists largely of the synergies expected from combining the operations of HNH and JPS.
I am assuming a further $15 million of synergies for both the JPS and SLI acquisition (a very conservative estimate in my opinion).
That is $91 million of EBIT before pension expenses. The company has $300 million worth of debt as of the latest 10-Q, and it seems their revolving credit facility carries an interest rate of 3.24%. I use a 4% interest rate, or $12 million in interest. So that means a total of $79 million earnings before taxes and pension. Given that SG&A expenses just for SLI alone were $35 million in 2015, I think synergy estimate is on the low side. So $79 million is conservative.
Valuation and the pension liability
The pension liability is really the elephant in the room here. And is probably reason for concern for a lot of investors. Due to the low interest environment this liability has grown to $260 million in the most recent quarter. If added up with NCAV and debt, net liabilities would be roughly $465 million. I discounted inventories by 65% and also included their minority stakes.
Going forward their pension expense is going to be a real expense. Although in theory they could just send all their earnings to their pension liability and have it removed within 3.5 year. That would reduce net debt to $200 million 3.5 years from now. For $280 million that would get you a company doing ~$50 million in earnings with very manageable debt. Putting a 12.5x multiple on that would imply 123% upside on a conservative earnings multiple. Or a 24% annual return over a 3.5 year period.
What is much more likely of course is a continued $6-8 million pension expense going forward. The nice thing about a pension liability is that they tend to not put a company in bankruptcy. Pensioners are a lot less aggressive than bankers and bondholders. So it makes sense to bring down net debt first and postpone paying bringing down their pension liability as long as possible. Hoping for a rise in interest rates.
Assuming a $7 million annual pension charge and a 35% tax rate, earnings in 2018 would then be closer to $47 million. Applying a 12.5x multiple to that would mean a $588 million market cap against the current market cap of $280 million. Or about 110% upside.
Assuming that they squeeze out more synergies, and that seems to be Steel partner's specialty:
Steel Business System helps to increase efficiencies, eliminate waste, and improve our competitive position by using Lean Manufacturing, Design for Six Sigma, Six Sigma, Strategy Deployment and other operational efficiency initiatives. Our culture of continuous improvement is now embedded deep within our organizations, and the results show. Our competitive position and foundation for profitable growth are stronger today than ever.
Could mean another $10-15 million in earnings on top of that. Or upside of 150%.
Conclusion
Risks here are really a sudden unexplained decline in business or a takeunder by Steel Partners. They don't pay management a cash award. Instead they get paid in stock and the company pays $7-10 million in consulting fees to Steel Partners each year. And management owns a significant % of steel Partners. While only owning a relatively small % of HNH stock. If their Steel business System is really as good as they say it is this might not actually be a bad thing. But it does kind of smell.
Given that current forward earnings multiple is between 4-6x, I think investors are well rewarded for the risks involved here. I would not recommend this as a large position though.
Disclosure: I/we have no positions in any stocks mentioned, but may initiate a long position in HNH over the next 72 hours.
I wrote this article myself, and it expresses my own opinions. I am not receiving compensation for it (other than from Seeking Alpha). I have no business relationship with any company whose stock is mentioned in this article.