Company
Waltham, Massachusetts-based NeuroMetrix (NASDAQ:NURO) has restarted its S-1 registration process begun earlier in 2016, to sell $9 million in net proceeds of stock and warrant units.
The company is a commercial stage device manufacturer of wearable neuro-stimulation and neuropathy medical devices.
Shai Gozani, M.D., Ph.D. is Chairman, President and CEO and founded the firm in June 1996 as a spin-off from MIT.
Technology
NeuroMetrix has developed a family of diagnostics and more recently an improved wearable device and companion smartphone app for chronic nerve pain sufferers.
The Quell wearable is an FDA-cleared device that utilizes the company's OptiTherapy collection of technologies to better optimize the 'clinical efficacy of nerve stimulation'.
Below is a brief explainer video on the Quell chronic pain relief wearable device:
(Source: Medgadget YouTube)
NURO also sells these legacy devices and tests:
SENSUS - TENS-based prescription neurostimulation device
DPNCheck - Nerve conduction test used for diabetic peripheral and other neuropathies
ADVANCE System - Platform for proprietary nerve specific electrode array studies
Market and Competition
According to a report by GBI Research, the worldwide market for chronic pain relief will reach $35.1 billion by 2017, a CAGR of 3% from 2010.
Pain market growth is being driven primarily by growth in three submarkets: cancer pain, low back pain, and post-operative pain.
Much of the ultimate market size represents drug treatments such as Cymbalta and Lyrica.
But as users of those powerful drugs can attest, the downsides include significant side effects.
NURO's Quell nerve stimulation device potentially reduces or eliminates the need for sometimes addictive, side-effect-inducing drugs for some patients.
The company says that use of its Quell device results in a 67% 'reported decrease in pain medication use':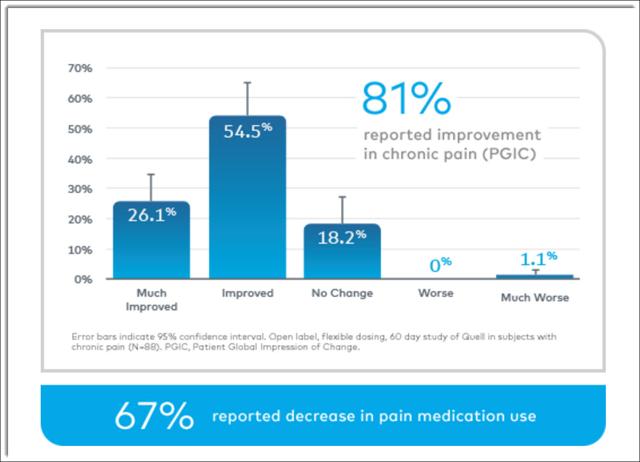 (Source: Quell Relief by NeuroMetrix)
The company's competitors in the chronic nerve pain treatment space include numerous OTC TENS device makers, which have largely commoditized the market.
In 2015 NURO launched its flagship Quell device and companion smartphone app which promises to perform an improved, optimized version of nerve stimulation using its OptiTherapy technology.
Users can control and adjust intensity from the app based on activity level, time of day and other parameters.
The device sells for $249 and is available without a prescription.
Financials
NeuroMetrix' recent financial results can be summarized as follows:
Revenue has been growing smartly with the launch of its Quell device
Gross margin has dropped from 53% to 39%
The company has used significant cash in operations
Below are the company's operational results for the three and nine months ended September 30, 2016 (Unaudited):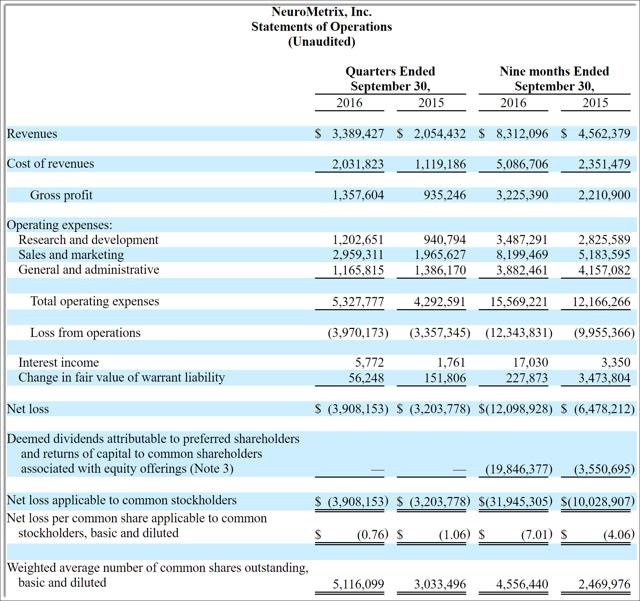 (Source: NeuroMetrix 10-Q)
Revenue
To Q3 2016: $8.3 million, 80% increase vs. prior
2015: $7.3 million, 33% increase vs. prior
2014: $5.5 million
Gross Margin
To Q3 2016: 39%
2015: 45%
2014: 53%
Cash Flow from Operations
To Q3 2016: $11.5 million cash used in operations
2015: $13 million cash used
2014: $7.7 million cash used
As of September 30, 2016, the company had $7.6 million cash in bank and current liabilities of $3.6 million. (Unaudited)
Registration Details
NURO intends to raise $30 million in gross proceeds from the offering, but will likely repurchase $19.6 million in Series D preferred stock from its major institutional shareholder as described below, leaving approximately $9 million in net proceeds to NURO after a successful offering.
The company said it will use the proceeds to fund the continued rollout of its Quell device in the U.S. and to execute on its commercialization strategy.
Notably, its major institutional shareholder Sabby Management (9.99% holder of common stock) has indicated a non-binding interest in purchasing some of the units at the public offering price.
If Sabby chooses to purchase units in the offering, the company will purchase $19.6 million in Series D convertible preferred stock from Sabby.
Commentary
The company appears to be banking its future on its flagship Quell neurostimulation device.
NURO says that its Quell system creates a 'recurring revenue stream' by selling $29 add-on electrodes that apparently wear out over time.
The company's growth strategy is to expand retail distribution, continue product development, create marketing partnerships and license the technology outside the U.S. to tap the international markets for growth potential.
I am impressed by the growth numbers for its flagship Quell device which it launched in 2015 and is now growing at a sustained 25% per quarter.
NURO reported $2.08 million in Quell sales for 3Q2016. (Source: NeuroMetrix FWP)
Quell now accounts for 59% of NURO revenues, per the 3Q2016 10-Q.
The data indicates that the device is gaining traction and moving smartly through consumer and professional channels.
Gross Margin has stabilized at 40%, after historically being 53% to 58%, so the company has taken a hit on margins with the Quell device.
I suspect that as the number of units sold increases, COGS will drop and we should see a steady increase in Gross Margin as a result.
The stock has dropped significantly since the latest updated filing on November 23 which increased proposed funding raise amount.
Investors no doubt dislike the prospect of further equity dilution.
I appreciate that, but the new funding will be used to reap the benefits of the past investment in the new device, both in the U.S. market and internationally.
Demographics are in NURO's favor, since as populations age they experience greater pain.
In my view, investors are shortsighted by selling the stock just as the Quell device is showing significant and sustained sales growth.
My opinion is that NURO is a BUY at the current price, which currently indicates a paltry Price/Sales multiple of .45x.

---
I write about IPOs, M&A, and secondary offerings. If you want to receive future articles automatically, click the +Follow link next to my name at the top of this article.
Disclosure: I am/we are long NURO.
I wrote this article myself, and it expresses my own opinions. I am not receiving compensation for it (other than from Seeking Alpha). I have no business relationship with any company whose stock is mentioned in this article.
Editor's Note: This article covers one or more stocks trading at less than $1 per share and/or with less than a $100 million market cap. Please be aware of the risks associated with these stocks.