Arrowhead Pharmaceuticals (NASDAQ:ARWR) develops therapeutics based on RNA interference ((RNAi)), a mechanism that silences (inhibits the expression of) disease-causing genes. After the closing bell on Tuesday, Arrowhead, now a micro stock (market cap of $87.01 million), announced the discontinuation of its entire clinical stage pipeline of ARC-520 and ARC-521 (for chronic hepatitis B [HBV] infection), and ARC-AAT (alpha-1 antitrypsin deficiency [AATD]). These drug candidates utilize the company's liver-targeted, intravenously (IV) administered Dynamic Polyconjugate (DPC) delivery vehicle called EX1. The only ARC-520 trial being conducted in the U.S. was the subject of a clinical hold from the Food and Drug Administration (FDA), which led to a $120 selloff that a previous article deemed overblown, since it was probable that the hold could be lifted in a few months. But new information made this scenario impossible:
The primate study that prompted the FDA action had a 9-month in-life portion, so any study aimed at determining mortality causes would have to be at least this long. When adding time to plan the study, scheduling the study with an outside company, and analysis, we would not expect actionable results in less than 18 months. Even after this long delay, the possibility remains that the study could be inconclusive or fall short of satisfying the regulators in some way. This was our fear and, in fact, an expert toxicologist advised the company just yesterday that the standard of a new study would be high and that meeting it would be very difficult.
Waiting out the hold was untenable, so this current $170 million plunge as a response to what represents a couple of years' delay in development may seem fair. However, it is not that simple.
The price action set shares back by three years.
Arrowhead is now at a valuation akin to July 2013, right after it initiated dosing in ARC-520's first Phase 1 trial. Prior to that event, the Company's pipeline looked like Figure 1. Then on August 5, 2013, Arrowhead terminated a license agreement that provided exclusive rights to develop and commercialize therapeutics based on the linear cyclodextrin drug delivery technology invented at the California Institute of Technology. The drug delivery technology platforms Cyclosert (used in CRLX-101) and RONDEL (CALAA-01) were developed based on the licensed technology. Due to the rapid and steady progress of the DPC platform and ARC-520 up to that point, Arrowhead determined to cease further investment in RONDEL and CALAA-01. The market was not bothered at all by this announcement.
Figure 1. Arrowhead's Pipeline, June 2013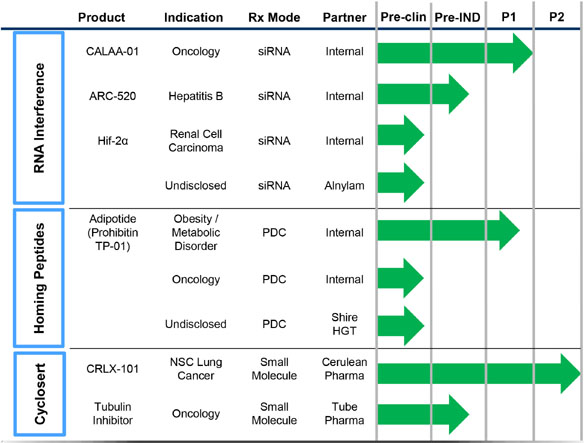 As of the latest annual report, partnerships with Alnylam (NASDAQ:ALNY), Shire (NASDAQ:SHPG), and the University of Texas MD Anderson Cancer Center (for the Adipotide peptide-drug conjugate [PDC] technology) are still ongoing. MD Anderson is enrolling 39 obese prostate cancer patients in a Phase 1 study and bears all direct costs of this trial which is scheduled to complete in May 2018. Arrowhead is obligated to commence a Phase 2 trial within 4 years (2016) and a Phase 3 trial within 7 years (2019) of approval of the Investigational New Drug (NYSE:IND) in 2012. Therefore, Arrowhead will be paying increasing fees in the range of tens of thousands up to several hundred thousand dollars to obtain yearly extensions, as it executes "a strategic redeployment of resources to support the development of RNAi therapeutics that utilize the company's new proprietary subcutaneous (subQ) and extra-hepatic delivery systems."
The obvious difference is that as of June 30, 2013, Arrowhead had $33.1 million in cash and securities, while at present, they hold $146.1 million. These current funds could reasonably be reduced by $30-40 million by the end of 2016. The company is laying off 30% of its force; this is coupled with a much-reduced burn from a lack of clinical candidates. Back in the day, total operating expenses were $7.0-$12.7 million in the 4 quarters since ARC-520 entered the clinic. So there is no danger of dilution until at least 2018.
And how has Arrowhead improved since 2013?
Arrowhead developed a subQ DPC delivery system that appears to have better stability, longer circulation times, and enables extra-hepatic targeting.
Arrowhead acquired (on March 5, 2015 for $35 million) Novartis' (NYSE:NVS) entire RNAi research and development portfolio, including patents, licenses in the RNAi field, three pre-clinical RNAi candidates, and other related assets.
Arrowhead introduced ARC-F12, a new RNAi trigger and EX1 combination (Figure 2) targeting coagulation factor 12 for the treatment of hereditary angioedema and thromboembolic diseases. Now, Arrowhead promised, "Existing preclinical subQ and extra-hepatic programs such as ARC-LPA and ARC-AMG1, which are partnered with Amgen, ARC-F12, ARC-HIF2, and other unannounced programs are not affected by this decision." What the company meant was, they had been developing the subQ formulation in parallel with the IV formulation and are close to declaring a subQ lead. Figure 2. Arrowhead Chief Scientific Officer's Oral Presentation, 17th Annual TIDES Conference, May 6, 201
As shown in Figure 2, EX1's ligand is N-acetylgalactosamine (NAG, pictured as orange balls), which specifically target asialoglycoprotein receptors on HBV-infected hepatocytes. ARC-HIF2 consists of an RNAi trigger that silences transcription factor hypoxia-inducible factor 2α (HIF-2α) and a DPC with a ligand targeting αVβ3 integrin on tumor cells for extra-hepatic delivery. Hopefully, this ligand isn't NAG.
Arrowhead discovered subQ ARC-LPA (NAG-employing construct with an RNAi trigger as sole component), which reduces production of apolipoprotein A [apo(a)], a key component of lipoprotein(a) [Lp(a)]. Lp(a) has been linked, independent of cholesterol and LDL levels, with increased risk of cardiovascular diseases. ARC-LPA achieved up to 90% knockdown of apo(a) in mice and non-human primates. This was impressive enough that Amgen (NASDAQ:AMGN) paid $35 million upfront and invested $21.5 million (3 million shares of Arrowhead common stock at $7.16 per share) to receive exclusive worldwide licenses to ARC-LPA and ARC-AMG1 (another RNAi therapy for an undisclosed genetically validated cardiovascular target). Amgen will be wholly responsible for the development and commercialization of both, including pre-IND and subsequent clinical activities.
Finally, Arrowhead is "close to declaring leads and moving toward IND-enabling studies" for HBV replacements, while subQ AAT is "not far behind".
Conclusion
Frequently, drug companies develop a lead product or two until it reaches the market, then use sales revenues to help finance the (presumably superior, or at least more convenient) follow-ons. In Arrowhead's case, management made assurances that the subQ platform would be safer. As things stand, there is much value in Arrowhead. At current share prices, the cap is below cash, and the company could be worth that and the Amgen deal alone, from which Arrowhead is eligible to receive up to $617 million in milestone payments plus single- to low double-digit sales royalties.Then there is intellectual property that Arrowhead could resell or license out. Last, but not least, Arrowhead worked rapidly and put out reliable timelines when it came to developing its named candidates, at least until they hit snags at Phase 2. They have 4 named assets now, with 3 coming soon. The company should be given the benefit of the doubt that they can at least close this week's gap within the next year as these assets should provide frequent positive catalysts.
Disclosure: I am/we are long ARWR, AMGN.
I wrote this article myself, and it expresses my own opinions. I am not receiving compensation for it (other than from Seeking Alpha). I have no business relationship with any company whose stock is mentioned in this article.
Editor's Note: This article covers one or more stocks trading at less than $1 per share and/or with less than a $100 million market cap. Please be aware of the risks associated with these stocks.