The news had been speculated about for some time, but it still hit like a bomb: legendary Starbucks (NASDAQ:SBUX) CEO Howard Schultz has changed his CEO role for that of executive chairman. Kevin Johnson, the present COO, will become Schultz's successor in the CEO chair from April 3, 2017 onwards. This could cause some panic in some investors' minds and in the SBUX stock trade. I am going to analyze if you should sell your Starbucks shares or rather buy more if the price drops.
The history of Schultz and Starbucks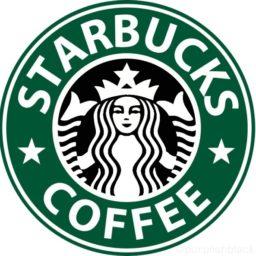 Howard Schultz is probably one of the most iconic CEOs ever. Even if you are not an investor in Starbucks, you probably know the man. The fact that he's stepping aside now as company CEO means the end of an era. I would go so far as to say Schultz alone has made Starbucks the great company that it is today.
Schultz started at Starbucks in 1982 as the director of marketing. It was he who saw on an Italian business trip that the Italian café was not just a place where they served exquisite espresso, creamy latte machiato and luscious cappuccino, but which also served as a meeting place. He tested the concept of an Italian café in a few Starbucks points and it worked very well, but the owners of Starbucks refused to roll out the concept over all the branches. Frustrated, Schultz left Starbucks in 1985 to start Il Giornale (Italian for "The Paper"), an Italian café concept.
In 1988, Schultz could take over the retail part of Starbucks and the name for $3.8M and started to grow the company aggressively. He didn't believe in franchising, so he had the overview of every single Starbucks.
In 1992, Starbucks had its IPO. Eight years later, Schultz resigned from the company because he was exhausted from growing a small café to a huge chain in only 15 years. If you had invested in Starbucks at the IPO, you had a return of 1,560% over eight years.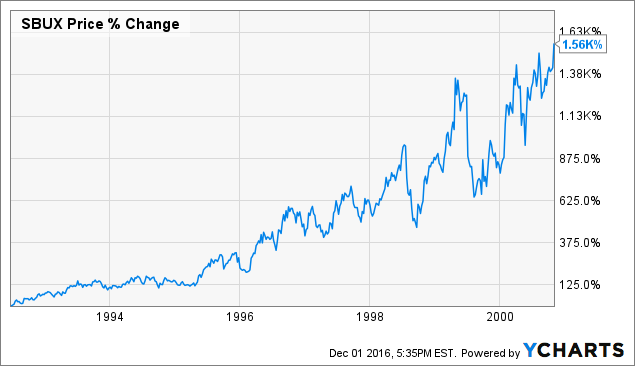 The company and the stock started to slump during Schultz's leave until he came back in 2008.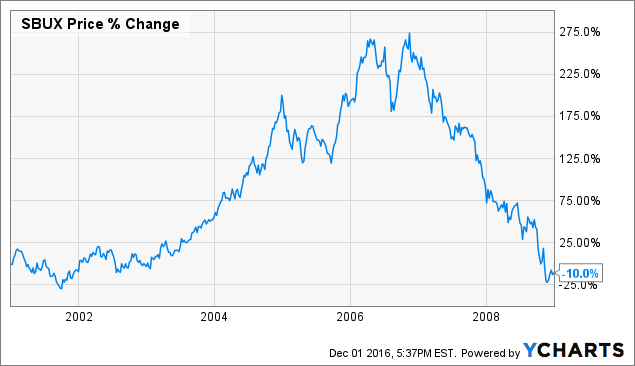 Schultz came back with a vengeance. He threw out almost all of the executives, closed unprofitable stores and went back to the core business and to growing same-store sales. This had an immediate result, and Starbucks shares went through the roof again.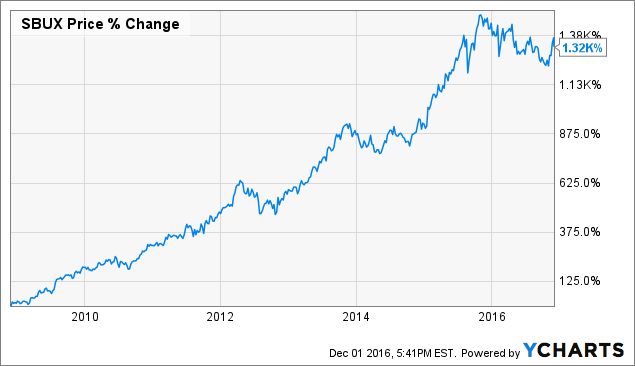 Another 1,320% gain for the stock (even without the rapidly growing dividend) was the result of Howard Schultz 2.0.
Will it be like 2000-2008 all over again?
If you know this history, it is no wonder that Starbucks shares went down after-hours after the news was announced that Howard Schultz, the icon of Starbucks, would step down as CEO of the company he has made great. The real founder of the Starbucks empire, the general that had to return to his army without direction, the guide that had to lead his sheep out of the retail swamp resigns as CEO at the age of 63. Are we going to witness the same collapse as in the eight years between 2000 and 2008? In other words, should you sell your Starbucks shares now because they could go down 10% over an eight-year time span? To answer in short: I don't think so.
The first and very important difference is that Schultz is not completely leaving now. He is going to be the executive chairman and will concentrate on Starbucks Reserve Roasteries, the newest Starbucks concept.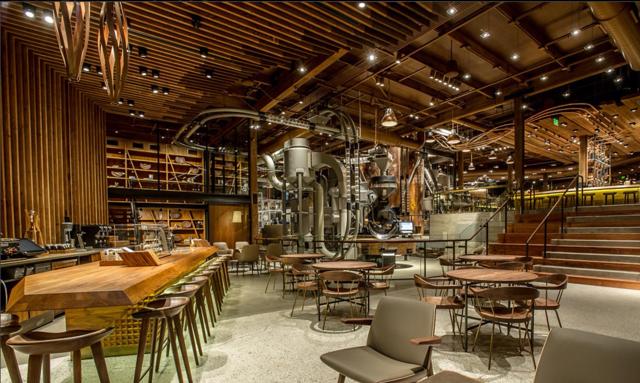 (The Seattle Starbucks Reserve Roastery. Source: Pinterest)
The new CEO will be Kevin Johnson, which is no surprise at all. There have been rumours that he would take over since the time that he joined the Starbucks management team as COO in 2015. But don't be misled by this date: Johnson has been serving in the Starbucks board of directors since 2009, so he knows the company very well.
Even more interesting: Johnson has 30 years of experience in technology, having served as the CEO of Juniper Networks (NYSE:JNPR) and the Microsoft (NASDAQ:MSFT) worldwide chief of sales and marketing. Technology will be the biggest differentiator in retail in the near future. Starbucks already has a highly appraised order and pay app, and more and more customers are using it. If this app can make the difference between going in for 20 seconds for your breakfast and coffee on the way to work versus 2 minutes in a competitor's store, it is clear which one the customer will prefer.
So, Johnson is excellently positioned to focus on the technological part of Starbucks. As COO, he was already responsible for the global business operations, the supply chain, marketing, human resources, technology and mobile and digital platforms. If there is one guy who is able to handle more customers per Starbucks store efficiently, his name is Kevin Johnson.
Besides that, I think there are big opportunities left for Johnson with all the Big Data from mobile app users. Not in a dirty way, but in a very positive one. As Schultz had a vision of a coffee chain as a meeting place to create a sense of community, there is a huge opportunity to create a technological Starbucks community that would create a sense of belonging for Starbucks customers. The company is a technology leader if you compare it to all its competitors, and with Johnson as the CEO, I expect its lead will only become bigger.
How about Schultz?
It is very reassuring that Schultz doesn't leave Starbucks, like he did in 2000. I'm quite sure he will not let his baby go down as it did after his exit. He will be there to see that it thrives. Schultz can be the visionary leader that he has always been, with keen insights and a great nose for what the consumer wants, often even before the consumer himself knows.
On the other hand, I think he will focus on something very important too. Schultz is convinced that the US is completely over-retailed. I think he is absolutely right. There are lots of retail stores, and lots of them look and feel more or less the same. And since Starbucks has been hugely successful, its concept has been imitated several times. Therefore, technological leadership is important. The consumer wants everything fast and easy.
But if that consumer does take the time to relax and enjoy, he wants something that stands out. One of the hippest terms for some years now has been authenticity. It has become a worn-out term maybe, but the concept itself is still gaining power. People want real things next to the artificial lives.
There are several trends that rooted from this principle: organic food next to fast food, warm wooden interiors next to plastic functionality, etc. Starbucks Reserve Roastery completely meets this craving for authenticity. And therefore, I think Howard Schultz could inject fresh blood in Starbucks once again. Starbucks Reserve Roastery is not a minor development - it is a huge opportunity, if handled correctly. And if there is one man who has all the capacities and experience for this, it is, of course, Schultz.
For the concept of authenticity, people are, and will be, willing to pay much more. But coffee stays coffee - the production cost will not go up. People will pay more for the experience, the interiors and the serenity of Starbucks Reserve Roastery. Premium authenticity is the way to go.
Conclusion
Even though Howard Schultz has been one of the most legendary CEOs ever, his stepping aside will not hit Starbucks, I think. As Kevin Johnson has a great technological track record and knows Starbucks very well, he will make the company's lead in technology even bigger. Schultz will still be there if Johnson wants advice, especially about the visionary part of the business, which is Schultz's greatest quality.
Schultz himself will lead the company's other very important innovation: Starbucks Reserve Roastery, which has the potential to boost earnings in the next decade because it will be a huge differentiator from other retailers and will add to the already huge pricing power of Starbucks. Again, Schultz will go back to the roots of the company and rejuvenate it. I think this two-pronged approach will bring back the old Starbucks: different from the rest, with that typical zing combination of innovation and nostalgia. If the stock falls significantly on this news, which I don't expect, I will add to my already considerable position.
If you have enjoyed this article, feel free to hit the "Follow" button for more articles with a long-term investment horizon.
In the mean time, keep growing!
Disclosure: I am/we are long SBUX.
I wrote this article myself, and it expresses my own opinions. I am not receiving compensation for it (other than from Seeking Alpha). I have no business relationship with any company whose stock is mentioned in this article.