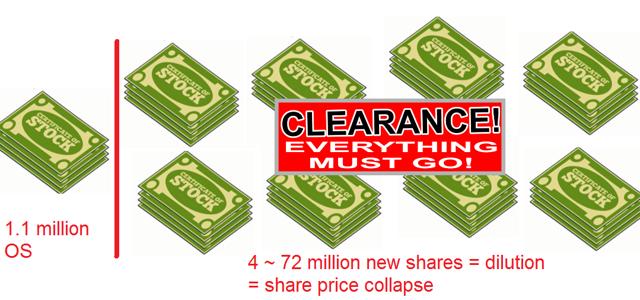 Source: Created by Author
Bull View:
DryShips (NASDAQ:DRYS) recently raised $20 million from sales of equity; they may further receive up to an aggregate of $80.0 million if all of the warrants are exercised. The company can potentially reduce its debt by about 50% from these proceeds. The Baltic Dry Index is gradually surging which it tells us that shipping activities are increasing; this will help the company to post better earnings in the coming quarters.
Baltic Dry Index 1 Year Chart: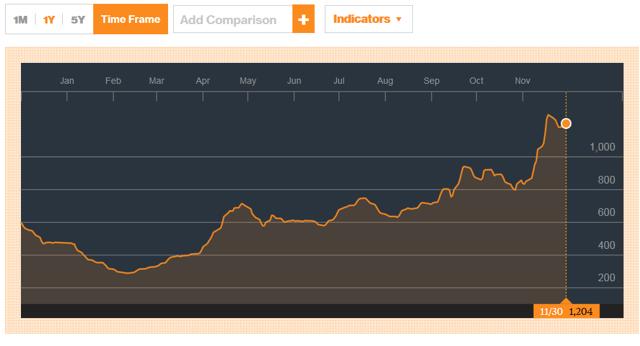 Source: Bloomberg
DryShips provided investors an update on its debt when Mr. Anthony Kandylidis, Executive Vice President and interim CFO commented as follows:
We are very excited by the commitment shown by Mr. George Economou to assist DryShips in its efforts to reach an agreement with its financing banks. With more than 90% of our debt now in the hands of our founder, it is safe to conclude that the Company is no longer in any danger from its lenders exercising any of their rights under the Company's existing defaults under their respective loan agreements. We are already in discussions with Mr. Economou to amend the Company's debt and regain compliance. In that respect, we hope to be in a position to announce further positive developments in the near future."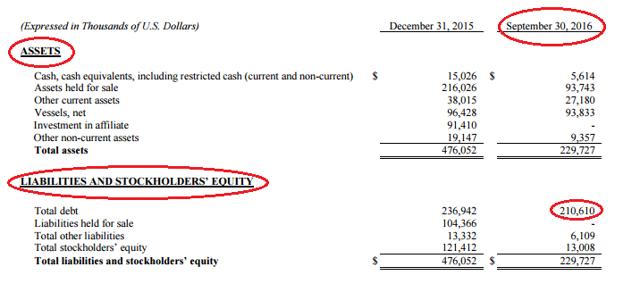 Source: DryShips 3rd Quarter Earnings Report
The company had about $230 million worth of assets versus about $211 million of debt. The book value of the company is about $13 million but the current market cap of the company is about $7 million. The bulls think that the stock is undervalued.
Book Value = Assets - Liabilities - Intangible Assets - Good Will - Patents
On November 28, 2016 the major shareholder, James Leichter, bought 100,000 shares of the business's stock at an average price of $5.81; he disclosed in the SEC filing as a 10% owner.
Bear View:
The bears think that every bit of positive news, higher share price is a bull trap. The company is in the process of issuing millions of new shares (massive dilution); the share price collapse from the dilution will be unavoidable. At the end of third quarter, the company had 1.1 million shares outstanding. Since then, the company has issued an additional seven million shares. The shares outstanding have increased by about 72% as a result of the dilution, and can be potentially increased by 6445% if all the warrants are exercised. The mathematical calculation tells us that the share price collapse will be unavoidable.
=72 million new shares - 1.1 million existing shares / 1.1 million x 100
= 6445%
The company warned shareholders about its shares dilution and the share price collapse through its SEC filing. See below:
Warrants may require us to issue a large number of common shares upon conversion and/or exercise, as applicable, which may significantly depress the trading price of our common shares and significantly dilute existing shareholders.
Source: Tradingview (notation was added by author)
A typical dilution trick: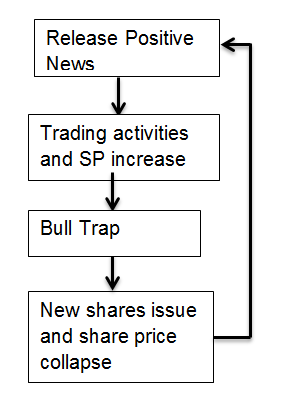 Source: Created by Author
Every spike is followed by a sell-off (positive news will push the share price higher and dilution will push the price lower).
The company also has a pending court case. The company said in its SEC filing as follows:
We cannot predict the outcome of the investigation by the Chinese Authorities of an alleged collision of the Catalina with a fishing boat. An investigation was carried out by Chinese authorities in relation to an alleged collision of the vessel Catalina with a fishing boat while enroute to Indonesia on May 7, 2016. The vessel remained detained in Ningbo, China and was released during July 2016. The legal system in China is not fully developed and has inherent uncertainties that could limit the legal protections available to us. The results of the investigation and any related proceedings could have a material adverse effect on our financial condition and operations".
Regarding CEO George E's position in the company, the bears see that there is a potential conflict of interest because the company's financing company (Sitnos) is owned by the CEO. The company said in its SEC filing that the company bears interest at a rate equal to LIBOR plus 4.00%. The CEO is benefiting from both sides (paying himself higher interest rates by raising money from the American public securities market). The CEO once said that Americans are the "dumbest investors around" in response to a question regarding his decision to raise money in the American public securities markets.
As per their SEC filing, as a foreign private issuer, they are not required to file quarterly reports on Form 10-Q or provide current reports on Form 8-K disclosing significant events within four days of their occurrence. In addition, their officers and directors are exempt from the reporting and "short-swing" profit recovery provisions of Section 16 of the Exchange Act and related rules with respect to their purchase and sales of our securities.
As per the court documents, the CEO has been involved in stock manipulation in the past.
Conclusion:
The negatives outweigh the positives. At the every bit of positive news, the share price goes up by more than 30% and sells off immediately by the share dilution (issuing of new shares). This massive dilution will push the share price close to zero. The risk is much higher than the potential reward. There is no control over insiders buying and selling, as they are a foreign private issuer and as such are exempt from filing beneficial ownership, and are not subject to the short-swing trading rules. I can't rule out possible pump and dump by the insiders.
I expect it's going to take at least six months for the dust to settle if the company is still around. I don't recommend day trading because research indicates that 80% of all day traders quit within the first two years (they lose money). Freeseas (OTCQB:FREEF) and Great Basin (NASDAQ:GBSN) are excellent examples of share dilution.
Based on my analysis, I strongly recommend avoiding this stock. I always recommend that you protect your positions with insurance (option)
Disclosure: I/we have no positions in any stocks mentioned, and no plans to initiate any positions within the next 72 hours.
I wrote this article myself, and it expresses my own opinions. I am not receiving compensation for it (other than from Seeking Alpha). I have no business relationship with any company whose stock is mentioned in this article.
Editor's Note: This article covers one or more stocks trading at less than $1 per share and/or with less than a $100 million market cap. Please be aware of the risks associated with these stocks.