Oil prices have been on a roller coaster ride since 2014. The Saudis are no longer the world's swing producer, and now a unanimous OPEC is. Saudi Arabia hasn't been a swing producer since the 80s. For those too young to remember, the 80s oil glut was difficult for SA. Oil demand in the US took a hit after the development of more fuel efficient automobiles. When demand decreased, OPEC cut. The majority was done by the Saudis. Saudi Arabia decreased production from 9 million bbls/d in 1981 to 3.1 million bbls/d in 1985. The Saudis increased production. SA wasn't able to get customers back. Most believe the lowest breakevens provide the advantage selling crude. This would be true if it weren't for contracts. Without crude to sell the Saudis hoped that prices would increase, but this did not work. Members competed with one another to sell to refiners. The result wasn't a higher oil price. Oil prices dropped to $10/bbl in March of 1986 from a peak of $32/bbl in November of 1985. The Saudi economy plummeted into recession. More importantly, it looked like a fool. The Saudis decided to discontinue its swing producer role. It doesn't work.
After a long-fought battle, OPEC has given up. It has great difficulty in controlling the market. A major miscalculation of shale economics has filled world storage tanks. Hedging, oil service costs and better well design are all reasons. It took this to make shale competitive on a global scale. At least competitive enough to become the marginal producer. Now that we are here, there is one big question. What happens next?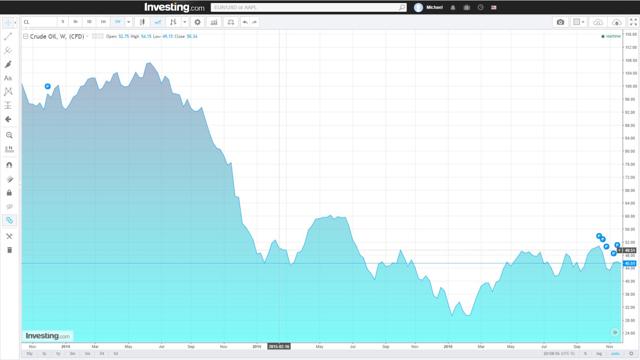 (Source: Investing.com)
The removal of Ali bin Ibrahim Al-Naimi as the Saudi Minister of Petroleum and Mineral Resources was a signal of change to world oil markets. He served from 1995 to 2016, and spear headed the move to flood the market with oil. After this failure, Khalid A. Al-Falih preceded to change how SA managed oil prices. Behind the scenes, Mohammad bin Salman Al Saud may be the most important figure. He is the reason why the oil markets should stop and take notice.
It looked like oil may be headed to new 52-weeks lows in August. We saw a dip below $40/bbl before OPEC began talking about a possible meeting. This talk uplifted oil prices past $50/bbl. Although there was significant buying during this short squeeze, producer hedges kept a lid on price. Keep in mind, this short squeeze was initiated by OPEC. US hedges have kept US producers in business, and these are an issue for OPEC. There were a significant number of producers adding hedges during the late April to early July run. These hedges guaranteed an oil price or oil price range. Here are a few examples of producers increasing hedge positions.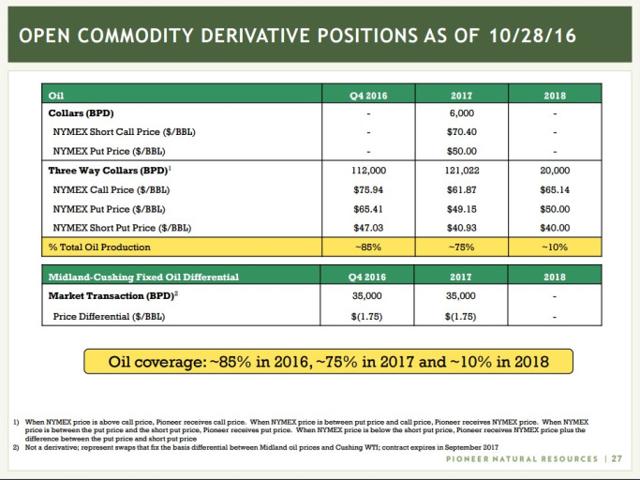 (Source: Pioneer)
Pioneer (NYSE:PXD) has focused on collars and three way collars. Those operators are better positioned if oil prices move higher.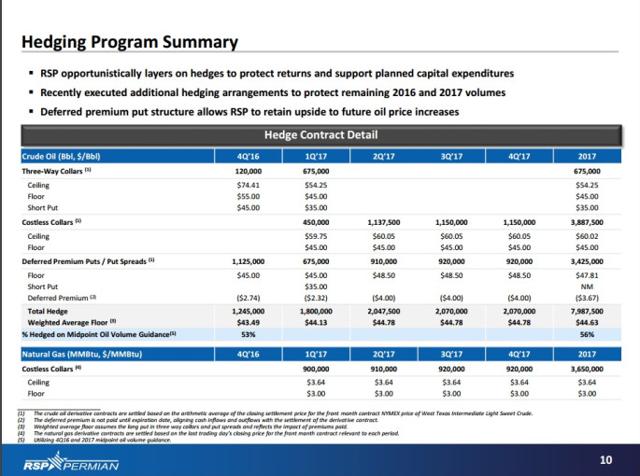 (Source: RSP Permian)
RSP Permian (NYSE:RSPP) has 53% of 4Q16 hedged and 56% of 2017 barrels. For most of next year it is positioned well if oil prices remain below $60/bbl.
Many producers have increased hedging this past quarter. Some are better hedged than in 2015.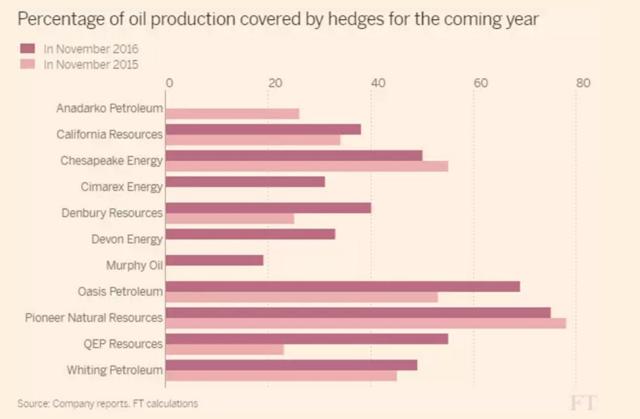 (Source: ft.com)
Anadarko (NYSE:APC), California Resources (NYSEMKT:CRC), Chesapeake (NYSE:CHK), Cimarex (NYSE:XEC), Denbury (NYSE:DNR), Devon (NYSE:DVN), Murphy (NYSE:MUR), Oasis (NYSE:OAS), Pioneer , QEP Resources (NYSE:QEP), and Whiting (NYSE:WLL) are just a few names with increased hedges.
OPEC despises market manipulations with a negative effect on prices. Oil hedging helped to keep the frac'ers in business when oil prices pulled back. This was part of the reason OPEC was wrong about the effectiveness of flooding the market. It believes the US effects oil prices in a negatively. It blames unconventional US production for today's low prices. Some of this is true, and there is no doubt it has a point, but OPEC has a motive for punishing the US oil industry. In September, OPEC agreed in principle at a meeting in Algiers to reduce output for the first time since the 2008 financial crisis. Although the details were not released, it was strung out until December. This is important, because the initial announcement pushed oil prices to $52. US E&Ps added significant hedges as seen earlier. We didn't know there was a deal until Wednesday's Vienna meeting. The time between release provided an excellent opportunity for OPEC. The release of negative statements pushed oil prices lower. Iran, Iraq and Saudi Arabia all participated. We may include Russia as well. It pushed oil prices down below $43/bbl as short positions were added. This provided an excellent opportunity for a short squeeze, and rhetoric was used until the last minute. It is possible the details weren't worked out until Wednesday, but it would seem the Saudi Big Short Squeeze was initiated to create an exaggerated move to the upside. If accomplished, oil prices could climb and hold above current hedges of US operators. If so, OPEC may have a new mandate. The production cut in concert with a Trump presidency, might continue to move the markets higher. The short squeeze continues, and institutional dollars will begin to roll into energy names over the last two weeks of this month. This leads us to believe that not only the US Oil ETF (NYSEARCA:USO) is a buy, but also the Energy Select Sector SPDR ETF (NYSEARCA:XLE) and SPDR S&P Oil & Gas Exploration & Production ETF (NYSEARCA:XOP). In the short term WTI could see resistance at $53-$54/bbl. If we get through that level, we could see $60/bbl. There is a possibility that increased US production could push prices lower. This could take some time. OPEC may cheat. It has a long history of broken promises and may continue. We won't know if anyone is lying for at least 3 months. Changes from a Trump Presidency could also decrease US production costs. All of this is very bullish for the oil industry through the end of 1Q17.
Disclosure: I am/we are long APC, DVN, RSPP, PXD, QEP, XEC, XLE, XOP, USO.
I wrote this article myself, and it expresses my own opinions. I am not receiving compensation for it (other than from Seeking Alpha). I have no business relationship with any company whose stock is mentioned in this article.
Additional disclosure: This article is limited to the dissemination of general information pertaining to its advisory services, together with access to additional investment-related information, publications, and links. Well data is provided by Welldatabase. Accordingly, the publication of articles should not be construed by any consumer and/or prospective client as a solicitation to effect, or attempt to effect transactions in securities, or the rendering of personalized investment advice for compensation, over the internet. This information is provided for guidance and information purposes only. This information is not intended to provide investment, tax, or legal advice. The information contained herein has been compiled from sources deemed reliable and it is accurate to the best of our knowledge and belief. However, I cannot guarantee its accuracy, completeness, and validity and cannot be held liable for any errors or omissions. All information contained herein should be independently verified and confirmed. Hartstreet LLC does not accept any liability for any loss or damage whatsoever caused in reliance upon such information. Readers are advised that the material contained herein should be used solely for informational purposes. Information presented is for educational purposes only and does not intend to make an offer or solicitation for the sale or purchase of any specific securities, investments, or investment strategies. Investments involve risk and unless otherwise stated, are not guaranteed. Be sure to first consult with a qualified financial adviser and/or tax professional before implementing any strategy discussed herein. Welldatabase.com provided the data for this article.