Euro continues to slide as Italy goes to polls
I wrote an article in late July of this year predicting a Euro (NYSEARCA:FXE) slide and an eventual drop to 80c against the U.S. dollar. The Euro has since moved 5% lower as we await the next catalyst for a sharp move lower.
It is unlikely that Italy will really shake the tree as that outcome may be largely priced-in after the shocks of Brexit and Trump however a vote against Renzi against a rocky political backdrop could see us move further towards a test of parity.
Sunday's vote in Italy is a vote on political reform, yet the key factor is that Prime Minister, Matteo Renzi, has pledged to resign in the event of a no vote. This would lead to fresh elections and a possible win for the rising Five Star Party, led by the mercurial Beppe Grillo. Mr Grillo has previously voiced his plans for a referendum to leave the Eurozone.
Further political turmoil expected in 2017
More important to the future direction of the Euro are the upcoming elections in France and Germany in 2017.
In France, the right wing Marine Le Pen is said to be running at 34% of the vote against the Francois Fillon's 66%. This is a large margin-of-safety however, as we saw with Trump, six months is a long time in politics and polls have been failing in every important vote of late. Both the Brexit vote and the U.S. election were largely affected by the stirring of an anti-establishment, disenfranchised vote who are likely out of the pollsters usual demographic. Any downturn in the French or Eurozone economy in early 2017 could swing these elections hugely.
In Germany, Angela Merkel currently languishes in third place. It's not impossible that Europe's three largest economies could be led by anti-Euro parties as the British continue to negotiate their exit.
Euro economy still struggling
As we head into this toxic political background for the Euro, the Euro area needs a strong economic picture to avert any protest-style voting. This is not the case however, as GDP growth continues to fall and the inflation is on the rise.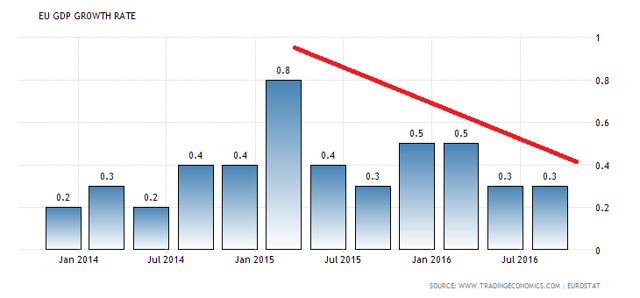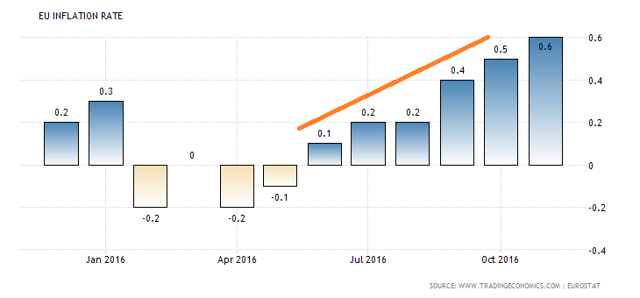 Could Donald Trump the Euro?
As new U.S. President, Donald Trump settles into the Oval Office and selects his team, his real strategic moves will happen once this is in place.
His muted cut in corporation tax could bring trillions of dollars (NYSEARCA:UUP) home from their European shells and this could be another nail in the Euro's coffin as the dollar continues its recent bullish run.
Conclusion
The Euro has continued its predicted slide and the real fireworks lie ahead for this currency as the troubles just continue to stack up for the Eurozone. Look for the test of parity if Italy votes against the political reforms and a descent into mid-2017 if the two key elections see a widening of the gap in Germany, or a closing of the gap in France. Prediction for is 80.
Disclosure: I am/we are short FXE.
I wrote this article myself, and it expresses my own opinions. I am not receiving compensation for it (other than from Seeking Alpha). I have no business relationship with any company whose stock is mentioned in this article.