With the agreement between OPEC and non-OPEC members on oil production cuts, crude oil is surging. However, it's also important to reevaluate the areas of risk and resistance in the market.
This article is a risk analysis, and since I'm not a financial advisor, I'm not making a specific buy or sell recommendation.
If you read my earlier article analyzing crude oil charts, I highlighted areas of risk that could lead to a correction in oil as well as what to look for if a rally ensues.
You can find that article here: Why Crude Oil Is In Danger Of Correcting.
With the current rally and for those invested in crude like The United States Oil ETF, LP (NYSEARCA:USO), it's important to reevaluate and identify the topside risks to crude oil prices.
News of the OPEC meeting:
With the production cut agreement, crude oil has surged in a knee-jerk reaction and is seen; at least on the surface; as good for oil producers and crude oil bulls.
"The economics of the deal are "incredibly appealing," Jeff Currie, global head of commodities research at Goldman Sachs Group Inc., said in an interview with Bloomberg Television. The main aim of the cuts is "inventory normalization," he said." - Bloomberg.
Are we really getting a cut in production?
Or did some OPEC members and non-members talk-up cuts; thus spiking prices; while boosting production to all-time levels?
Both Saudi Arabia and Russia bolstered production leading up to the meeting while advocating publicly for cuts in production.
"Saudi Arabia, which raised oil production to a record this year, will reduce output by 486,000 barrels a day to 10.058 million a day, an OPEC document shows." - Bloomberg
"Russia's output increased by 520,000 barrels a day between the end of August and the end of October, reaching an absolute record level." - Bloomberg
If prices continue to surge, break $52 and hold; Russia and Saudi Arabia will likely earn a substantial amount in oil revenues; given they have both boosted production over the past few months. However, oil prices may come down on any news of a lack of commitment to the execution of the cuts. And if prices start to drop, Russia may back out of the deal.
In other words, what Saudi Arabia and Russia have done is analogous to a retail store jacking up prices before Black Friday while trying to sell you that they're having a 20% off sale.
Don't forget the U.S.
Although the U.S. is producing 1mm bpd less over the past year, production over the last month has increased. And if U.S. production goes up as prices surge, crude oil will face topside resistance.
Daily Chart of Crude Oil: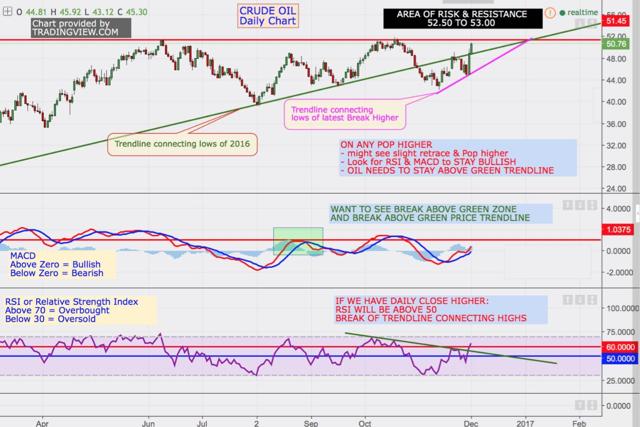 Good news for the Bulls, RSI on the daily chart (bottom section) broke through the resistance trendline connecting the recent highs. The break could lead to RSI approaching 70 which is a good indication that there's more room for this rally to run.
MACD on the daily charts has NOT yet crossed into bullish territory (above zero). However, it's still early in the rally, and MACD is a lagging indicator.
For oil to sustain the rally, we want to see crude stay above the green trendline which connects the 2016 lows.
Caution: Now that we've broken the green resistance trendline higher, watch for any pullback to the green line in an effort to test the validity of the move. For oil to remain bullish, look for a bounce off the green line (as support) and resume higher.
Areas of risk & resistance on the 4-Hour chart: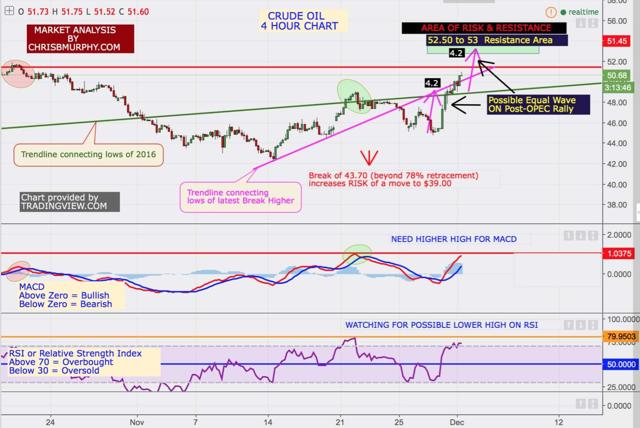 On the 4-hour chart, RSI has broken 70 and is in overbought territory. The market can still move higher, however, look for lower highs on RSI (below the orange line) on any pullback or on any oil rally.
A lower high on RSI while crude oil is rising would signal waning momentum putting the bull run at risk.
If oil breaks $52, look for MACD to break above its prior high (highlighted in green) for the rally to have sustaining momentum.
Equal wave: In looking at the pink arrows, sometimes, (not always) the market stalls in areas of resistance following the completion of two equal waves of price action.
An equal wave completion of $4.2 in crude oil would translate to the $52.50 to 53.00 area as being the next area of resistance.
If crude oil hits the resistance area and begins to falter, we may pullback and trade sideways.
Any pullback following a surge to $52 or $53; would allow the market to digest the validity of the recent surge in price and the likelihood of the execution of production cuts; as well as any economic and political ramifications.
As a result, we too should reevaluate the charts during any pause, to determine if there's any more left in the tank for the current spike higher.
Good luck.
Disclosure: I/we have no positions in any stocks mentioned, and no plans to initiate any positions within the next 72 hours.
I wrote this article myself, and it expresses my own opinions. I am not receiving compensation for it (other than from Seeking Alpha). I have no business relationship with any company whose stock is mentioned in this article.