Executive Summary:
Trivago has filed for an IPO on the Nasdaq.
Expedia (EXPE) bought a 61.6% stake in Trivago in 2013 for $632M. Expedia has stated that it will continue to hold its stake in Trivago post-IPO.
A comparable valuation suggests that Trivago may be valued somewhere $3-5B. Considering that EXPE will hold a 61.6% stake, it will make a decent return on its investment.
EXPE has always been on a shopping spree scouting for the next innovation in the travel industry. Some of its investments will pay off, others may not pay off as much. Can we unlock the potential in the travel industry by investing in Expedia?
About the company, Expedia:
Expedia is an American travel company headquartered in Bellevue, Washington. It is a leading provider of branded online travel services for leisure and business travelers. It uses the award-winning Expert Searching and Pricing - ESP - technology to deliver the most comprehensive flight options available online, allow customers to dynamically build complete trips that combine flights, Expedia Special Rate hotels and other lodging, ground transportation, and destination activities. Expedia has over the years partnered and owned a lot of global brands to bring in this package booking functionality.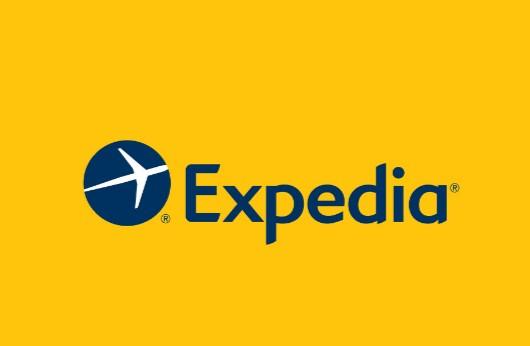 On a side note, an interesting fact which many of us may not know is that Expedia was initially founded as a division of Microsoft (MSFT) in October 1996. Shortly after, in 1999, it was spun off from MSFT and filed for its own IPO raising $72.8M. I also read this short story behind the name, Expedia. Richard Barton, who was the original CEO and who had pitched the idea for online travel business to Bill Gates, initially had considered naming this company as "Microsoft Travel" but later changed it to Expedia from the combination of words "exploration" and "speed."
A quick look at the financials and service offerings :
Expedia locked in sales of $6.7B for the year ended December 2015 and $1.9B, $2.2B and $2.5B for each of the three quarters in 2016. The company has reported an increasing revenue YoY for the past 9 out of 10 years.
The service offerings as per the latest Q3 2016 results are as follows:
· Hotel rooms (63% of revenue)
· Vacation rentals (8% of revenue)
· Air tickets (8% of revenue)
· Rental cars, cruises and others (12%of revenue)
· Advertising revenue (9% of revenue)
Expedia's acquisition spree:
Why is Expedia investing in so many brands?
Over the years, Expedia has built a leading network of online travel services, which has driven a strong user base. As Internet dramatically started changing the way that consumers and businesses communicate, Expedia was quick enough to catch on the new emerging trends. EXPE has always been on a shopping spree scouting for the next innovation in the travel industry. It owns, partners and operates several international global online travel brands including Hotels.com, Hotwire.com, Trivago, Travelocity, Orbitz and HomeAway.
Expedia has invested in several brands. Some of them are: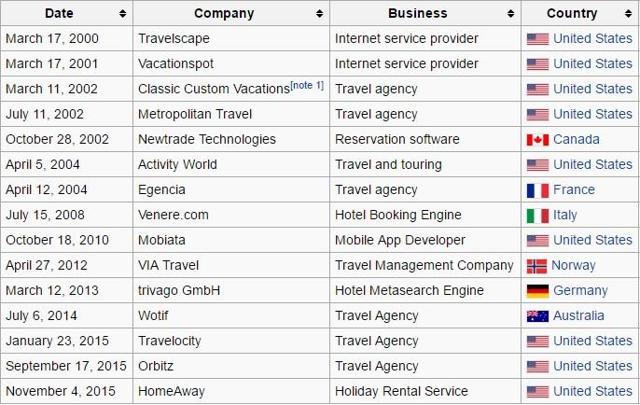 Expedia's companies operate more than 100 branded points of sale in more than 60 countries. It also powers travel bookings for over 10,000 partners such as airlines and hotels, consumer brands, and high traffic websites through Expedia Affiliate Network.
Expedia has done a great job by leveraging its technology and marketing and investing in the latest innovations.
What does Trivago IPO mean for Expedia?
Trivago, which is a fast growing hotel booking platform, recently decided to file for an IPO. Expedia had paid $632M for a 61.6% ownership stake in Trivago in 2013 with a plan to expand its geographical reach in Europe, and this plan definitely worked well for EXPE. Although we do not know the valuation of the Trivago IPO as of now, it is estimated that Trivago would be valued somewhere between $3 and $5B. This is based on a comparable valuation of TripAdvisor (TRIP). TRIP is currently trading at a Price/Sales ratio of 5. As per F-1 filed with SEC, Trivago has generated a revenue of $657M till Q3 2016 which is already 60% over its 2015 revenue. Its revenues are expected to reach a target of around $1B in 2017. Considering a Price/ Sales ratio of 5, Trivago can be valued at around $5B. Expedia's 61.6% stake would make it a little more than $3B. Even if Travigo is valued a little lower, say at $4B, Expedia's stake would still be around $2.4B. A valuation of $4B would mean that Expedia would have earned a 2.8 times return on investment in less than 4 years and a valuation of $5B would mean a return of around 3.7 times on its initial investment. This means that Travigo has definitely been a profitable investment for Expedia.
What about Expedia's other acquisitions?
When Expedia paid $3.9B for vacation rental website HomeAway in 2015, $280M for Travelocity and another $1.38B for Orbitz.com in 2015, there had been several concerns in the market. However, Expedia's CEO was very confident about these deals as being very strategic for the company.
As per Dara Khosrowshahi, Expedia's President and CEO,
This acquisition will allow us to deliver best-in-class experiences to an even wider set of travelers all over the world"
Orbitz merger has helped the company with some cost savings and also to compete with its rival, The Priceline Group (PCLN). HomeAway, an Airbnb (AIRB) competitor, is likely to be a huge win-win for the company and its consumers. With Airbnb currently being valued at $30B, who knows what could be the future valuation of HomeAway?
Current valuation of Expedia
Expedia reported a revenue of $6.6B as of 2015 and a YoY growth of 15%. The net margin increased from 6.11% in 2014 to 11.46% in 2015. The return on equity is at a healthy rate of 23% and return on capital invested is at 14.6%. The debt is on the higher side with the current ratio being 0.5 and the debt/equity ratio 0.66. However, the company is able to sustain these debt levels currently.
The current P/E ratio is 108.8 which is quite high. However, the forward P/E ratio is 19.5 which seems to be quite reasonable for the company. The PEG ratio is 1.2 and Price/ Sales ratio is 2.2. So the current valuations suggest that though the company is not very cheap, it is not overly priced as well considering all the financial factors.
Investor Takeaway - What do Trivago valuations tell us about Expedia valuations?
Expedia is maintaining its leadership position by leveraging its technology and brand name and through acquisitions to keep up with the changes in its industry. Some of the acquisitions may seem to be overpriced than others. Some acquisitions may also fail, incurring a loss to the company. However, with a diversification all across the travel industry, some acquisitions are bound to return a hefty payback. If you build this intangible factor into the company's valuation, Expedia seems to be a very reasonable buy even at the current price. Can we unlock this potential in the travel industry by investing in Expedia?
Disclosure: I/we have no positions in any stocks mentioned, and no plans to initiate any positions within the next 72 hours. I wrote this article myself, and it expresses my own opinions. I am not receiving compensation for it (other than from Seeking Alpha). I have no business relationship with any company whose stock is mentioned in this article.