Dear Followers/Readers,
First of all, I would like to thank you for your continued interest in my work and I hope you are getting value out of my research!
In order to increase the latter, in August I introduced a monthly review of all of the tickers that I am actively covering, alongside my initial thoughts about the stocks. I think this can be beneficial for the following reasons:
Learning exercise - I will primarily focus on stocks where my initial thesis was wrong. I will try to understand why, how to prevent this from happening in the future and what should one do about this fact.
Increased frequency of thesis updates - This will be beneficial for people who are following specific tickers and might be interested in the latest developments that are not necessarily asking for a full-blown update.
Creating a database - It is always fun, to look back and either laugh about failures or cheer about winners.
I am doing so through the following simple table, which I publish at the end of each month.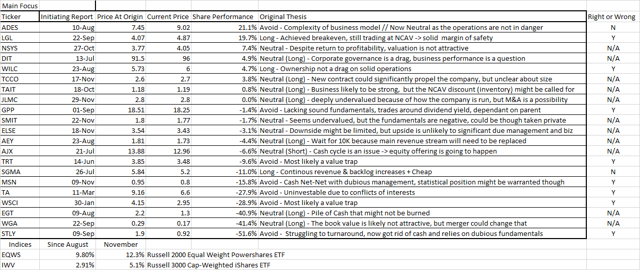 Notes: The price at the origin is the opening price on the date of the first publication and the current price is the closing price on the last trading day of the month. The original thesis that is labeled Neutral (LONG) is a thesis where I have a positive view on the stock, but for whatever reason I do not believe it the right time to buy. The same goes for Neutral (Short). I do not judge neutral ratings unless the share price movement is significant and I missed an opportunity to be on the right side of the trade. This is slightly subjective. Feel free to address any neutral rating that you believe I got wrong.
Last month I also added two indices that can be used to 'benchmark' the performance of the covered stocks. I chose Russell 2000 due to its small-cap bias and Russell 3000 in order to track the overall market.
During the reviews I will not be talking about every stock, but rather ones that I started to cover in the past month, the ones I am wrong about, or that are undergoing significant developments.
November Highlights:
Advanced Emissions Solutions (NASDAQ:ADES)
I am more or less continuously wrong on this clean coal company regarding performance, but I believe that the stock price went up due to overall market sentiment and not because of fundamental change in the business (although the company did slightly raise its forecast for the future cash flows).
As outlined in my latest update, I believe that the future cash flow that the company is forecasting is likely to be around the current market cap of the stock. This could change, should the company sign up new tax equity investors or the business would be able to slash its operational cost and/or improve its EC segment. I would, therefore, say that I am now neutral on the stock rather than that I would recommend investors to avoid it as explained in my update.
I am also wrong on this small semiconductor which lost all the gains that it made in September after it reported a quarter that slightly negated parts of my initial thesis (revenue increase). I believe, though, that one should see what the next results will look like in order to decide if the sell-off was warranted. The fluctuation of the share price in the last two months was not significant as there was no new fundamental information.
Technical Communications Corp. (NASDAQ:TCCO)
Turning to newly covered stocks, this manufacturer of voice encrypted radios (mainly for military use) could be the most promising of them. The company recently announced an order from a long-time customer that won a major contract from the US government. If the past is any indication of future regarding the order size, etc., it could mean that TCCO could start earning significant revenue in the next three years or so.
That being said, the company has significant fixed costs that it does not seem to be able to cut and therefore it might need at least $16 million from the contract to break even in the next three years. Although given that the past order size was $26 million, it could be that the company might create free cash flow.
Schmitt Industries (NASDAQ:SMIT)
This niche manufacturer of balancers and measurement lasers is now trading below its NCAV value, which might be attractive. But I believe that the company's operations are unable to turn a profit due to an inability to increase gross margins, grow its revenues and cut its operational cost base. Therefore, the stock might continue to languish unless there is a significant change.
That being said, there is a potential for 'hidden assets' here as the company is now selling a portion of its real-estate holdings, which could yield a substantial amount of cash. The company's book value could also get a boost from this as it holds two other buildings at around $1.9 million on its balance sheet, but which could yield around $8-9 million if sold at similar prices to the one that is on sale now. This would then materially change the valuation. The new CEO could also take the company private in order to save costs.
This is my first ever OTC stock that I covered. From now on, I will focus mostly on OTC with the listed space being on the side. I believe that OTC land is the best to look at for the 'deep value' style, because one can enhance the probability of finding truly undervalued, misunderstood and overlooked stocks.
JLMC, a bridal wear company, is undervalued as it trades at a significant discount to its NCAV value. But the realization of this value is uncertain and as the fundamentals are now faltering, share price appreciation might not occur. One of the easiest ways for the company to realize its value is to sell itself, but the CEO (who founded the company) might not want to relinquish his position yet and therefore only a statistical position in the stock might be warranted. Should M&A come through, the upside can easily be 100%+.
Electro-Sensors (NASDAQ:ELSE)
This niche manufacturer of switches, sensors and other monitoring products might seem like an interesting investment as it trades closely to its tangible book value and its NCAV value. I believe though that behind the recent share price downturn, which created this valuation, could be a change in the fundamental outlook of the business. The company is now struggling to return to its stable profitability seen prior to 2013/14 and is facing volatile operational results, partially due to the acquisition of HazardPRO in 2014.
While this might change in the short term, the company also has a long-term issue, and that is cash flow generation which has been declining ever since the financial crisis. The management is also unlikely to be held accountable as ELSE is a controlled company. Due to all this, it is not clear if the company is indeed showing potential upside.
Emerson Radio (NYSEMKT:MSN)
The last new stock is a manufacturer of microwaves and other home appliances that might seem appealing to investors due to its valuation, as it is a cash net-net that is trading deeply below its NCAV value. I believe though there are two main factors that one needs to consider,
The managerial incentives are likely to be stacked against the minority shareholders. The CEO has a history of self-dealing and MSN is most likely being used as a vehicle for insiders to compensate themselves. The board of directors, for example, receives almost $1 million per annum, which is troublesome for such a small company.
Especially when the fundamentals are so bleak. The company's products are being rejected by wholesalers and MSN has not been able to stop the shrinkage of its revenue streams. I would not say that there are many opportunities for this to change. So far the burn rate is low but will accelerate in 2017.
Thus, I would say that it is better to avoid MSN. A statistical position might be warranted, but the odds of receiving a portion of the cash are not clear yet.
Stanley Furniture (NASDAQ:STLY)
This furniture company kept on declining after its latest quarterly results that have shown that the company is unable to increase production in its Vietnam facility. This issue is present for almost 9 months now and seriously hampers the company's operations. As the brand value is likely to be low and the company is running out of options, should the next quarter continue in similar fashion further downside is likely to materialize.
That being said, as the valuation is now significantly depressed and as there are activist investors present, it might mean that the company could get bought out. Although it is uncertain for how much due to the fundamental issues as I point out in the latest update on the stock.
AG&E Holdings (NYSEMKT:WGA)
This casino servicing company voluntarily delisted itself in order to save costs. It is currently undergoing a merger, which could significantly help the company's fundamentals. Now that the valuation is even more depressed it could be interesting to follow the stock into the OTC land. I will update this stock if the merger is successfully consummated.
Entertainment Gaming Asia (NYSEMKT:EGT)
While the stock is down over 40%, the thesis holds. The stock is trading below NCAV, but the company lacks formidable business plan going forward, and therefore, the cash might be burned. If the company finds new revenue streams without significant cash burn, it might be a worthwhile investment opportunity, but so far the management did not mention anything new.
What would normally follow would be a table of stocks that I am not going to cover actively anymore due to the fact that the thesis played out or I was wrong and I failed to catch or understand the investment opportunity that might have been in the stock. I do not have any such stock to 'discontinue.'
Once again, thank you for reading my research!
Best,
Jan
P.S. Please do let me know if you think that the way I present the review is missing something.
Disclosure: I am/we are long SGMA.
I wrote this article myself, and it expresses my own opinions. I am not receiving compensation for it (other than from Seeking Alpha). I have no business relationship with any company whose stock is mentioned in this article.
Editor's Note: This article covers one or more stocks trading at less than $1 per share and/or with less than a $100 million market cap. Please be aware of the risks associated with these stocks.