Italy's constitutional referendum will be held on December 4. Much has been made of just how disastrous a no vote on constitutional reforms will be. It is thought that Italy's prime minister Mateo Renzi will likely resign if the referendum does not pass, which is what many fear will be the beginning of the path of Italy's exit from the Euro currency, although perhaps not an exit from the EU.
It is certainly possible that Renzi's resignation could result in a new election yielding an anti Euro currency coalition in power, led by the rising anti-establishment Five Star Party. It has been consistently scoring impressive most popular choice results in recent polls, although it does not seem to be able to get more than a third of support. Other parties such as the Nortern League could potentially provide the votes needed to force a referendum on the issue. The referendum would only have consultative power, because Italy's laws do not allow for referendums to be a decisional mechanism for international agreements. It would however allow for a mandate to the elected leaders of Italy to pursue the exit from the common currency.
Based on polls, which we can no longer take at face value it seems, given Brexit and Trump's unexpected victory, the odds of the Five Star Party and Northern League earning enough votes to form a majority are less than 50/50. Furthermore, it seems that a majority of Italians do support the single Euro currency. It is true that a referendum loss as well as other intervening events may further shift public opinion in favor of less EU. But at this moment, a defeat of the referendum on constitutional reforms by no means leads to an automatic move for a divorce from the Euro.
The biggest danger from a no vote in the referendum would come from the markets. Italy has a number of banks that are in deep trouble. There is a 5 billion Euro rescue fund which was set up by stronger Italian banks, together with other institutions. Problem is however that investors into the fund may pull out of the deal, if they perceive their partnership with the government to be in jeopardy due to political instability. A disorderly collapse of some of Italy's weakest banks, burdened by a high rate of non-performing loans on their books may trigger a wider Italian and European financial crisis. It could also trigger a political crisis if Italy's government will decide to go ahead and rescue the failing banks, in defiance of current EU rules, which prohibit a direct taxpayer-funded bailout of banks.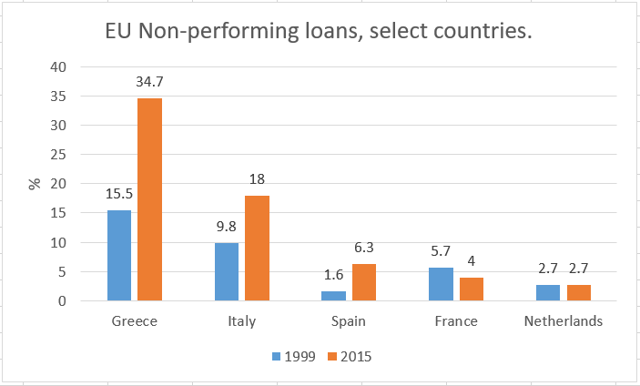 Data source: World Bank.
As we can see, Italy entered the EU monetary union with a relatively bad non-performing loan portfolio. As we can also see, Greece was even worse. Given how things unfolded since the Euro currency was adopted, it should come as no surprise to see that the countries with a weaker financial position are in even worse shape now.
Italy ripe for turning against EU
It is not just in terms of a worsening loan quality environment that Italy's lack of prosperity since the Euro currency was introduced, that the situation is manifesting itself in. Italy is also suffering in terms of GDP/capita growth since then.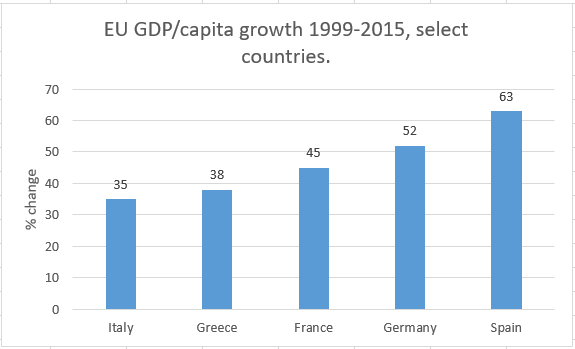 Data source: World Bank.
Note: The data is in US dollars and it is not inflation adjusted.
As we can see, Italy is doing very poorly on this measure since the introduction of the Euro. It is even being overtaken by Greece, which as we know very well, has been more or less an economically failed state for the past half a decade or so. When adjusting the value of the US dollar for inflation, Italy has in fact seen a decline in its GDP/capita since 1999, when the Euro was adopted. It is something that ordinary Italians feel in terms of wealth, opportunities and overall living standards. Putting aside current polls which show that there is still firm support for Italy's continued participation in the single EU currency, we should be conscious of the effect that this economic deterioration for almost two decades now is most likely having on the collective mood of the Italian nation. Whether this mood will be turned by events or perhaps by argumentative persuasion coming from emerging political forces, it is important to understand that it can happen and it can happen at any moment.
Italy far more likely to leave Euro currency if referendum passes
Given the economic facts, the argument that can be made for leaving the Euro zone is not really hard to make. It is the simple offer of standing up and taking a chance and some hardship in order to change course towards a healthier economy in the future, versus staying the course and continuing to slowly sink Italy's economy. Whenever a political message can be credibly put in such simple terms, that message is bound to resonate. Within this context, it is important to understand the fact that the electoral system which has plagued Italy's stability for many decades now, is also the one which has kept the current elites in power for all these decades. It gave the established parties the option of putting aside differences and unite in order to prevent any outsider challenge from coming in through the appeal of radical shifts in the current course. It is the mechanism which is meant to raise the bar to over 50% of the votes, which is beyond a score that any party can reasonably hope to achieve given the country's political landscape.
The Italian referendum on constitutional changes is meant to address the problems of unstable government, which has been handicapping Italy's chances of implementing policies which will work for the longer term, and prevented it from solving its immediate and longer term problems with adequate responses to the challenges facing their economy. Italy has had political gridlock and unscheduled elections since the end of the Second World War as the norm rather than the exception. The passing of the constitutional reforms would indeed solve the problem of government gridlock. It would among other things lead to a parliamentary majority for whoever wins the most votes, regardless of the percentage of total votes obtained. In effect, it will remove the bar that requires a 50% coalition or outright gain of 50% by a single party when forming a government.
A yes vote will in effect open a door which has been closed by the current established political movements for outsider movements such as the Five Star Party or others to form a government without having to gain over 50% of the vote and without having to seek one or more junior partners in order to reach a parliamentary majority. In the case of a yes vote there will probably be no new elections until 2018, which means that the negative effects of a yes vote will not be as immediate. At the same time, it does mean that Italy will end up at greater risk of giving rise to a protest movement, leading to the installment of an anti EU, anti establishment party, with full parliamentary control every single election thereafter. If this happens, Italy and the EU will become a very different place afterwards, especially given the overall mood in other European countries as well. It will mean drastic changes in direction.
I keep hoping that when these changes will start to occur, it will happen in an orderly and relatively amicable manner. Based on the EU's decision to appoint an ideologue such as Guy Verhofstadt to handle the Brexit negotiations on behalf of the EU, suggests that EU enthusiast elites are not likely to accept the fact that a sizable part of the EU population is increasingly turning against the EU project and wants less EU, not more of it. Italian voters will either decide this Sunday that they want to send a message that they want less EU, among other things, or they will decide to give a probable mandate to an Italian government in a few years to say to the EU that Italians want less EU, even if they will not get the votes of a majority of Italian voters. Either way, I believe that one of the most dangerous aspects of the current situation is a lack of willingness by the EU enthusiasts to accept the current mood in countries such as Italy and elsewhere and a misguided perception that taking a hard-line, punitive position against any public rebellion against the EU will somehow temper the willingness to rebel. History has shown repeatedly that such a position has limited effectiveness, while risking a much nastier outcome.
Italian ETFs which sold off heavily this year, are experiencing a little bit of a late pre-referendum bounce. iShares MSCI Italy Capped ETF (NYSEARCA:EWI) for instance is up 2% for the day, as I write this, while it is still down almost 20% for the year. It may perhaps seem like a misguided trade, because after all the polls show the no side ahead. It may not actually be such a bad idea in my view, at least for those who enjoy a higher risk environment. We should remember that after the Brexit side won, everyone declared that "nothing happened", which set off a stock market rally in the US and in the EU. If no wins in Italy a similar attitude might also be expected from the market, after all, aside from the current Prime Minister perhaps resigning and being replaced with a caretaker cabinet until the next election, nothing else might really happen.
The ECB may step in and stem any sell-of in Italian assets. The EU may find it in its own interests to find a way to bail out Italian banks if need be. But in the longer run something transformative is happening in Europe. Brexit is a reality, which will start to sink in next year as negotiations will begin. Italy may turn anti EU regardless of the referendum's outcome. France will elect a new president next year, and both current front-runners which are likely to face each other in the second round are not exactly EU enthusiasts. A less talked about second round presidential election will also take place in Austria at the same time, with the anti-establishment candidate seemingly in a good position to break the 50% ceiling and win, defying current establishment expectations that the 50% threshold is impervious to an anti-establishment challenge. The fact that the Italian referendum is in reality a lose-lose for the pro-EU establishment, most definitely does not help with staying the course, given all other challenges that are coming. While Italy ETFs provide for a great way to speculate the shorter term, I am most definitely continuing to position for European upheaval going forward, including through the ownership of gold. Before the end of this decade, those who are positioning for the worst case scenario will in my view be glad that they took the prudent approach.
Disclosure: I/we have no positions in any stocks mentioned, and no plans to initiate any positions within the next 72 hours.
I wrote this article myself, and it expresses my own opinions. I am not receiving compensation for it (other than from Seeking Alpha). I have no business relationship with any company whose stock is mentioned in this article.