The sharp jump in mortgage rates since the summer is a worrisome development for home improvement store traffic and sales, especially at Lowe's (NYSE:LOW). Plenty of negative news for the bond market from stronger general economic demand, sky-high asset prices for wealth assets in equities and real estate, a major cycle bottom for commodities early in 2016, and a Trump-induced boost to expectations for bond supply and inflation rates have raised 30-year fixed mortgage rates a good 0.5-0.75% from summer lows under 3.5%.
Just like every other interest rate boost cycle, real estate-related equities have started to feel the impact of a developing slowdown in the red-hot U.S. housing market of 2014-2016. Lowe's stock price outlined its all-time peak at $83 in July, and has been under pressure as rates have risen. To get an idea of potential downside in the stock price under a spiking mortgage rate scenario throughout 2017, the company's previous large sell-off losses, peak to trough, were -65% in 2007-09, -25% in 2011, and -20% in 2002. The drop to $65 a share in early November represents another -20% decline so far from July.
Lowe's 2016-17 stock valuation remains high
Has Lowe's price drop into November already discounted a weaker housing market in 2017? My short answer is "No." While the -20% decline in 2016 seems significant, business valuations remain at the high end of trailing 5- or 10-year levels.
A long-term review of Lowe's price versus trailing annual cash flow (CF) is perhaps the most consistent gauge of the business's worth for the last 20 years. When the company grew more rapidly a decade ago, price-to-cash flow was usually in the 13x-14x range. With larger size and a great recession in real estate, however, Lowe's growth rates have slowed dramatically over the past decade. Stock price-to-cash flow averages have fallen. For example, the 15-year average is 11x CF, 10-year average is 10x, and 5-year average is 9x. Against the 6x low in early 2009 or the latest high of 15x at the start of 2015, the current $71 stock price still generates a multiple of 12x trailing annual CF.
One can easily argue an interest rate spike scenario into 2017 could dent demand for Lowe's products dramatically. The company hinted in the latest quarterly earnings report that store traffic and sales are slowing much more than expected already.
The biggest gripe I have with Lowe's business operations is its move to increase financial leverage and debt ratios from large stock buybacks started in 2006. While great at artificially propping up earnings, cash flow and sales per share metrics, this strategy is a double-edged sword creating honest risk to operating business results during a real estate downturn. The company held a conservative 30% long-term debt-to-shareholder equity ratio in 2006. This has steadily grown to 200% today, with an oversized jump from under 100% in 2014.
The knock from excess leverage at a 2016 real estate sales peak could be the bottom falling out of earnings and cash flows in 2017, especially "free" cash flow available to shareholders. My basic argument is that a real estate demand recession during 2017 may cause an exaggerated decline in Lowe's profitability from excessive leverage. A 30-40% stock price decline from the summer high, closer to its 5-year average 9x cash flow ratio, may be the end result, after accounting for just a small drop in operating numbers. Of course, Wall Street estimates continue to look for decent "growth" in Lowe's business next year. Isn't this assumption way too optimistic with the big bump in mortgage rates? Given a serious recession next year and Wall Street reassessment of considerably lower operating numbers, Lowe's stock price could fall more than 50% from July's $83 peak at 7x or 8x CF valuations. At least that's the "risk" argument.
Stock trading momentum showing weakness
Lowe's stock price is lagging badly as shown below. The company's biggest competitor, Home Depot (NYSE:HD), has performed better over the last six months, alongside decent gains for the major U.S. stock indices - the S&P 500, Russell 2000 and Nasdaq Composite. After comparing the movements in hundreds of blue-chip stocks, my momentum-based trading system has flagged Lowe's as a short sale candidate for the next 3-6 months.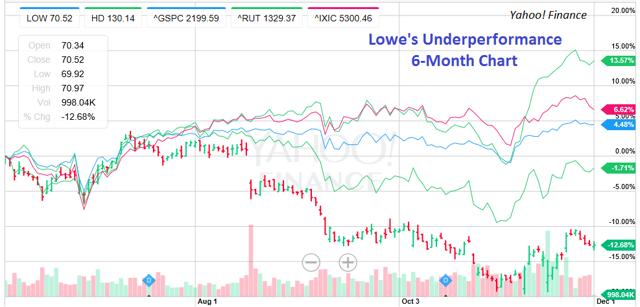 The stock bounce higher since the November election may provide a smart place to sell shares or go short. I personally bought some long puts expiring in mid-2017 roughly at the money for a strike price last week, when the price was closer to $72 a share. As the chart below illustrates, the price uptick back to September's level could be a good area for investors and traders to re-evaluate their Lowe's positioning. If mortgage rates continue to rise, demand for home construction and improvement projects could sag next year, hurting Lowe's more than past downturns. The company's rising leverage/debt costs may take a disproportionate toll on both operating numbers and Wall Street valuation metrics.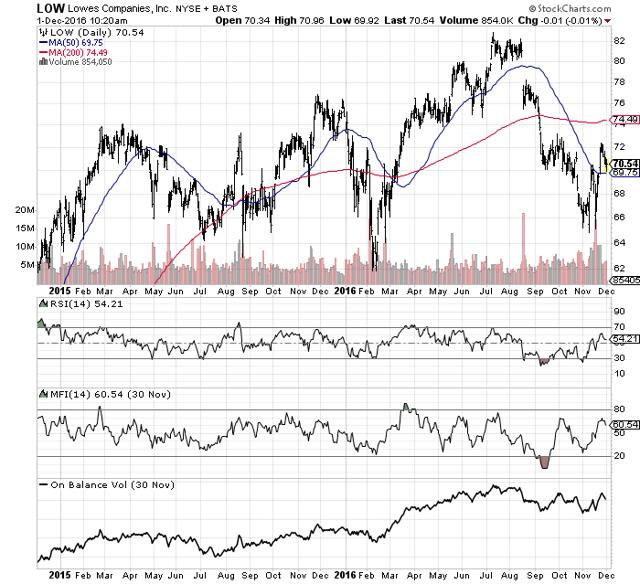 Disclosure: I am/we are short LOW.
I wrote this article myself, and it expresses my own opinions. I am not receiving compensation for it (other than from Seeking Alpha). I have no business relationship with any company whose stock is mentioned in this article.