Sometimes you just have to pay respects to a great company and its leadership. A track record of excellent returns on invested capital, a great balance sheet, and stable earnings created through consistent customer service. Laudable indeed are the results of these high performers who bring service and value to society!
In this article we're going to cover the praiseworthy WABCO Holdings Inc (NYSE:WBC). We'll take a look at the fundamentals of their business, the returns they've earned, and, the recent trading action going on in the marketplace.
Research And Development: It Isn't Just A Biotech Thing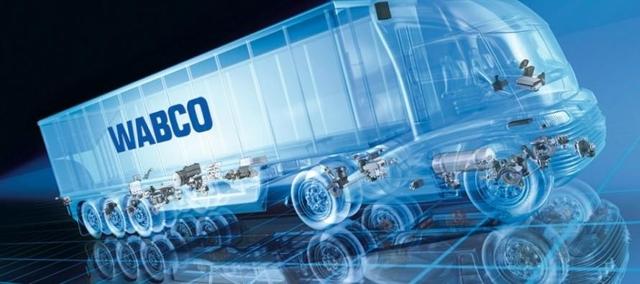 (Source: Thinkinghighways.com)
WABCO is engaged in the engineering, development, and manufacturing of integrated systems supporting heavy and large commercial vehicles. Their braking and suspension systems are found in school and public transport busses around the nation. Bursts of noise emanating from the air compression systems built by WABCO and installed in 16-wheelers may be responsible for damaging your hearing at stoplights.
The company has four factories in India and several others across the globe. They are dedicating significant resources to developing the steering and other technology relevant to the coming autonomous driving revolution.
Business Performance
Let's review WABCO's performance metrics.
Trailing Twelve Months' Revenue: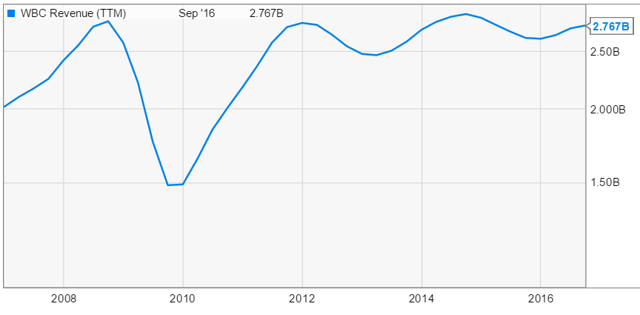 (Source: Faloh Investment)
The company's trailing ten years of revenue has been exceedingly stable. They're most well-established in North America and we'll see some more information on their sales by region in the next graphic.
The column labeled WABCO is the 2014-2015 Sales Growth, while the column Estimated Production is the production taking place in the region: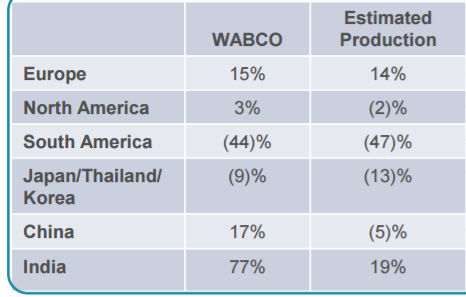 (Source: 2015 Annual Report)
The company's leadership displays a dynamic initiative when controlling their supply chains: First, they look for where opportunities to generate sales are. Second, they work to keep costs and conflicts with governments low by in-sourcing manufacturing to a region. Third, they reduce investment in geographies where the market has been well-served and appears saturated for the time being.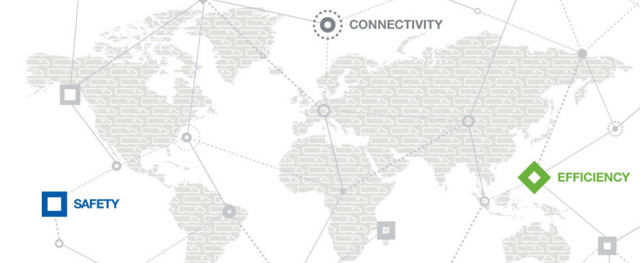 (Source: wabco-auto.com)
Management's approach to adjusting the business in this way has reliably controlled distribution costs. This has helped the company achieve a consistently high return on equity for their investors. By regularly adjusting where and how production occurs, they've remained sharp throughout the years.
Observe the regular 28-34% Return on Equity throughout the prevailing economic environment: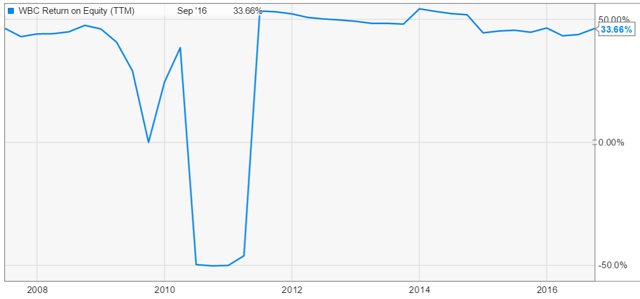 (Source: Faloh Investment)
The company's return on equity exceeds the benchmark 20% widely considered to be the result of a very strong performer. The company carries a 3-1 current assets to current ratio, and cash flow easily covers interest payments on long-term debt. WABCO has a fairly conservative balance sheet relative to long-term operating performance and interest payment obligations are no threat to their cash flow.
Investment Thesis & Market Activity
A great business performance is laudable in its own right. As an investment WABCO has delivered strong returns to its shareholders. Note, the company does not pay a dividend.
Ten year price chart: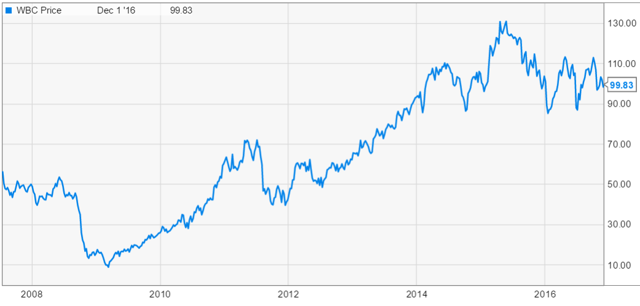 (Source: Faloh Investment)
Investors who purchased during the great recession have earned a 5-9x return on their capital. The stock's trading price has moved sideways for about two years now, but I argue the spring is merely coiling, preparing to burst into the next leg-up as investors again recognize WABCO's quality.
While consistently investing millions into research and development, dynamically developing into growth markets, and, generally succeeding on all investment metrics, the company is today trading at discount on its price-to-free-cash-flow ratio. Today you can buy each dollar of free cash flow at WABCO for $17.39. The S&P as a whole averages over $20.00 for each dollar of free cash flow.
WABCO is trading at a P/E of 21.94 while the broad index is commanding a price to earnings of 25.46.
The company's earnings have been demonstrably been consistent and they're protected by a hard-earned moat, which is the result of many years of continuous investment in engineering talent and its products.
Berkshire Buys Into WABCO
This section is short and sweet.
Berkshire Hathaway (BRK.A, BRK.B) disclosed a multi-million dollar position in WABCO during the 3rd quarter of 2016. Due to WABCO small market capitalization of less than $6B, I consider this position as likely to have been bought by the junior portfolio managers Ted Weschler and Todd Combs, individually or by their consensus.
This may be especially interesting to you because these guys, working with much smaller sums than Mr. Buffett and Mr. Munger, appear to be more willing to make trades with a medium-term horizon of six months to three years.
Berkshire Hathaway's position in the company was purchased at an average price of $101 and the company is trading near that price today (Source: Gurufocus data)
Takeaway
WABCO has put up great numbers for years now. They're currently positioned to enjoy growth in India as big man Indian Premiere Modi pushes hard to develop the country. Additionally, they do great business in America where profits can be relied on thanks to the company's business moats.
The company is presently trading at a discount to the marketplace. And buying into their cash flow at a price of $17 per dollar is a fair price considering they have demonstrated the occassional three-times-over spike in free cash flow.
An investor can't go too far wrong with WABCO -- considering Berkshire Hathaway's recent endorsement via their purchases near today's price of $99.83.
My opinion? Buy WABCO and look for 15% to 20% capital appreciation when the marketplace recognizes this great business again, and brings it in-line with the broader marketplace's valuation.
Disclaimer: This article represents the opinion of the author as of the date of this article. This article is based upon information reasonably available to the author and obtained from public sources that the author believes are reliable. However, the author does not guarantee the accuracy or completeness of this article. It is merely the author's interpretation of the information contained in the article. The author may close his investment position at any point in time without providing notice. The author encourages all readers to do their own due diligence. This is not a recommendation to buy or sell a security.
Please click the + icon next to my user name and follow me, Faloh Investment, as I work to keep you informed on further developments as the market continues to present major value opportunities.
Disclosure: I/we have no positions in any stocks mentioned, but may initiate a long position in WBC over the next 72 hours.
I wrote this article myself, and it expresses my own opinions. I am not receiving compensation for it (other than from Seeking Alpha). I have no business relationship with any company whose stock is mentioned in this article.