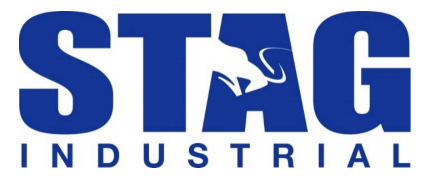 STAG Industrial (NYSE:STAG) is an industrial REIT that has a somewhat counter-intuitive strategy of buying property in secondary markets. So far, it seems to be doing well and is providing generous and growing dividends. One thing to note is that its share price is more volatile than most REITs, its beta is about twice the beta of more well-known REITS like O.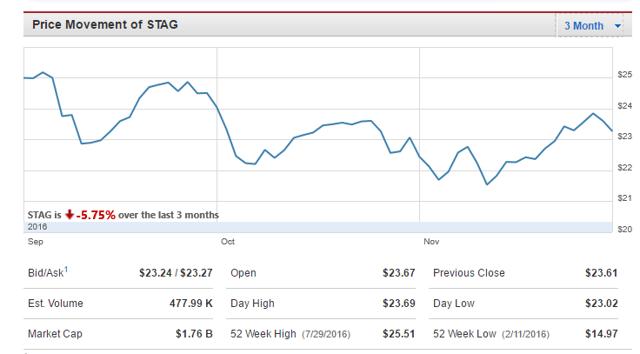 What does the latest earnings report say?
STAG reported Q3 earnings on November 3rd. While it did beat expectations on FFO by 2 cents, it missed on revenue by a bit over $8 million. Revenue still grew by over 12% from Q3 last year, lessening the concern over the revenue mix.
Brad Thomas wrote his latest article on STAG before the earnings release, but he outlines why STAG is and continues to be a good company to invest in. One thing I take and use later is his fair value figure of around $24 for STAG.
One thing to keep in mind when investing in STAG is that this is an income play. If you are going to be unhappy if the share price isn't higher than what you paid for it a month or even 6 months down the road, you will likely be unhappy buying STAG. My recommendation on how to invest in STAG is to figure out a price you are willing to pay (I'll show you what I figure is a good price later in this article), and then buy more shares when the price is below that. Sit back and collect the dividends. STAG is a good stock to drip, but you can also just use to accumulate dividends and then deploy them when you have enough to make the commission charge reasonable.
What's a good price?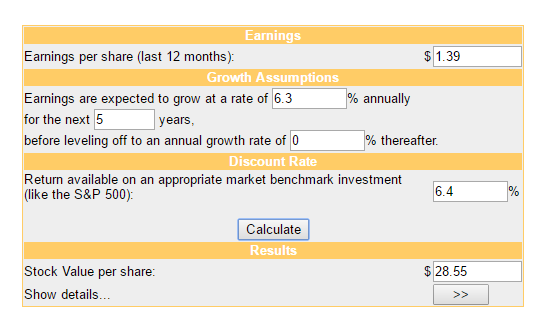 Looking at the DDM method, I get a present value of the dividends of $28.55 using the latest dividend payment, a growth rate of 6.3%, the lowest rate of increase from the CCC list, a terminal growth rate of 0, since REITs are typically slow growth (unless they are doing a lot of acquisitions) and discounted by my expected rate of return of 6.4% which is twice the long-term rate of inflation.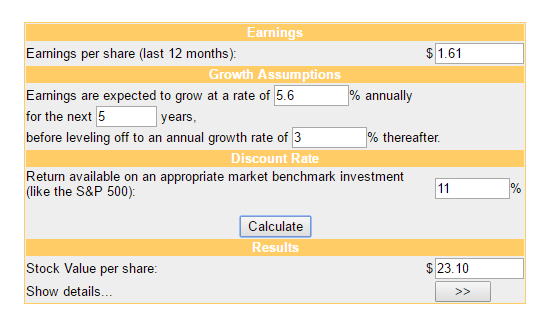 In the above calculation, I do a DCF analysis using reported AFFO of $1.61, Brad's estimate for growth of 5.6%, a terminal rate of 3% and a discount rate of 11% because that is the typical long-term return of the stock market. Here I get a value of $23.10.
For my target price I think averaging the results of the two methods will give the best number and that works out to be $26. That's a bit higher than what FastGraphs® and Brad are worth with, but given the yield I think that is a good number. With the current market price about $23.50, STAG looks to be a good value.
What about interest rates?
It's no secret that the Fed is very likely to raise interest rates at its December meeting. The recent announcement by OPEC of a deal to cut oil production has removed the last possible reason that the Fed might have to not raise rates. I also don't think that the Fed will raise rates more than 25 basis points at this meeting (although what they do next year is still an open question).
I still think that the market has priced this in for both the 10-year treasury rate and for REIT prices. That doesn't mean I don't think the 10-year and REIT prices won't react to the announcement, I just think that after a short-term spike (or drop in the case of REIT prices), that they will return to about the same level as they were before the announcement. So for STAG I think the initial reaction to the rate bump will be a drop for between $1 and $2.
Can options help?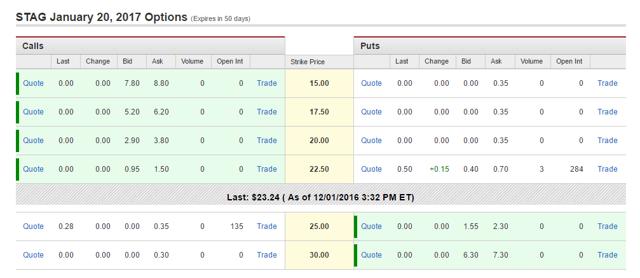 None of the calls look very attractive but with such light volume it's hard to tell. For the January expiration, the $22.50 puts could get you a premium of around $0.50 with a limit order, and that is more than the pro-rated dividend for the time remaining.
The Delta for the put is 0.33, but because of the likelihood of the Fed raising interest rates, I wouldn't count on that giving a good estimation of chance to get the shares. So while I think there is a good chance that STAG will go below $22.50, whether the put with that strike price will get you the shares depends on how certain you are that the price effect from the Fed raising rates will last more than a month. Given the already low price, I think it's likely a better bet to just buy the stock now.
Conclusion
STAG is a pretty good company to invest in. It is one of my larger holdings. While it's not a big game changer that it pays its dividends monthly, it's nice to get a monthly payment from the company. Right now STAG is fairly priced, but the Fed rate bump could offer a better opportunity. Unfortunately this is one of those times where the option action on a stock doesn't offer a lot of help getting a cheaper price.
Note: I hope you all got something out of this article. I do appreciate the time you took reading it. If you are one of those who follows me here, I appreciate it; if you'd like to include yourself amongst those individuals, please hit the "Follow" button next to my name as well as following other contributors whose work you enjoy. As always, please leave any feedback and questions you may have in the comments below.
Disclaimer: This article is intended to provide information to interested parties. As I have no knowledge of individual investor circumstances, goals, and/or portfolio concentration or diversification, readers are expected to complete their own due diligence before purchasing any stocks mentioned or recommended. The price I call fair valued is not a prediction of future price but only the price at which I consider the stock to be of value for its dividends.
Disclosure: I am/we are long STAG.
I wrote this article myself, and it expresses my own opinions. I am not receiving compensation for it (other than from Seeking Alpha). I have no business relationship with any company whose stock is mentioned in this article.