With the rise of financial stocks over the past weeks due to rate hike speculations, it became more difficult to find attractively valued financial stocks. On the quest to find such bargain stocks, one may stumble upon Voya Financial Inc. (NYSE:VOYA), a New York-based insurance and retirement company. Even though the stock has rallied around 27% for the past month, it still looks undervalued with its 0.50x Price to Book ratio. Buying VOYA's shares might seem like a good opportunity at first but investors may become disappointed by the unattractive risk-reward ratio it brings.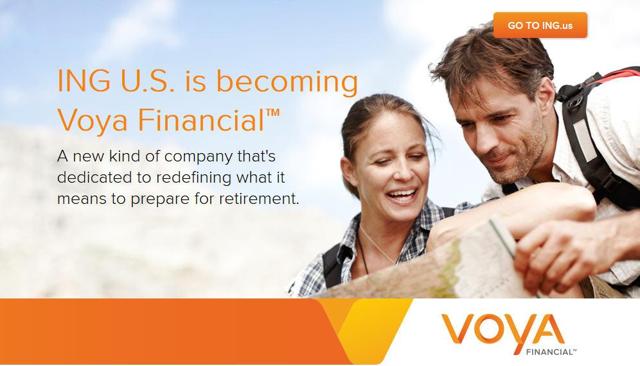 Source: Google Images
Background
Voya Financial Inc. is a financial institution that provides retirement, investment, and insurance services to its U.S. clients. It was previously the U.S. operating subsidiary of the ING Group but was spun off in 2013 as part of ING's bailout agreement with the Dutch government. Voya currently operates in the following ongoing businesses: Retirement and Investment Solutions, and Insurance Solutions. They have businesses in run off, such as the Closed Block Variable Annuities (CBVA) segment and the Closed Block - Other (smaller). Presented below is a chart that displays the different products that Voya offers under each segment.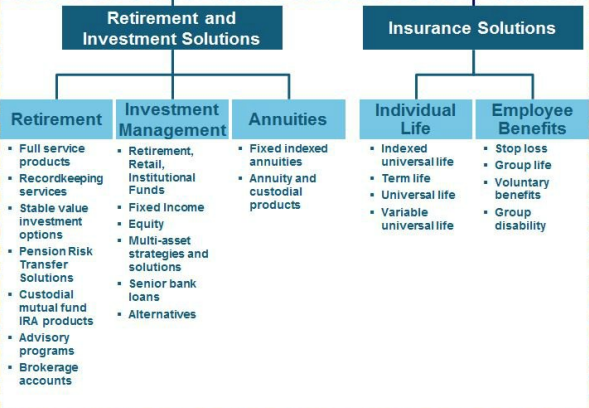 Source: Q3 2016 Investor Supplement
On-going Business: Profitable with Above Cost of Capital Returns
Despite its relatively smalls size as a financial institution ($7.53 billion market cap and $218 billion total assets), VOYA is able to operate under a pretty diversified business model, offering retirement products, investment services and management, employee benefits, and insurance products. They are even able to post double-digit ROE and improve it steadily (or at least maintain it) even though the insurance, retirement, and investment management industries are facing multiple headwinds from low interest rates, increasing competition and lower fees.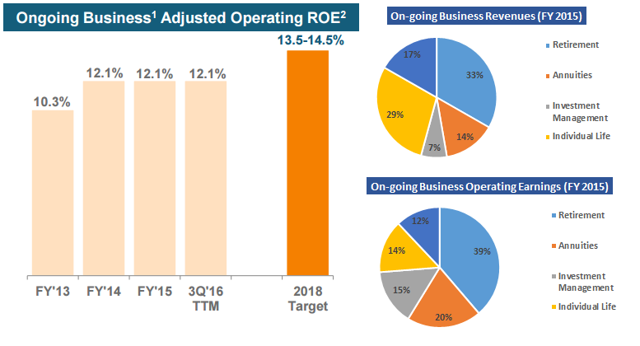 Source: Q3 2016 Presentation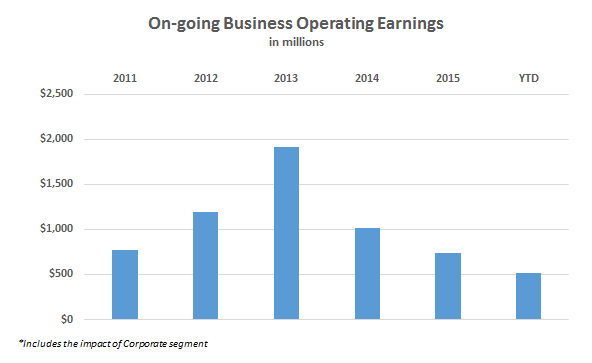 Source: Data from Form 10-K for year ending December 31, 2015 and Q3 2016 Investor Supplement
Run-off: Closed Block Business is Risky and Dragging Returns
Despite the improvements and profitability in VOYA's ongoing operations, investors have continually placed a big discount on VOYA's shares (with shares constantly trading below book value since IPO). The most likely reason for the undervaluation appears to be from the existence of the Closed Block business, mainly of the variable annuities (CBVA). This block of variable annuity products with substantial guarantee features was put in run-off in 2009, with the last policies issued in early 2010. Management had put a hedge program to protect the regulatory and ratings agency capital that is supporting the VA block for adverse equity market and interest rate movements. Management had also launched several initiatives to accelerate the run-off and de-risk the block (First to Fourth Enhanced Annuitizations; GMIB Enhanced Surrender Value). However, even will all these efforts, management is still unable to dispel investors' concern over the block. It is understandable, given that the block continues to drag their overall company's returns.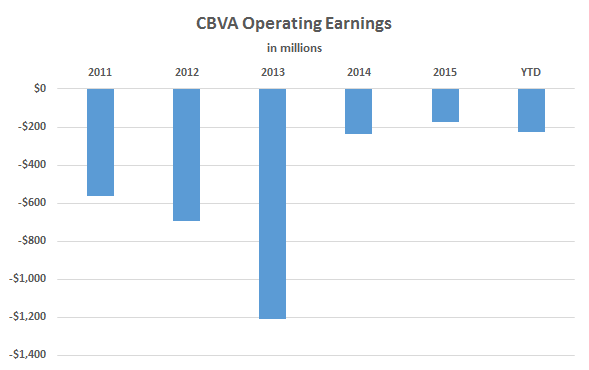 Source: Data from Form 10-K for year ending December 31, 2015 and Q3 2016 Investor Supplement
Also, despite several de-risking and run-off measures, the size of the block stands at $34 billion, down from the 2009 size of $47 billion. With around 7 years since placing it in run-off, management had just only reduced it by roughly 28%, causing investors and analysts to be concerned about the effectiveness of management's strategy:
Q4 2015 Earnings Call - Eric Berg - RBC Capital Markets

I wanted to follow up. My follow-up question relates to a comment that Rod made a moment ago regarding the release of capital from the closed block and variable annuities, CBVA. I certainly heard his comments, which he has made in the past; I think that it will be several years before capital could be released. But does that preclude a possible -- I interpret that comment to mean that this is how things will sort of play out as the business runs off. But I also want to know does it continue to be possible? Do you continue to look at strategies to release capital relating to some sort of event prior to 2018? For example, a sale of part or all the business, reinsurance or securitization?

Q2 2016 Earning Call - Yaron Kinar - Deutsche Bank

Okay. And then my second question is probably more of a strategic question and relates to the closed block or the interest in keeping the closed block in house, essentially. Given the significant pressure that we've seen in Voya's share price in recent months, clearly there is some concern that emanates from this block. And I realize you've said in the past that you don't want to sell this at a loss, that you have already strengthened this to the point that you feel like it adequately reflects the potential economics. But at the end of the day, wouldn't you be better off by lowering your cost of equity by removing some of the overhang, by getting rid of the closed block, even at a potential loss? Wouldn't the long term value there to shareholders be rewarded?
Despite these investor concerns, management appears contented on sticking to their guidance of making more efforts to reduce block starting on 2018 and just de-risking it for the next 2.5 years.
Q4 2015 Earnings Call - CEO Rod Martin

Suneet, it's Rod. That is an accurate assumption. What we've said before is not to anticipate any capital release from the closed block sooner than five years and that was obviously from the IPO moment and nothing has changed in that outcome. You have it perfectly correct.

Q2 2016 Earning Call - CEO Rod Martin

The fact that the book has gone from $47 billion to $34 billion and the policy count substantially reduced over that period of time, another example of that. So we are not, in any way, trying to stand on principal. None of us were here when this book of business was written. We are just going to continue to be good stewards of the capital and as we have shared with you, interest rates do matter on this book of business. So we have got 2.5 years prior to 2018, in terms of our next phase of our plan.
With this information, there appears to be no clear path of getting rid of the block (as of now), along with investors concerns. We can safely assume that VOYA's shares would continue to trade at a significant discount to book value for the next 2 years. While VOYA's shares may appreciate due to interest rate hike speculations, it doesn't seem likely to outperform its peers and other financial stocks, given they are also benefiting from the market-wide run-up.
CFO Departure and Whistleblower Lawsuit
For long-term investors, it is easy to wait out the two years until management rolls out their plans of aggressively reducing the block. However, that scenario is predicated on the investor trusting management's credibility and integrity. I have been bullish on VOYA for the past year and had some degree of confidence in management's ability and credibility.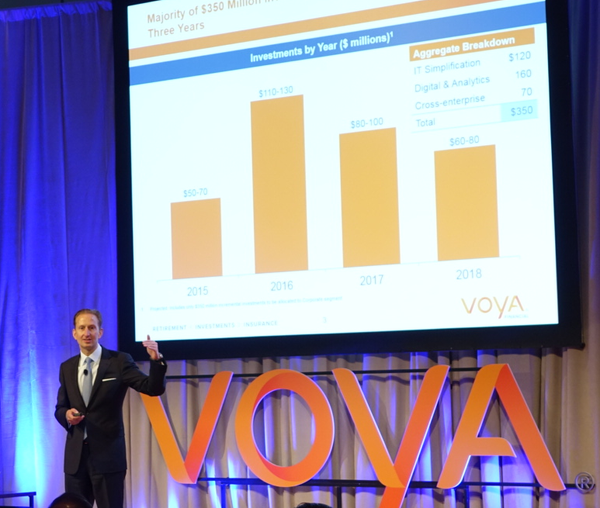 Source: Google Images
However, I stumbled upon several matters that made me re-think about it. It started with the sudden departure of CFO Ewout L. Steenbergen, who left on November 7, 2016 in order to pursue better opportunities. He was replaced by the CEO of Insurance Solutions segment, Michael S. Smith. I was puzzled by that event, given the company appears to be steadily doing well and was on track of their restructuring and rebranding efforts. I did some digging and it turns out that there was a whistleblower lawsuit filed against the company and its officers, particularly the incoming CFO. As stated in an article:
Voya Financial, Inc. said yesterday that its chief financial officer, Ewout L. Steenbergen, has resigned and will be replaced next month by the company's CEO of insurance solutions, Michael S. Smith. Separately, both men are mentioned in a whistleblower lawsuit filed in July by Mary Fay, former senior vice president and head of annuities products at Voya. Fay joined ING U.S. in January 2012. She alleges in her complaint that problems began about a year later when she was asked to calculate the projected return on equity for a new product called Voya Lifetime Income Annuity. The company was two months away from going public, and Fay believed her projections would have a material impact on the content of the IPO prospectus. Using conventional methods, she and her team arrived at an estimate of 7.0% for the new product's first-year ROE.

After presenting the results in a memo to her superiors, Fay received an email from Smith that she interpreted as dissatisfaction with the estimate, according to her complaint. Voya contends in an answer that Smith was "generally OK" with the memo. Fay's immediate supervisor, president of annuities David Bedard, instructed Fay to "rework" the numbers, the complaint says. Fay and her team increased the first-year ROE to 8.0%, but Fay worried whether their methods complied with actuarial standards. Maliz Beams, CEO of ING Retirement Solutions, was still dissatisfied with the result, according to the complaint. Bedard told Fay the first-year ROE had to be at least 8.4% and instructed her to "just plug it" to arrive at the figure, the complaint says. Voya denies the allegations in its answer.

Fay and her team increased the projection to 8.3%, but Fay worried even more about their methods. Bedard asked Fay to revise her prior memo with the 8.3% number. Fay stalled for several days. Before she could deliver a memo, ING U.S. issued a press release announcing the new product, according to the complaint. In its answer, Voya says only a preview of the press release was distributed. Afterward, Steenbergen emailed his subordinates to ask how the product had been approved, the complaint says, adding that neither Steenbergen nor ING U.S. CEO Rodney Martin had been consulted. Voya says in its answer that Steenbergen emailed to ask the subordinates' opinion of the product.

The complaint says Bedard continued pressuring Fay not only to produce a revised memo but also to backdate it as if it had been prepared before the press release. Voya says in its answer that Bedard wanted the memo to reflect the date the team had reviewed the projections. Fay eventually produced a copy of the memo per Bedard's specifications but voiced her disapproval, the complaint says. Fay says in her complaint that after she resisted increasing the ROE, "ING's senior leadership initiated a campaign to marginalize her." She names Smith and Beams among those who turned a cold shoulder after previously taking an interest in her career. She claims she was excluded from meetings and events and that important projects were assigned to other employees-all of which Voya denies in its answer. Finally, she was fired in November 2013.

Two months before Fay's termination, Bedard quit after only nine months at Voya, née ING U.S. He subsequently joined New York Life as CFO of its investments group. The following year, Beams unexpectedly resigned "to pursue other opportunities," according to a press release. She did not immediately join another firm, and Voya did not hire a replacement until six months later. During the same year, Jamie Ohl, president of tax-exempt markets and a direct report to Beams, also resigned.
While the case is still on-going and the claims are yet to be proven, the matters cited in the lawsuit and the timing of the departure of CFO Steenbergen are quite concerning. With the upside potential of VOYA's shares capped or limited because of the CBVA issues, the downside risk appears to be greater, especially if the allegations against VOYA's management are proven.
Conclusion
Voya Financial Inc might seem a bargain with the profitability of their on-going operations and with the current valuation of 0.50x P/B. However, no matter how much the on-going operations improve, VOYA's shares do not appear likely to outperform, given investors' concerns over the existence of the CBVA segment, which continues to drag the overall company's returns and heightens the overall risk of the firm. Despite growing concerns from investors and analysts of the existence of the block and the pace of the run-off / reduction, management appears contented on their current initiatives and will wait for around 2.5 years before making significant moves to reduce the block and release capital. Meanwhile, the downside risk for the stock is higher due to the possibility of the allegations in the whistleblower lawsuit being proven true, which would severely impair management's credibility. All in all, until more information is available, these issues give VOYA an unattractive risk-reward ratio.
Disclosure: I/we have no positions in any stocks mentioned, and no plans to initiate any positions within the next 72 hours.
I wrote this article myself, and it expresses my own opinions. I am not receiving compensation for it (other than from Seeking Alpha). I have no business relationship with any company whose stock is mentioned in this article.