Since its inception on 7/15/1970 an investment in the Sequoia Fund (MUTF:SEQUX) has returned 13.5% annually versus 10.72% for the S&P 500.
The fund is noted for its long-term value investing style, portfolio concentration, and outperforming in down years. For more background on the fund you can check out my original article here.
In its third quarter commentary the fund noted its companies reported good earnings over the summer in contrast to the aggregate earnings for all the S&P 500 Index companies. Per the fund the real economy isn't terrible, but is being held down by weak performance in energy companies and foreign exchange rates. Half of the fund's positions have reported earnings growth exceeding 20% year over year and 20 out of 24 have reported positive year over year earnings growth.
The fund added significantly to its Sirona Dental position in the third quarter and likes the company's leadership in digital dentistry. For example, its CEREC product allows dentists to design and mill crowns in-house. Under the leadership of CEO Jeff Slovin the fund believes the company will continue to create new value-added solutions in the dentistry field.
The fund sold its Trimble Navigation position on concerns the company has diversified away for its core GPS offerings. Trimble did generate a positive return for the fund.
While the fund did not add to or sell any of its Wells Fargo position it did comment on the bank. Its overall view is that while Wells Fargo suffered deep reputational damage it remains an attractive franchise with a low valuation.
One final note, the fund is now open again to investors on the Charles Schwab financial services platform.
Here's the activity for the quarter:
New Stakes:
Fortive (NYSE:FTV) is a recent spin-off from Danaher. It consists of Danaher's former Test & Measurement segment, Industrial Technologies segment and the Retail/Commercial Petroleum platform.
Stake Disposals:
Trimble Navigation (NASDAQ:TRMB) provide technology solutions to enhance work processes of professionals and field mobile workers. The fund has owned Trimble since 2010. However, the bulk of the buying was done in 2011 and 2013 which means most shares were purchased in the $20's. The fund sold out of the position this quarter over concerns of the company diversifying away from its competencies. The stock traded between $24.00 and $28.50.
Stake Increases:
Dentsply Sirona (NASDAQ:XRAY) is the world's largest manufacturer of professional dental products and technologies: solutions and markets its products in over 120 countries. The fund last added to XRAY in the first quarter of 2016 when the stock traded between $54 and $63.50. This quarter the fund bought just over 1 million shares, boosting its stake by 45%. Prices ranged from $55.50 and $65.00. XRAY is now the eighth largest position in the fund.
Stake Decreases:
Wal-Mart Stores (NYSE:WMT) operates retail stores and is the largest retailer in the world with over 11,000 locations in 28 countries. This is a long-term holding of the fund and it has held shares since at least 2005. The fund sold 45% of its stake this quarter as the stock traded between $70.50 and $75.00.
Constellation Software (CNSWF), Berkshire Hathaway (BRK.A) and (BRK.B), and TJX Companies (TJX) saw minor decreases of 20% or less during the quarter.
Kept steady:
Omnicom (OMC), Rolls-Royce (RYCEY), Compagnie Financiere Richemont SA (CFRUY), O'Reilly Automotive (ORLY), Carmax (KMX), Jacobs Engineering (JEC), Wells Fargo (WFC), Danaher (DHR), EMCOR Group (EME), Mohawk Industries (MHK), Perrigo Company (PRGO), Fastenal (FAST), Praxair (PX), MasterCard (MA), Google Class A and C (GOOGL) and (GOOG), Charles Schwab (SCHW), Waters Corporation (WAT), Hiscox Ltd. (HCXLY), Verisk Analytics (VRSK), Chipotle Mexican Grill (CMG), Costco Wholesale (COST), Tiffany & Co. (TIF), and Croda International (COIHY) saw no changes during the quarter.
Here's a snapshot of the activity during the quarter: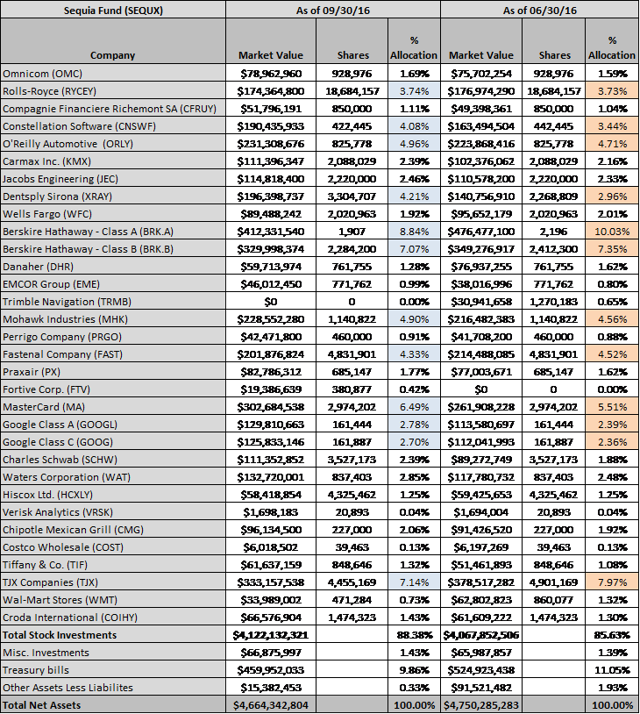 Disclosure: I am/we are long WMT, OMC, BRK.B, GOOGL, CFRUY.
I wrote this article myself, and it expresses my own opinions. I am not receiving compensation for it (other than from Seeking Alpha). I have no business relationship with any company whose stock is mentioned in this article.