As part of an effort to develop safer investing methods in 2017, some time has gone into finding potential short opportunities that can protect against any market upheaval. Within retail and restaurant firms there are potential candidates. However, low food and energy prices can serve to support a lot of them. As the well-known but flagging bookseller Barnes & Noble (NYSE:BKS) heads into its seasonally strongest quarter of the year, there may be some optimism among those who invest in it. However, given its ongoing losses, disappointment can weigh heavily if it occurs.
Fiscal needs may eventually manifest. If so, a cessation of the buyback should happen before a dividend cut. Technically, the buyback has not been an egregious misuse of capital thus far because shares have been bought at prices lower than where the stock currently trades. However, it is by no means a similar situation to some of the large banks that were still quite profitable and yet trading below book and even tangible book value while repurchasing. Insiders have been selling BKS, and at lower prices than shares currently fetch.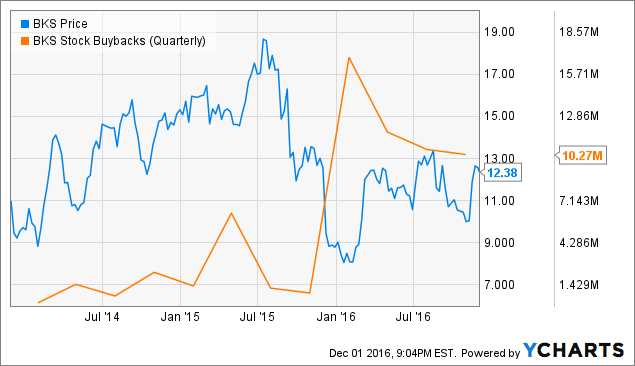 BKS data by YCharts
As of the most recent quarter its stockholder's equity is reported to be nearly $529 million, down from $582 million last year, while its $900 million market capitalization is a premium to book value.
The stock could be the worst pick shown in the Form 13-F filings of Abrams Capital Management.
The corporation has two segments: Retail and Nook. Each appear to be within the pull of problematic vortices such as declining store traffic and technological obsolescence. The latter is woeful because of the need for a digital business amid a struggling omnichannel strategy.
The company is still a book store. However, it is offering varied products under one roof. Storefronts contains toys, music, and a café that serves Starbucks (NASDAQ:SBUX) coffee. Attempts are underway involving a new concept with a more extended food offering and a wine bar, a recent article provides an overview.
At present toys should be important. They have higher gross margins than books. They are now a substantial percentage of revenues that continue to decline overall. Important questions involve whether or not parents will be doing their shopping there.
The Top Line & Underneath
During the 26 weeks ended October 29, 2016, the Company's sales decreased $100.8 million, or 5.4%, to $1.772 billion from $1.873 billion during the 26 weeks ended October 31, 2015.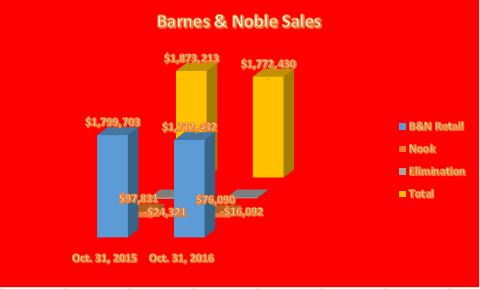 Results depend upon the holiday selling season coinciding with the company's Q3. For the Retail segment, sales are generally highest in Q3 and lowest in Q2 and Q4. Now in Fiscal 2017, the $0.29 Q2 loss this year has in fact been worse than $0.07 in Q1. Filings show that in fiscal 2016, 34.2% of retail sales and 135.3% of operating income were generated in Q3. Results should be announced in early March.
The CEO has guided to a full-year comps decline in the low single digits. Some Earnings Before Interest Taxes Depreciation and Amortization (EBITDA) is anticipated: a consolidated amount within a range of $200 to $250 million. An EBITDA valuation might continuously be supportive; however, it is difficult to label this a value stock as it currently lacks other measures such as free cash flow or bottom line earnings.
In fact, the dividend is not well supported. Further, the corporation has been reporting negative EBIT while paying out nearly $2 million in interest expense. Though expectations should be low, the consensus is for an $0.81 dividend-covering profit next year.
Ongoing Concerns
It is probably difficult to discuss Barnes & Noble without mentioning Amazon.com (NASDAQ:AMZN). They both have their origins in books. Each have offered technology products, Amazon with the Kindle and Fire phone while Barnes & Noble offers the Nook.
Ideally, NOOK could be complementary to the company's strategic reliance upon its brand. However, its marque may be manqué - and seems a questionable foundation for a restaurant chain. Pertaining to books, if you have read enough of them to know that hardly anyone else has also, then you might be inclined to interact with a web site such as Gutenburg.org - before purchasing an Amazon Prime membership. As a detail, persons have obtained Barnes gift cards pursuant to an antitrust settlement with Apple (NASDAQ:AAPL) and the likelihood of redemption is remote (Source: 10-Q).
Nook, the result of a partnership with Samsung (OTC:SSNLF), is a boondoggle. Management is further attempting to utilize it and gives no indication that it will alienate customers by discontinuing the product. Its $49 device is intended to feed the content business.
Operating Loss
Over the past 26 weeks, the corporation's operating loss has improved because of NOOK expenses but Retail is 5x worse than last year: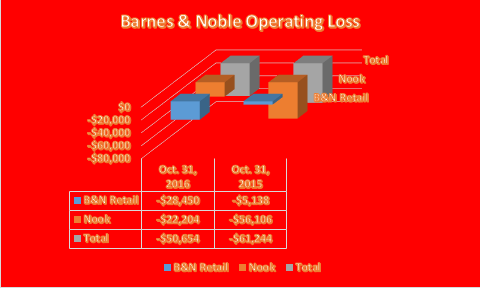 During the 26 weeks ended October 29, 2016, B&N Retail had no store openings and two store closings.
Litigation
Legal matters may also have bearing. An intellectual property law suit, Adrea LLC v. Barnes & Noble, Inc., barnesandnoble.com llc and NOOK Media LLC, appears to be drawing to a close. BN has been found in violation of a patent and the litigants are now attempting to have the court award damages.
There is also a relatively new class action involving overtime pay that could drag on for several years.
Conclusion
Barnes & Noble is a retail seller of books. It is trying to expand into other things that perhaps include becoming a restaurant. If one is looking for positives among results and measures, chances are EBITDA is important. There are reasons that the share price can move higher in the near term.
Ultimately, the company needs to reassure investors about this quarter. A convincing profit could be sufficient. If it is not successful, a cessation of the buyback should precede action on the dividend and a share price closer to book value.
Disclosure: I am/we are short BKS.
I wrote this article myself, and it expresses my own opinions. I am not receiving compensation for it (other than from Seeking Alpha). I have no business relationship with any company whose stock is mentioned in this article.