Let me start by saying that investors should stay up-to-date on a company's quarterly results, especially a company the size of General Electric (NYSE:GE), because these three-month snapshots provide great insight into whether or not a company is on track to meet management's short- and long-term goals. However, I believe that some analysts are now placing too much emphasis on GE's 2016 quarterly results, especially the cash flow metrics, without first taking into consideration the company's restructuring efforts and the progress that has been made towards achieving management's long-term goal.
I will expand on this topic throughout the article, but, in my opinion, this mindset is causing prospective investors to miss out on an opportunity to put money to work in a storied company that has great long-term business prospects in place.
The 2016 Results, Not That Impressive But Does It Really Matter?
GE has reported mixed results for the first three quarters of 2016, which has caused the company's stock price to underperform the broader market, S&P 500 (NYSEARCA:SPY), by a wide margin.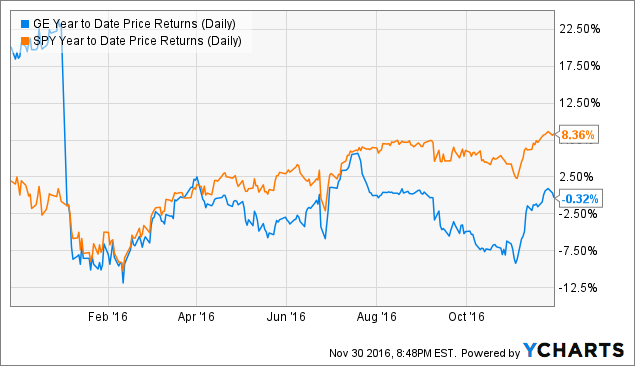 GE Year to Date Price Returns (Daily) data by YCharts
For the most recent quarter, GE reported a top-line miss ($29.3b vs. $29.6b) but an EPS beat ($0.32 vs. $0.30). More importantly, management still expects for the company to achieve double-digit YoY operating earnings growth for full-year 2016 (now expects for operating EPS to be in the range of $1.48-$1.52 --narrowed from the previous estimate of $1.45-$1.55) and let's not forget that these "new" earnings will warrant a higher valuation due to the fact that over 90% is projected come from the industrial businesses (i.e. more consistent and less risky earnings).
Another Seeking Alpha ("SA") author, Mr. Alessandro Pasetti, recently wrote a great article that detailed GE's 2016 operating results and covered the prospects of the company increasing its dividend later this year. After reading Mr. Pasetti's article, two things came to mind: (1) GE's revenue growth should be enough to please the company's long-term investor base and (2) the cash flow numbers are really not as bad as you might think.
(Full Disclosure: I would highly recommend for GE shareholders, and prospective investors, to read Mr. Pasetti's article).
Revenue Growth Is The Key, For The Time Being
Yes, we all want of our investments to be in companies that are able to always grow both the top-line and bottom-line numbers, but this is simply not reality; therefore, investors may have to be content with a company growing its top-line or its bottom-line during challenging times (or neither). This is currently the case for GE because earnings growth in 2016 has been hard to come by due to several factors (i.e. low commodity environment, macro concerns/uncertainty, major restructuring, selling financing assets, etc.). As such, GE reporting YoY revenue growth through September is great news, in my mind.
For the nine months ended September 30, 2016, GE reported an ~9% YoY increase in revenue.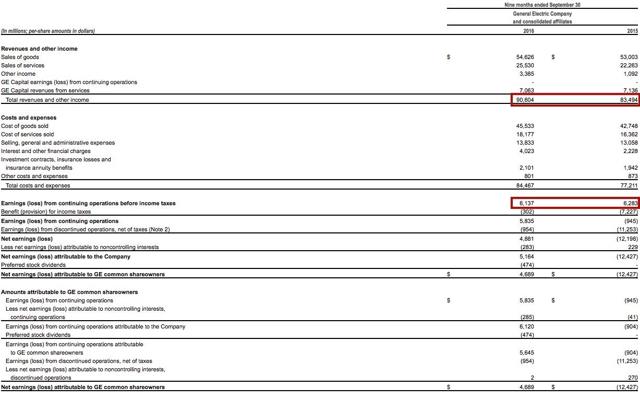 (Source: Q3'16 10-Q --edited by author)
The Power, Renewable Energy, Aviation, and Healthcare segments were the major contributors to the revenue growth over the first nine months of 2016, while, on the other hand, the revenue was negatively impacted by the poor performance of the Oil & Gas and Transportation segments.

(Source: Q3'16 Earnings Press Release)
The Transportation segment reported a slight decline in revenue (~$1b) but the Oil & Gas segment continued to experience significant headwinds and reported an ~$2.5b decline in revenue over the first nine months. The impact that the Oil & Gas segment has had on the company's consolidated results has already been well-covered here on SA (see this article for my thoughts), but it is important to note that GE was still able to "squeak out" almost double-digit revenue growth, even when one of its most-significant operating segments saw its revenue drop by over 20%.
The Alstom (OTCPK:ALSMY) acquisition has contributed to the revenue growth, but the one thing that seems to be forgotten is the fact that GE has had to replace ~$30b in revenue from GE Capital.

(Source: Q3'14 10-Q --edited by author)
GE has already sold ~$200b in financing assets so the company has made some significant progress in "making up" for the lost revenue in a few short years. So, earnings improvement/growth would be nice, but I am willing to look past the flat earnings as long as the company continues to show operational improvements and top-line growth because the earnings will eventually come, in my opinion. Moreover, GE has consistently met (or beat) the consensus earnings estimates over the last two years so the lack of earnings growth in 2016 should not [yet] be viewed as a concern.
The Cash Flow Numbers, Not As Bad As You Might Think
There have been at least two articles, including Mr. Pasetti's, over the last week that have highlighted that GE's operating cash flow figure is down significantly when compared to the prior year, as shown in the table below.

(Source: Q3'16 10-Q --edited by author)
The consolidated operating cash flow figure is indeed down big YoY, but I believe that the table below, which separates the industrial businesses from the financing businesses, provides more detail on the company's current state.
(Source: Q3'16 10-Q --edited by author)
The second table tells an entirely different story than the first table, in my opinion, but I do believe that there is a lot of noise in the numbers. As shown, GE Capital, and more specifically the cash used for discontinued operations, are causing the operating cash flow pressure. The kicker is the "(Earnings) loss from continuing operations retained by GE Capital" line item because this has had a material impact on operating cash flows for years. I believe Mr. Pasetti said it best "certain operating cash flow items and adjustments that are virtually impossible to model accurately through to 2018", when referring to the line item identified above. Investors should closely monitor this item going forward because it will be interesting to see where this number eventually settles once GE Capital, excluding the financing Verticals, is completely gone.
There are a lot of moving pieces in GE's cash flow figures but this should be expected with the restructuring that the company is currently going through and this is the exact reason why I believe that investors need to take the current year cash flow numbers with a grain of salt. I am not recommending for investors to pay little or no attention to the cash flow metrics, but instead, let's remember to step back and take the numbers into context with what is really going on with the company.
Bottom Line
I have long stated that GE is a long-term investment and that the company's story will become clearer in 2018, so I may be more willing than others to look past the current results due to my expectations. However, GE's results for each quarter of 2016 have shown that the company is progressing toward the more-industrial focused entity that it intends to be in 2018 and I believe that additional value is being created with the small tuck-in acquisitions that the company has made over the last twelve months.
The 2016 operating results have not been great but the results have also not been terrible either. Management still expects for the company to reach $2.00 plus in operating EPS by 2018, so the long-term story appears to be intact. GE is trading at ~18x 2017E earnings and ~15x 2018E earnings, so long-term investors should treat any pullbacks as buying opportunities. We should get more color on fiscal 2017 when management provides the annual outlook on December 14, 2016. Stay tuned.
Lastly, I fully expect for GE to raise its dividend later in December 2016 so investors may soon be getting paid more to wait for the company's long-term story to play out.
If you found this article to be informative and would like to hear more about this company or any other company that I analyze, please consider hitting the "Follow" button above.
Disclaimer: This article is not a recommendation to buy or sell any stock mentioned. These are only my personal opinions. Every investor must do his/her own due diligence before making any investment decision.
Disclosure: I am/we are long GE.
I wrote this article myself, and it expresses my own opinions. I am not receiving compensation for it (other than from Seeking Alpha). I have no business relationship with any company whose stock is mentioned in this article.