Now that the US Presidential election has finally run its course, the financial markets are getting back to work in terms of assessing the appropriate valuations for its benchmark assets. This, of course, is much easier said than done and all that the majority of the market can reasonably expect from here is a settling of the averages once the true economic picture gradually clarifies. This ultimately should lead to stock market declines that could grow with momentum once the economic realities become more apparent.
Chart View: US Non Farm Payrolls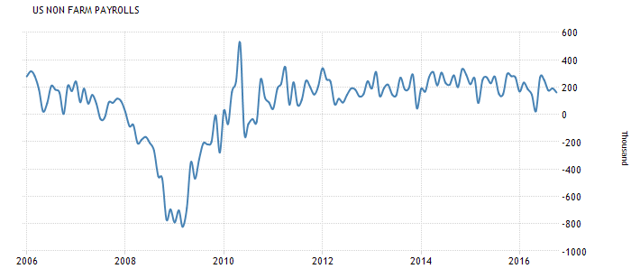 Chart Source: Gold Traders
The most critical area to watch can be found in the US non farm payroll numbers, which truly show the underlying strength (or lack thereof) that exists in the world's largest economy. If you believe the news headlines that have been generated over the past election season, it might be tempting to believe that a strong jobs creation performance has been in place over the term of President Barack Obama. But when we look at the longer term trajectory of the labor markets, we can clearly see that that is simply not the case.
In order to keep up with increases in the population, the US economy needs to add roughly 150,000 jobs each month. This essentially marks the rough average for what has been "gained" in the post-crisis period, so calling these job gains is confusing at best (and misleading at worst). It should also be remembered that the US economy doubled its total debt levels during the Obama administration. This is similar to say that we "fixed the house" when we really charged all of the repairs on our credit card.
All of this together suggests that the US economy (and the world economy) might not be on a footing that is as strong as many are assuming. This sentiment has only risen on the fact that markets are now pricing-in a pro-business policy platform from the next Trump administration.
Chart View: SPDR S&P 500 Trust (SPY)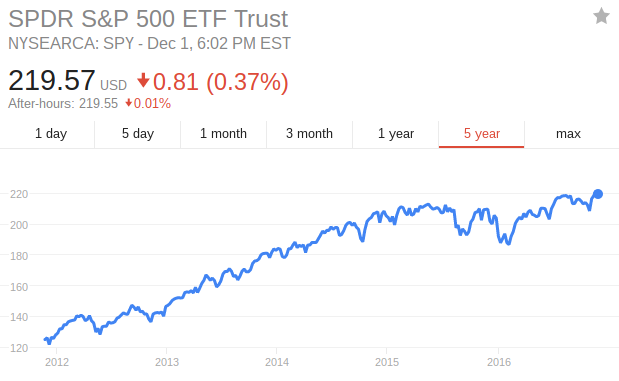 Chart Source: Gold Traders
At this stage, those investing in assets tied to stock benchmarks need to take a more defensive stance with equities trading at these elevated and extended levels. We will need to see some significant changes in the underlying labor market before we can reasonably expect corporate revenues to start beating expectations in a more sustainable fashion. This type of outlook does support the argument for options positions as further upside from here will get more and more difficult, especially if the Federal Reserve is forced to make good on its earlier policy stance to increase interest rates.
Chart View: SPDR Gold Trust (GLD)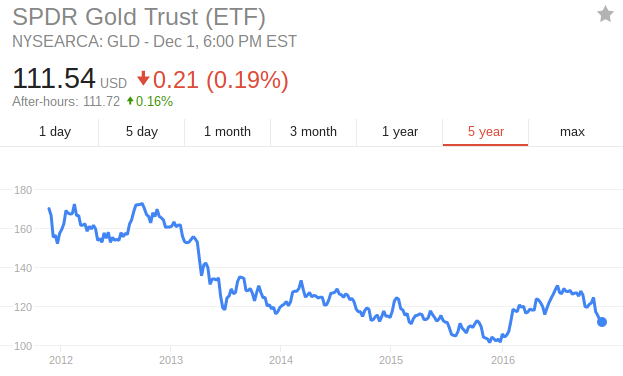 Chart Source: Gold Traders
Alternatively, long-term investors should keep assets like the SPDR Gold Trust in mind, as we could start to see scenarios that defy conventional logic. This is to say that a period of increasing interest rates might not necessarily be unfavorable for assets that are tied to gold, given the fact that the growth outlook is still constrained and it will take some time for those trends to turn. This, unfortunately, is still the best case scenario given the fact that there are significant tiers in the economic infrastructure that need to be addressed. This could catch some investors long at the wrong levels if you are someone that has invested in S&P 500 ETFs at the late stages of this rally.
Disclosure: I/we have no positions in any stocks mentioned, and no plans to initiate any positions within the next 72 hours.
I wrote this article myself, and it expresses my own opinions. I am not receiving compensation for it (other than from Seeking Alpha). I have no business relationship with any company whose stock is mentioned in this article.