While the majority of stocks have spent the past 3 weeks basking in the sun of the Trump victory, Fortinet (NASDAQ:FTNT) has not. Fortinet's stock price has lost 7% since the election, while the S&P-500 (NYSEARCA:SPY) is up roughly 2.5%. While there are some stocks that have not participated in this rally, most of these stocks are not also making new 6-month lows. Despite a brief rally post-election to the $32.00 level, Fortinet has fallen back into its old ways. The stock has broken its October low today, and now is all the way back to April levels. Un-fortinet-ly for investors, I don't see any light at the end of the tunnel. In addition to a very bleak technical picture, the company is showing no signs of an earnings turnaround. The stock has now seen three years of declines in annual diluted EPS, and looks to be on track for its fourth.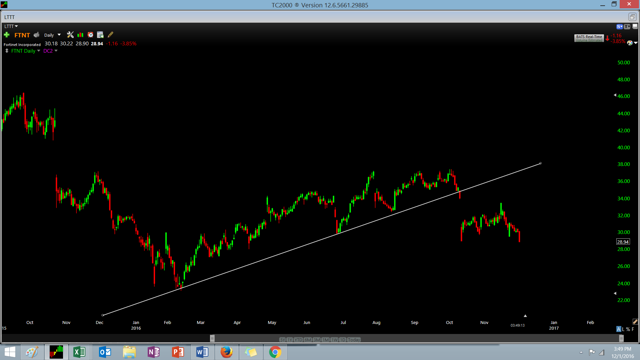 (Source: TC2000.com)
My investing strategy is a trend-following approach, and my buy signals are generated when stocks make new 3-month highs while above their 200-day moving average. My criteria for short candidates is based on very similar methodology, but I am looking for the exact opposite. My short signals are generated when a stock makes new 20-day lows, underneath a declining 200-day moving average. The reason I place so much importance on the 200-day moving average is very simple. The 200-day moving average is my line in the sand to determine whether an asset is in a bull or bear market. If a stock is above a rising 200-day moving average and making new highs, there is no question in my mind it's in a bull market. If a stock is below a declining 200-day moving average and making new lows, the stock is in a bear market.
In addition to the above criteria for short candidates, there is one thing I am looking for. When looking for stocks to short, I want to scan for stocks that are in clear downtrends on their weekly chart. The last thing I want to do is short a stock that is breaking down within a longer term uptrend. This type of setup is a recipe for disaster, as there is a possibility you are shorting at support within the uptrend.
To supplement my technical buy and short signals, I use fundamental analysis to confirm my trade thesis. When looking for new positions to enter, I am looking for stocks that have both quarterly and annual earnings growth. Despite the stocks giving me a technical buy signal, it must also give me a confirmation based on my fundamental screening. When looking for short candidates, I do not want to be shorting stocks with annual earnings growth. I prefer to be short stocks with either declining annual earnings, or annual earnings that are tapering off.
Now that I have explained my methodology for screening new positions, we will look at how Fortinet stacks up.
Fundamental Screening
Taking a look at annual data for Fortinet, there are some serious red flags in my opinion. Fortinet's revenue was up 30% year over year from 2014 to 2015, but this came on the back of 51% higher SG&A expenses, and 28% higher research and development expenses. The company's operating income dropped nearly 75% year over year, with net income dropping 68%. There has been a consistent trend the past few years of significantly higher operating expenses, yet only moderate revenue growth. This model of massive spending in order to drive costs is reminiscent of when I looked at Stratasys (NASDAQ:SSYS) last month. While everything looked rosy if you just looked at revenue, there were serious problems underneath the hood. Stratasys is currently down 17% since I unveiled my short position last month, and is on the precipice of making new 6-month lows.

(Source: YCharts.com)
In addition to paltry revenue growth in comparison in the increases in operating expenses, the company's bottom line is no better. Fortinet has seen annual diluted EPS decrease by double digits each year since 2012, and there is no signs of this changing. Fortinet has reported $0.01 in diluted EPS this year thus far, and is on track to see another year of declining earnings. If the company is not cash-flow positive in Q4, this will be largest annual earnings decrease to date.

(Source: YCharts.com)
Zooming into Fortinet's quarterly results, they do not provide much solace for investors. The company has seen quarterly diluted EPS decrease year over year for every period except for Q3. Fortinet will need to post a strong Q4 of $0.04 or higher just to match its annual earnings for 2015.
The Technicals
Taking a look at the technical picture for Fortinet, there is no question the stock is in a weekly downtrend. The stock has been making lower highs since late 2015, and is struggling immensely with the $37.00 level. The stock does not respond well to being below its 50-week moving average, and it has just closed below this level once again. As we can see from the below chart, the stock traded above its 50-week moving average from 2014 through to late 2015. During this period the stock found support at this level, and dips were bought by investors. Once the stock broke below its 50-week moving average, the dips were no longer bought on the stock. Shallow declines turn into avalanches, and the stock has been unable to regain this level for a period of over 10 consecutive weeks since.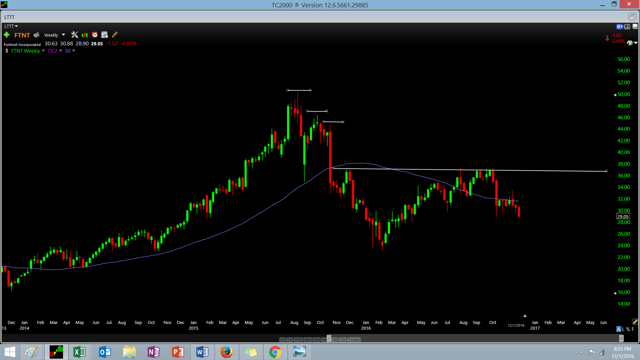 (Source: TC2000.com)
Looking at a daily chart of Fortinet, things are not any prettier. Fortinet has gapped down twice in the past year, and both gaps have not been filled. Stocks tend to trend in the direction of the gap, and the most recent gap will likely cause acceleration to the current downtrend.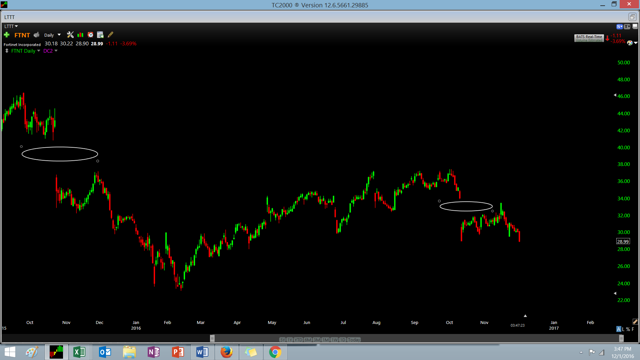 (Source: TC2000.com)
In addition to having just gapped down violently recently, the stock is now trading back below its 200-day moving average. Fortinet has been fighting to get back above its 200-day moving average all year, and the most recent decline has caused the stock to find resistance against it (yellow line).
The most unnerving development about Fortinet's chart is the fact that support of this year looks to be broken. The stock has found support 4 times at the $29.95 level this year, but today this stock was violated once again. As we can see from the below chart, each test of the $29.95 level is becoming more frequent. This is not a good sign technically for the stock, as it typically means this level will eventually give way. Today marked the lowest close for FTNT over the past 6 months, in addition to a marginal break of support. Due to this new negative development, I went short Fortinet this afternoon at $29.30.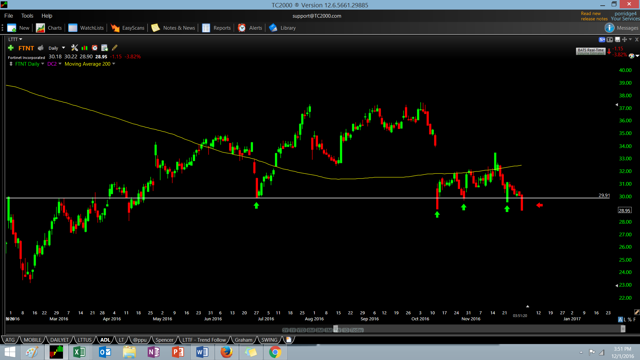 (Source: TC2000.com)
What if my thesis is wrong?
For each new position that I enter, I always figure out where my max pain level is before putting on my trade. I am short Fortinet as this morning from $29.30, and my stop level on this trade is at $33.97 on a closing basis. My stops for trend-following trades are based on levels where I believe my thesis to be invalidated. I have chosen the $33.97 level for 3 different reasons:
A) The $33.97 level represents a break of the 200-day moving average to the upside, which begins to jeopardize my bear market thesis on the stock.
B) The $33.97 level represents a clean break of the downtrend in place since 2016, I do not want to be short during a breakout from a prolonged downtrend.
C) The $33.97 level also represents new a new high above the most recent swing high on the stock.
If the downtrend line breaks and the 200-day moving average is regained, my final line in the sand is the swing high made in November at $33.49. If all 3 of these are overcome, there is a very weak technical thesis for being short the stock.
What is my risk?
My risk on this trade is the difference between my entry at $29.30, and my stop at $33.97. This represents a $4.67 risk on my position, or roughly 16%. Due to the fact that there is a 16% position risk, I am only using 6% of my portfolio to short the stock. My risk profile only allows me to risk between 1.0 - 1.25% of my portfolio at the most on any one position. A 6% position in my portfolio with a 16% risk is equal to a total portfolio risk of 0.96%. I have no price target on this trade as I believe price targets are profit-limiting. As long as the stock remains under the 200-day moving average I will stay short the stock. If the stock's decline becomes too steep, I will take profits on 1/3 - 1/5 of my position to re-balance the sizing in my portfolio, and remain short with the remaining position.
Due to the fact I am 100% long the market in my ETF account using UPRO, I am running a balanced portfolio in my U.S. equities account. I am currently long Apple (NASDAQ:AAPL), JPMorgan (NYSE:JPM), Fresh Del Monte Produce (NYSE:FDP), Skyworks Solutions (NASDAQ:SWKS), Intel (NASDAQ:INTC), Alphabet (NASDAQ:GOOG) (NASDAQ:GOOGL), United Health (NYSE:UNH), Best Buy (NYSE:BBY), Starbucks (NASDAQ:SBUX), Paypal (NASDAQ:PYPL) and Texas Instruments (NYSE:TXN) with 74% of my portfolio. I am short FireEye (NASDAQ:FEYE), TripAdvisor (NASDAQ:TRIP), Stratasys and Fortinet with 25% of my portfolio. This leaves my momentum account for U.S. equities with 1% cash. As should be quite evident, I am long some of the strongest stocks, and short the weakest stocks. This position moves the balance of my U.S. equity account to 74% long, and 25% short. If I am wrong on the direction of the S&P-500, the stocks I am short should see significant declines and off-set most of the declines in my long positions. I am currently long the S&P-500 from 2045 in April.
I believe Fortinet to be an excellent short candidate for those looking for protection against their longs in this market. I see no reason to believe the stock's trend will reverse, and the support at $29.95 is now marginally broken as of today's close. The fact that the company pays no dividend means that there is no cost for shorting the shares, which is another positive. The trend is not your friend if you are a long in Fortinet at this current juncture, and I will remain short until this changes.
Disclosure: I am/we are short FTNT, FEYE, TRIP, SSYS.
I wrote this article myself, and it expresses my own opinions. I am not receiving compensation for it (other than from Seeking Alpha). I have no business relationship with any company whose stock is mentioned in this article.
Additional disclosure: If you liked this article and found it useful, please feel free to follow me by clicking on my name next to my avatar at the top of this article. I also invite you to follow me at www.twitter.com/TaylorDart01 where I routinely share my entries, exits, and stops on new positions, as well as updating followers on sentiment data on markets I am following.