Amazon (NASDAQ:AMZN) is not leaving any stone unturned for achieving the leadership position in its next major growth market after the US. Amazon's aggressive moves in India have had a negative impact on local competition. Former market leader, Flipkart (FPKT), has seen its valuation estimate lowered by investor Morgan Stanley by another 41% to $5.54 billion according to its latest regulatory filings. This effectively chokes its ability to raise future funds which puts Amazon in a strong position to grab higher e-commerce market share in this region.
Jeff Bezos has already announced investments of over $5 billion in building logistics, operations and marketing in the Indian market. The company has added 120,000 sellers in this market and has built over 2.5 million sq ft of warehouse space. Although the numbers are smaller than its domestic market in the US, it has reached the current level within three years of starting operations in this market. As a comparison, its biggest competitor Flipkart has only 90,000 sellers.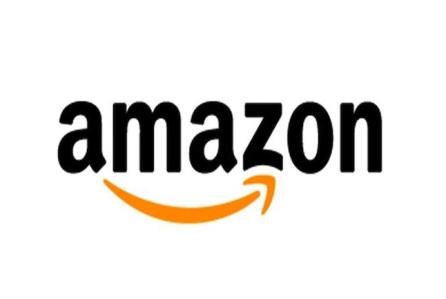 Effect on local competition
The entry of Amazon in 2013 changed the e-commerce landscape within India. With abundant resources, Amazon has been able to challenge local competitors on almost every corner. Flipkart was the main player before the arrival of Amazon and was able to raise a good amount of cash in a series of funding rounds. However, this all changed in 2015 when Amazon started ramping up its operations in India and both companies entered into a ferocious battle for market share.
Being a private company, Flipkart had a limited amount to expand logistics and provide discounts. Still its burn rate was quite heavy during 2015. The high burn rate, non-existent profits and future competition from Amazon led to lowering of valuation estimates in 2016 by several investors. In February 2016, Morgan Stanley marked down the value of its stake by 27% giving Flipkart a valuation of $11.2 billion. Recent valuation updates have led to further erosion in estimated value. It is now valued at $5.54 billion, down from $15.5 billion in May 2015. This 63% erosion in value shows the impact Amazon has had on its competitors.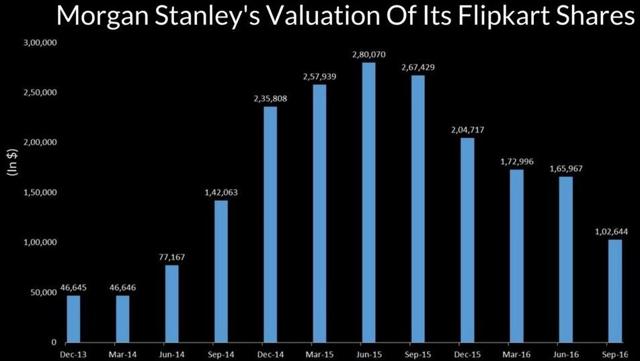 Fig: Changing fortunes of former market leader Flipkart. Rapid fall of valuation in the last 18 months signals the increasing market share of Amazon.
In order to sustain its exponential growth, Flipkart required regular cash infusion which it used for giving discounts and marketing. However, as the valuation shrinks, it will not be able to get the requisite funds. The last funding round made by the company was in July 2015 at the peak of its valuation. At that time, it was stated that this cash would be sufficient to sustain operations for 18 months.
We are nearing that stretch and the only reason why it has not announced another round of funding is because of lower valuation. With some belt-tightening, Flipkart might be able to extend this cash by another 6 months but then it would require either a buyout option or an outside investor like Alibaba (NYSE:BABA) or Wal-Mart (NYSE:WMT) with whom it was in talks.
Future prospects Of Amazon In The Indian market
Within three years of operations, Amazon has been able to topple market leader Flipkart in terms of sales, sellers and logistics. It has launched Prime membership in the last quarter and is planning to start video and music services also. As other competitors figure out their next move, Amazon is ideally placed to grab a good percent of market share from them. The next two quarters can also give Amazon a decisive lead which would be difficult to overcome for future e-commerce players.
The company is currently seeing over 100% growth in the market and expects to reach $10 billion in GMV (Gross merchandise value) soon. Senior management has also said that they expect this market to outpace operations in other international markets like UK, Germany and Japan.
Currently, there is demonetization going on in India where the government is replacing higher currency bills. The government hopes there will be a move to greater digital payments which will help in increasing transparency in transactions. Although a short-term obstacle, it can create additional opportunities for Amazon to reach a wider customer base.
There is also rapid growth of internet usage fuelled by the entry of another telecom provider, Reliance Jio. Jio has added 52 million customers to its 4G network in less than 3 months. It has had a free welcome offer where customers could use the services without any fees. Initially slated to run from September to December 2016, it has been extended till 31st March 2017, by which time it hopes to have a customer base of over 100 million.
This free offer has led other competitors like Vodafone (NASDAQ:VOD) to reduce their rates, fuelling growth of smartphone purchase and internet usage. According to Ericsson Mobility Report, the smartphone user base will touch 810 million by 2021, a big increase from close to 260 million base currently. As a wider customer base gets smartphone and higher internet speeds, e-commerce players like Amazon will be able to reach a greater number of customers.
Contribution to Amazon's revenue
A recent Deloitte report forecasted the growth of online shoppers in India from a mere 39 million in 2015 to 220 million by 2020. Along with this, the average spend will also increase from $247 to $464 during this time. This will increase the e-commerce market size to $101 billion. Amazon will be able to carve a big portion of this market. As this market adds tens of billions of dollars in sales in the next few years, Amazon should find it easy to hit a growth rate of over 25%. This should certainly boost its stock price, eliminating any fears of slowdown in growth due to a higher base effect.
Investor Takeaway
Amazon has taken the market leader position in India. Tough competition given by the company led to the fall in valuation of former leader, Flipkart, by 63% in less than 18 months. Flipkart is valued at $5.54 billion compared to $15.5 billion last May. This will make it even harder to raise fresh funds forcing the company to reduce discounts and giving away more market share to Amazon.
The Indian economy is growing at over 7% and this market is seeing a rapid increase in smartphone and internet usage. With a forecasted addressable market size of $101 billion by 2020, this region will be one of the fastest growth markets for Amazon, providing additional sales of tens of billions of dollars in the next few years. A solid base in this region will also help the company expand to Southeast Asia.
Amazon is a long-term growth story and its ability to achieve market leader position within three years of entry in the Indian market is testimony to its operational excellence and future ambition. The company should continue to deliver top line growth of over 25% for the next few years as it expands in international locations boosting its stock and giving good returns to long-term investors.
Disclosure: I/we have no positions in any stocks mentioned, and no plans to initiate any positions within the next 72 hours.
I wrote this article myself, and it expresses my own opinions. I am not receiving compensation for it (other than from Seeking Alpha). I have no business relationship with any company whose stock is mentioned in this article.