Overview
If you've followed Gilead (NASDAQ:GILD) over the last year, you're familiar with some variant of this question:
Given the recent disappointing results of your pipeline, declining HCV sales and depressed multiples, do you feel it is an appropriate time to engage in M&A activity to boost bottom-line growth?
And the common answer:
We are exercising caution and do not wish to overpay, such as with simtuzumab, due to investor pressures.
I was reading the transcript of the Piper Jaffray's conference and found this asked and answered yet again. I see people comment on articles here about it, I see contributors write about it, and I see analysts discuss it. Today I'll offer my two cents.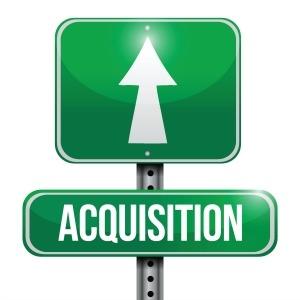 Source: Moneymanagement.com
Gilead's prolonged depression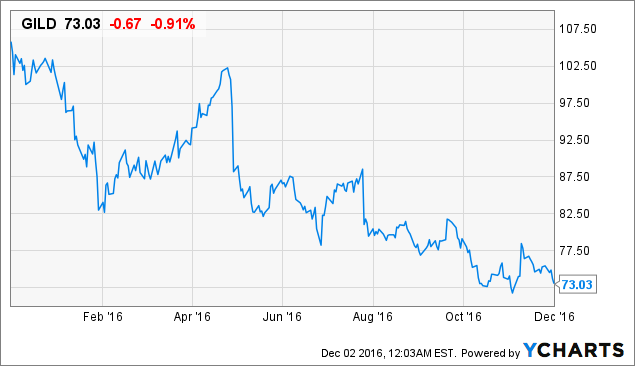 Gilead's performance over the last year has been disappointing at best. We've seen declines in HCV sales and disappointing pipeline results such as with GS-4774 and Momelotinib. The company seems to be transitioning from a growth company to a value company, despite the high year over year growth in the HIV franchise. Revenues and earnings are forecasted to continue to drop over the next few years, especially as HCV becomes a relatively smaller portion of their business which will shrink the company's overall margins.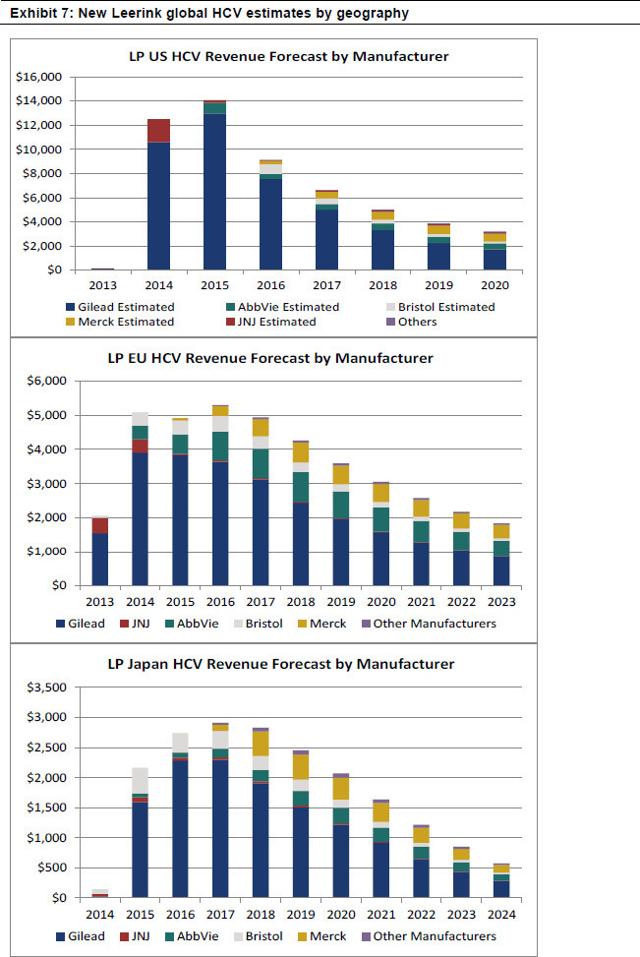 Source: Leerink Research Report on September 27th, Company Reports. Note that Leerink is more bearish on HCV than most sell-side analysts.
At this point, investors have accepted the reality of the HCV business: it is a cash cow and should not be anticipated to grow barring entry into China. Their hopes are placed in HIV and the pipeline. If growth in HIV lags, we'll see price fluctuations similar to what is seen in Netflix (NASDAQ:NFLX) when subscriber growth misses expectations. Fortunately, the prospects look positive in HIV for the next 5 years and Gilead should remain a strong force in the next 10-15 years as covered in my previous article.
However, investors are looking for more sources of value generation than HIV. The deterioration of the bottom line offsets many investors who need to see growth to keep faith in the business. Valuations often depend on growth, so their concerns are not unfounded. But do we need an acquisition to generate value and sustainable growth?
Acquisition: Value added or destroyed?
Acquisitions and mergers often destroy value, especially in larger firms. However, there is also evidence to suggest that larger firms must rely on M&A to grow and that smaller acquisitions can add value in the long run. Gilead's key creation of value in the last 5 years has been the Pharmasset acquisition.
Investors are beginning to shift their focus to the pipeline, looking for candidates that can move the "proverbial needle." Given Gilead's recent pipeline results, investors have their doubts that the pipeline even generates value. And while Gilead's cash holding is impressive, it is primarily comprised of debt and their share buybacks over the last year have destroyed value.
In a McKinsey study, it was found that the variability in organic (internal) growth returns was higher than M&A strategies suggesting potential increased risk. Many small acquisitions created the most value for large firms over those who tactically and selectively choose acquisition targets. While the study did not focus on big pharma, it provides insight that a series of smaller acquisitions may be a valid choice for value generation, especially in rapidly developing fields.
While my initial position was to rely on organic growth, these study results along with investor sentiment and disappointing pipeline announcements have encouraged me to reconsider. Gilead has illustrated prudence and competence in M&A thus far and further M&A will likely be required to achieve future growth. Given their capital reserves, it is appropriate to apply this strategy as it does not place the company in financial jeopardy and there is evidence to suggest such acquisitions can create value.
Potential Acquisition Targets
First, Gilead has made it clear that a majority of their R&D is centered on Hepatitis B. Despite only having one candidate in the pipeline (GS-9620), there is preclinical studies being performed that cost Gilead a significant portion of HBV R&D effort according to CSO Nobert Bischofberger. Drug development in Hepatitis B has rocketed in the last few years after discovery of an HCV cure. It stands to reason Gilead may choose to acquire other potential candidates in the field.
There are currently 11 drugs in Phase II development for the treatment of HBV, including Gilead's. Of these, there are five different types of direct acting antivirals and one type of indirect acting antivirals (they all interact with the innate immune system). We are a long way from either a clinical or functional cure (minimum 5 years), but we know that a cure will likely be a combination of DAAs and IDAAs as well as different drug classes. In the field of development for HBV, Gilead, Johnson & Johnson (NYSE:JNJ) and Roche (OTCQX:RHHBF) have similar capital availability should they seek acquisitions. Given Gilead's expertise in virology and liver disease, it is highly likely that Gilead may pluck some of the candidates shown below if there are future positive results: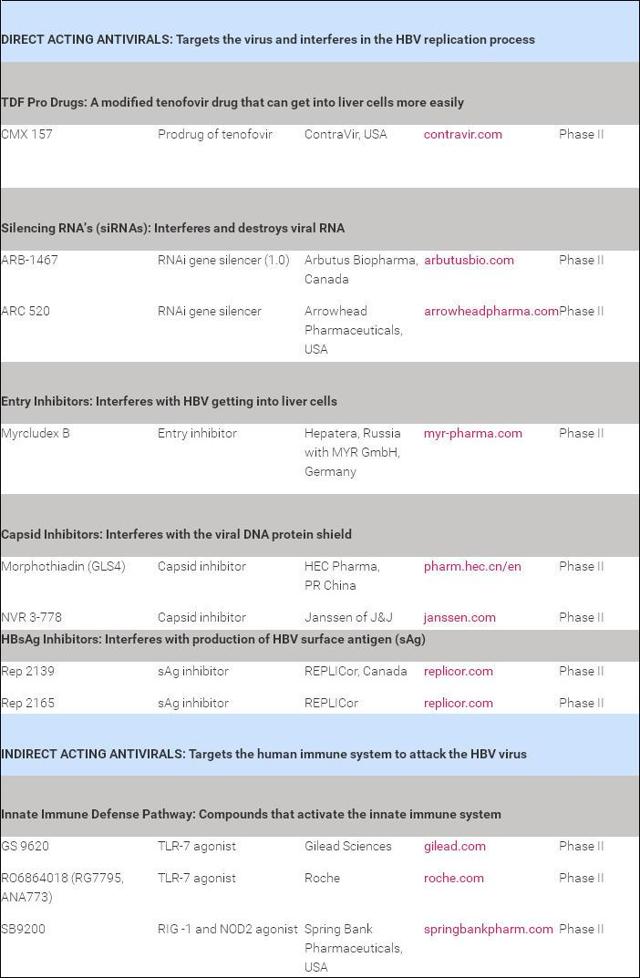 Source: hepb.org, drugs in phase I edited out from table above. Click on hyperlink to see all drugs in development.
There's also NASH, where most investors are excited since the market size is projected to grow as large as $35B by 2025. Gilead has expertise regarding liver disease and there are a variety of targets that they may choose to pick from. Of these, the most attractive still remains Genfit (OTCPK:GNFTF), whose small size, drug mechanism, and phase III standalone treatment Elafibranor remains the closest to market approval (2019). While combination treatments will likely be the best solution long-term, monotherapies will be the first to market.
Even in HIV, where Gilead will likely be ceasing further R&D research beyond what is currently in the pipeline, there are targets such as CytoDyn's (OTCQB:CYDY) PRO-140 that offer different mechanisms by which to fight the virus and offer less hepatotoxicity concerns than existing HAART drugs. And on the long-acting (LA) treatments, John Milligan, CEO of Gilead, even mentioned during the Piper Jaffray conference that LA treatments in HIV patients may have better efficacy in a real world setting where patients are more likely to forget to take pills. This can add value to payers, as negligence becomes less of a concern (and which is nearly impossible to measure in clinical trials).
Conclusion
The options are there, but when should Gilead act? When I look at these key areas for potential acquisition targets, the answer is somewhere in the next two to five years. In Hepatitis B, it is acceptable to be cautious and delay decisions given the high amount of in-house research and the time gap until mechanistically new treatments are released to market. In NASH, Gilead should act swiftly. Drug approval can occur as soon as 2019 and first mover advantage will play a pivotal role in determining NASH market share. Gilead has the resources to acquire more than just Nimbus, and Genfit could be a great target. And while Gilead leads in HIV market share by nearly 40% to the second largest competitor, they can continue to establish dominance by keeping their eyes open for opportunities in the field as they slow in-house research on HIV. This is not even covering targets like Incyte (NASDAQ:INCY) since the Momelotinib disappointment. Time will tell where Gilead places its money, but I am confident there is M&A in the horizon soon.
Disclosure: I am/we are long GILD. I wrote this article myself, and it expresses my own opinions. I am not receiving compensation for it (other than from Seeking Alpha). I have no business relationship with any company whose stock is mentioned in this article.
Editor's Note: This article covers one or more microcap stocks. Please be aware of the risks associated with these stocks.