It is Friday morning as I write this and I know you are just as much in a hurry as me to get on with your weekend activities. With this in mind, I will try to make this article quick and insightful. Those who follow my work may recall, I pivoted from being bearish to slightly bullish on gold in my article earlier this week. Now with November behind us, three things in particular grabbed my attention this morning. All three data points seem to confirm that we may have put in a tradeable low in gold and gold miners.
Here is what is driving my reasoning:
1) November saw massive fund flows out of precious metal funds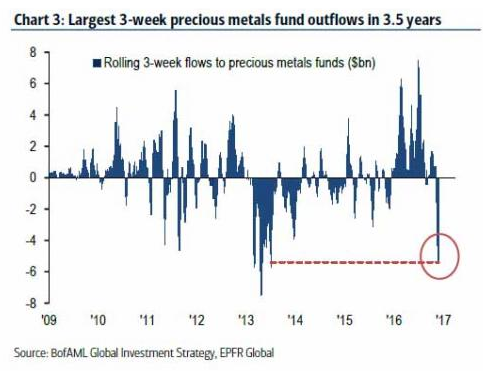 Almost $6 billion dollars were pulled out precious metals funds in November, a number we haven't seen since 2013 when we were well into the bear market in gold. This is also the largest peak to trough flow we have seen on a six month time frame in almost a decade. Worth noting is that important lows were made in 2013 which led to a 35% rally in the GDX (NYSEARCA:GDX) in the early part of 2014.

2) ETFs have liquidated over 4.5M ounces of gold in the past 6 weeks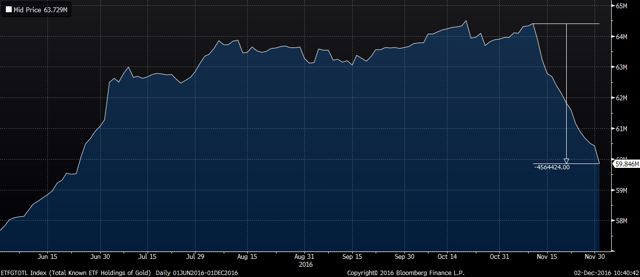 Gold ETFs such as GLD (NYSEARCA:GLD) are big and liquid and as a result a favorite means for large institutions to allocate money into and out of bullion. The past six weeks saw almost 5M ounces of gold get sold out of gold ETFs. Using the average price of gold during this time frame of $1250/oz, this translates to $5.7B moving out of the metal.
3) The price of put protection in gold appears to be ready to normalize
One of my favorite measures of spotting exhaustion in gold is measuring the price of protecting the downside. As the chart below shows, it is very expensive to protect your downside in gold using options. Previous troughs in the chart have marked tradeable lows in gold.

So where does all this lead us? Well, we have now have seen record flows out of precious metals funds, massive flows out of bullion ETFs and cost of insuring against downside while expensive, appears to be normalizing. To my eye, this appears to be a sign of a low in gold. I remain long GDX calls.
Disclosure: I am/we are long GDX.
I wrote this article myself, and it expresses my own opinions. I am not receiving compensation for it (other than from Seeking Alpha). I have no business relationship with any company whose stock is mentioned in this article.