Clearly if Smith & Wesson Corp (SWHC) had a financial "magazine" to load up, they seem to have it ready! Smith & Wesson delivered good results for Q2 beating earnings estimates by $0.12 per share with EPS of $0.68. Revenue grew nearly 63% year over year to Q2 revenue of $233.5 million, which was $5.89 million over conservative estimates.
Firearm revenue was up 57.5% to $194.5 million dollars and Outdoor Product revenue stood at $39.1 million. Outdoor revenue was up 97.9%, almost entirely due to the increases from Taylor Brands and Crimson Trace acquisitions. (This means the acquisitions brought in roughly $37 million of income that Smith did not have last year.)
Smith reported $20.8 million in positive cash flow during Q2 leading to a cash on hand of $73.9 million. Smith & Wesson has also repaid $25 million they borrowed from their line of credit and outstanding debt stands at $172.1 million. The banking line was increased to $500 million, from the previous $225 million as mentioned before in this article.
Guidance for the full year was increased to between $920 million to $930 million with Q3 sales expected to run at roughly $230 to $240 million dollars. [This is slightly lower than previously mentioned; however remember that Smith and Sturm Ruger (NYSE:RGR) are always conservative in providing numbers as well as the fact that Smith has added CapEx to produce a new item expected soon which increases current expenses]. Increased promotional activity usually happens around the Shot Show and NRA Show which is coming up soon. This is when they announce new products and offer discounts and deals to dealers and retailers to get product onto their shelves.
Smith expects $50 million in CapEx this fiscal year due to capacity increases and tooling enhancements for new products expected out soon. (At least one of the new products was hinted at, details below.)
CEO James Debney
Mr. Debney stated, "Distributor inventory of our firearms increased as anticipated by about 33,000 units to a total of 189,000 units at the end of Q2. Over time, as our production output and revenue has increased we are focused on increasing our inventory to optimize distribution of our product with independent retailers in support of our take market share strategy." (emphasis added) This is especially important information regarding what Smith and Wesson is currently planning, as we are headed towards the holiday season and distributor shows.
The increase in units is equivalent to roughly eight weeks of inventory on the shelves and ready for purchase. This may be a bit high now that election results are known, but you can't blame them for pushing product out considering that everyone was expecting a buying frenzy based on political outcomes. It is highly likely that promotional activity will be higher than previous years to make sure they sell through what is currently on distributor's shelves, hence the lowered guidance in Q3. Mr. Debney stated as much in the earnings call.
Debney's also remarked that they believe they are increasing market share due to percentage of sales increase vs. percentage of NICS increase. Of course, this is not a perfect way of accurately predicting market share, but there may not be a 100% accurate method to know since we have numerous smaller private companies and only a few larger public companies that manufacture firearms. However, the numbers would suggest that S&W is actually increasing market share. The issue is really that we don't fully know who the market share is coming from, and what the final cost to Smith's margins are.
New Products Drive Market Growth
"In the quarter, Crimson Trace began shipping LiNQ, an innovative, new two piece light and laser sight module that utilizes state-of-the-art wireless operating technology and takes the ease of activation to new levels." Mr. Debney
Smith & Wesson and Sturm Ruger have learned that the best way to continue selling record numbers of products is to innovate and create an "Apple-like (NASDAQ:AAPL) mentality" with owners by feeding them a cool, new item as often as possible. While Apple does this by implying they need the upgraded model, Smith and Ruger have to do this knowing the products they design should last a lifetime. These new products make up a good percentage of sales and continue to bring people to the store to purchase.
SWHC announced that they will be bringing over 100 new products from the entire company that will be launched at SHOT Show 2017! While this is likely lots of accessories and other products, we can expect firearms to be on the list of new items as well. In fact, they did mention a new pistol was coming that would be in the M&P offerings.
CEO Debney, and Smith & Wesson, seem very competitive in margins and pricing in order to win market share. They are most likely reducing possible profit in order to try to win more market share. They have announced that they are after market share. They have announced that they will be offering promotions. This is highly aggressive behavior from a company that has grown by roughly 50% over the last year.
Company Executives also state that the future AOBC strategy will not lose their core business built on shooting, they are merely expanding into the larger outdoor market in order to take a piece of a larger pie. (They believe shooting is roughly a $4 billion dollar market, and combining revenues from all the markets they are trying to reach Mr. Debney stated that they are now addressing a market that is roughly $60 billion dollars.) This is exchanging their share of one pie, to focus on a larger pie.
NICS for November 2016
As mentioned numerous times before, FBI NICS checks are not a perfect proxy for firearm sales. However they are a useful tool to see what is happening in the market. "First they are posted monthly by the FBI. Second, they are required for every purchase of a firearm. While it is possible someone intends to purchase and does not complete the sale, the check is necessary for every new firearm purchase which gives us useful information."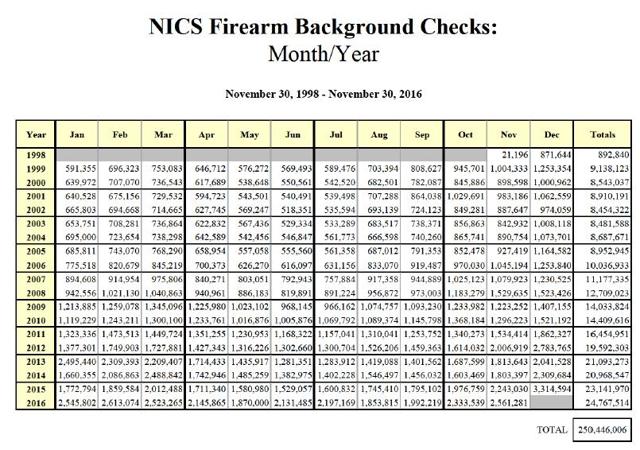 As shown, NICS checks were up in November… and up big. November NICS data shows just over 2.56 million background checks were completed, and Black Fridays one day check total was up to 185,713. The November data is an increase of 14.2% over last year, and the streak of year over year monthly gains continues to advance after 19 months.
What is going on?
Mr. Market has dropped Smith & Wesson by over 15% in the last two days. Market "analysts" are stating that Smith is going to be "Hindered" going forward, while Lake Street and Wunderlich offer relatively recent downgrades for SWHC. What is a fact-finding person to do?
Obviously the market has plans for Smith and Ruger, regardless of results. While it is possible that Smith and Ruger get smacked to the floor in December, someone who is interested in long-term viability of these companies needs to look with less emotion. In fact, Wunderlich has a Hold rating on Smith even though they list the price target at $26 dollars, which if purchased at today's $21.50 per share would net a buyer a cool 20% gain if it rose to their price target.
I do suggest people have some calm about what is happening, however. Numerous people are posting that the November results prove that demand is high after the election results are known. However, I would suggest that we do not know that yet. Results from October and November could have been heavily skewed by pre-election results buying. Now that the election is past, we need to see December results to know whether true demand is still there. The fact is, we don't know what percentage of NICS checks or sales happened before and after Nov. 8th to truly know what happened.
December results will not have pre-election day numbers in it, it will only have post-election results and that is why early next year we will have a better understanding of where demand truly is. I have a hunch that I am betting on overweight position in my portfolio on. However, it is a hunch from understanding the facts AND having understanding on the firearm market. Not one or the other.
My hunch is that December results will show another increase in NICS year over year. However it is based on something nobody knows yet, so you can choose what to do with your own finances. Should December NICS show a gain, these stocks should "shoot" much, much higher in 2017. (Play on words fully intended.)
Disclosure: I am/we are long SWHC, RGR.
I wrote this article myself, and it expresses my own opinions. I am not receiving compensation for it (other than from Seeking Alpha). I have no business relationship with any company whose stock is mentioned in this article.