Reasonable and rational investors expect that MannKind (NASDAQ:MNKD) will have a difficult closing to 2016. The hurdle of the first major holiday of Q4 is now past the company and the script results were pretty much what I projected. when I downgraded the sales trajectory at the end of October.
For the week ending November 25th scripts came in at about 220. New scripts suffered the most by declining to less than 100. There are typically two major holidays during the year where sales of pretty much any medicine take a hit: Thanksgiving and Christmas. I had projected scripts for this week to be about 235 (12 scripts higher than what was delivered). I feel that my projections for the balance of the year will be slightly high, but within reasonable margins for investors to consider the dynamics at play.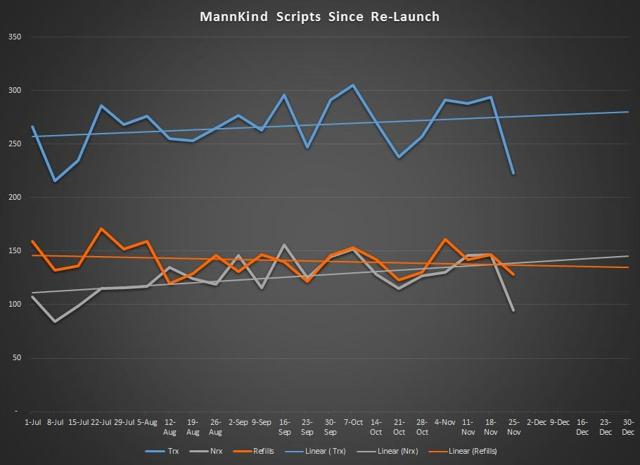 Chart Source - Spencer Osborne
On a quarter over quarter basis sales remain in positive territory, tracking 5.45% better than what was delivered in Q3. If not for the major Q4 holidays, the company would likely see modest quarter over quarter growth. Because of the major holidays I anticipate a modest quarter over quarter decline. What is likely very frustrating for investors is that Afrezza is simply not gaining material traction. As the sole product of the company, the modest growth we have seen in the re-launch is simply not going to cut it when the street assesses MannKind as an investment.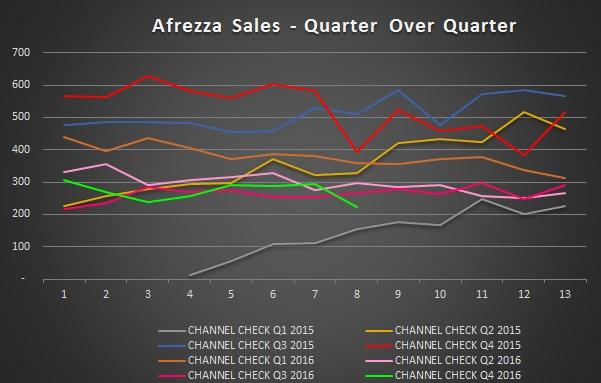 Chart Source - Spencer Osborne
From a year over year perspective the improving trend we have seen over the past several weeks is likely over. Afrezza sales are well behind where they were a year ago, but the size of the gap had been decreasing. With this week's numbers the sales have fallen below the trend line. I anticipate that the new norm over the next 4 or 5 weeks will be to remain below that line. Sales in Q4 of 2016 are 51.59% lower than what was delivered by Sanofi in Q4 of 2015.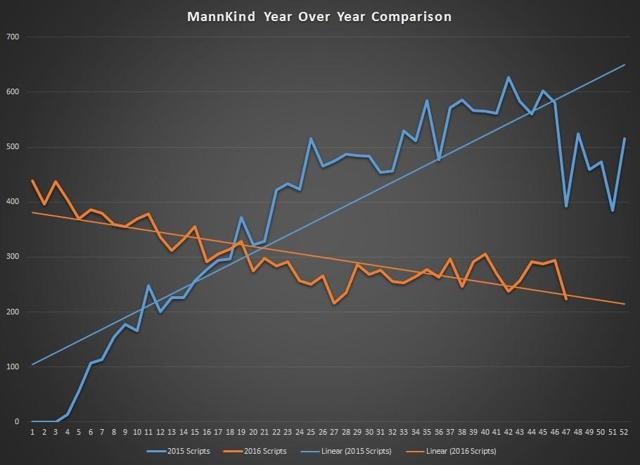 Chart Source - Spencer Osborne
As part of the continued coverage of this equity I give estimates on the all important cash position of the company. Cash is critical, and whether investors like it or not, obtaining additional cash at reasonable terms will not be easy. MannKind did negotiate some better terms on an insulin supply contract, and was able to close its dispute with Sanofi. These developments brought (or will bring) in enough cash to get through Q2 of 2017. That is not really a lot of time to ramp up sales to the levels needed to gain the leverage and respect needed to get a good deal done. In the chart below I assume that the cash from recent negotiations is already in hand.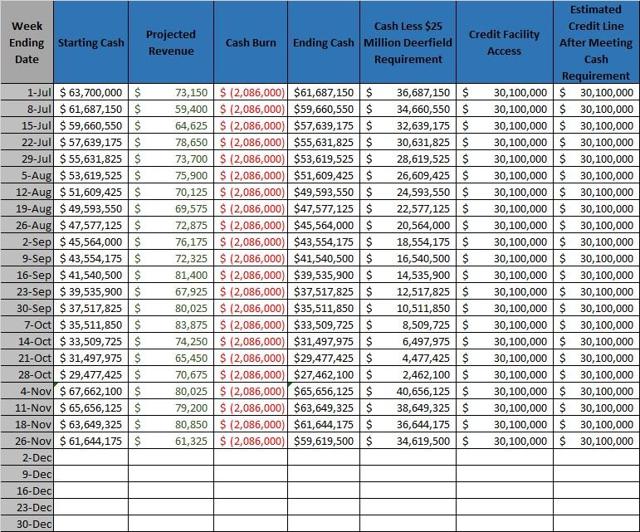 Chart Source - Spencer Osborne
By my estimation MannKind has about $59.6 million in cash. With cash burn of $10 million per month, you can see that there are about 6 months remaining in cash. The company has a credit line of $30 million that it can tap, and an ATM facility that can bring in some added cash via dilution. There has been a promise from management that a milestone payment is expected from Receptor Life Science, but realistically that milestone will be $5 million or less and by about 1 or two weeks of time.
The fact is that MannKind needs to tap into cash if it wants to fund additional sales reps, additional marketing, and start a modest advertising campaign. Simply stated, MannKind is running out of options while at the same time seeing its leverage degrade as each week passes. Rising sales could extend the runway, but as yet, the sales have been much flatter than needed.
In terms of projections, I have restated my outlook as of the end of October. This week the sales drop was slightly bigger than I predicted, but well within any reasonable margin of error. My current projection takes into account that the company will have some additional reps on board for Q1, and that a small advertising effort will formulate as well. The first quarter is oft one of the strongest quarters in terms of ramping up sales. Companies are usually flush with new budgets and the fresh year always seems to give reps more vigor. Even though the projections I am laying out show progress, the problem remains the same. The progress that will be needed to impress the street is much greater than what I think can realistically be delivered. At this stage I think many of the pie in the sky estimates that passionate bullish investors thought would come to fruition are gone. It seems that many in this passionate group are finally seeing things through a much more realistic lens.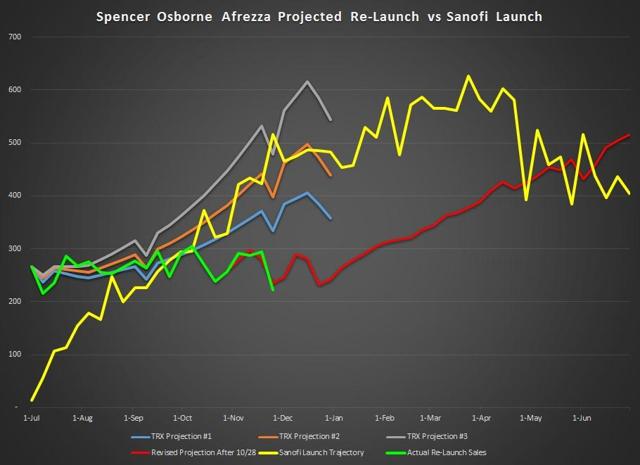 Chart Source - Spencer Osborne
Another critical item that has found its way into my coverage in the NASDAQ listing issue. Earlier this week I outlined a couple of critical reasons that MannKind needs to maintain its NASDAQ listing. While some investors try to push this issue off to the side, it will come to a head, and it will slap many in the face. In my opinion this company will not achieve the $1 price point for 10 consecutive days and will find itself having to do a reverse split. The window of opportunity to gain compliance was 123 trading days. Thus far 56 of those days have passed without the stock even getting close to $1 per share. There are now just 67 trading days left to gain compliance. Personally I suspect that by the end of January we will see the company requesting permission from shareholders to conduct a reverse split. While extending the de-listing runway is possible, MannKind is currently not in compliance with the initial listing regulations. The major one is that the company must have positive equity. MannKind does not have this, which makes any extension much more difficult, if not impossible.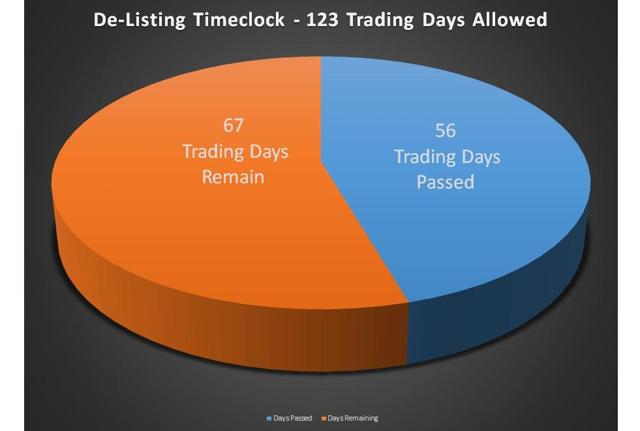 Chart Source - Spencer Osborne
The bottom line is this. The closing weeks of 2016 will see pressure because of sales, pressure on tax loss selling, and pressure simply because this company is in a difficult position. These things coupled with listing status make this stock very speculative. This is, at the moment, a stock dominated by active traders seemingly recycling small swings in price that have become fairly predictable.
The types of positive developments that will satisfy the street are huge amounts of cash being infused into the company, substantial shifts in sales data, and a much needed shift in refills on Afrezza. Afrezza may be a very good product, but that does not mean that MannKind is a good investment. There is a lot of risk associated with this stock. Stocks with a product on the market rise on numbers and data, not hope. Stay tuned.
Disclosure: I/we have no positions in any stocks mentioned, and no plans to initiate any positions within the next 72 hours.
I wrote this article myself, and it expresses my own opinions. I am not receiving compensation for it (other than from Seeking Alpha). I have no business relationship with any company whose stock is mentioned in this article.
Editor's Note: This article covers one or more stocks trading at less than $1 per share and/or with less than a $100 million market cap. Please be aware of the risks associated with these stocks.