While an increasing number of big investment houses, on both sides of the Atlantic, call for an imminent outperformance of Japanese versus US equities, things do not look so promising for the land of the rising sun. Analysts' optimism rests mainly on the stimulative effect that a cheaper yen will have for Japanese exporters, as well as the expected revival of the global economy. Whereas this line of thinking could very well apply in the Japan of the previous decades, it certainly falls short in the current disruptive macro environment. The reduced effectiveness of currency devaluation, the devastating impact of a soaring US dollar on domestic lending capabilities, and the failure of Abe's government to advance much needed structural reforms, make the argument in favor of outperforming Japanese shares extremely problematic. Much of the highly advertised Abenomics' stimulus has so far been relying on exuberant monetary policy, the same policy which has created serious financial distortions. These distortions make a persistent yen devaluation, which lies at the core of the bulls' argument, potentially destabilizing for the economy and its trading neighbors. The financial repercussions of the excessive reliance of corporate Asia on USD borrowing, coupled with the unprecedented monetary experimentation of BOJ most certainly impair the medium term ability of Japanese equities (NYSEARCA:EWJ) to outperform their US peers (NYSEARCA:SPY). It's not enough for the Nikkei 225 Index to exhibit a strong positive momentum in order to be able to outperform the S&P 500; it really needs more powerful "weaponry", most of which unfortunately Japan abolished over the years (offshoring of manufacturing) or wasn't fast enough to secure (insufficient structural reforms).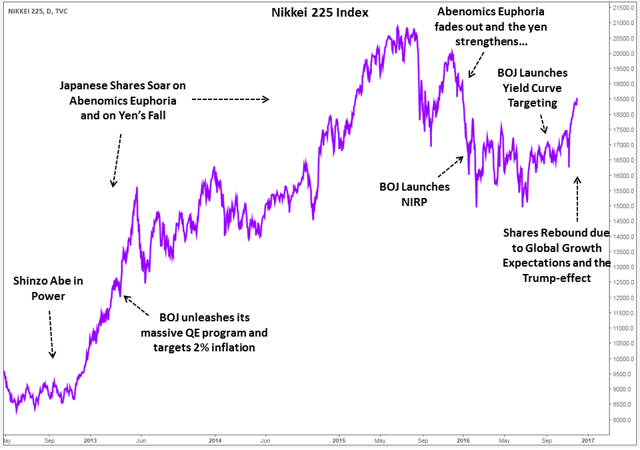 Source: tradingview.com
Japan's Challenges
One of the most disconcerting and least observed trends of the Japanese manufacturing sector is the ongoing relocation of its productive base overseas. Less and less of the global manufacturing added-value is produced in Japan nowadays. This is clearly evident from the precipitous fall of the Japanese added-value share in the global manufacturing base from over 20% in the early 90s to just 7% in 2013. Such a dramatic drop of Japan's contribution to the global industrial value gave the opportunity to China to pick up the slack by increasing its own value-added share from 2.5% to 24% during the same period.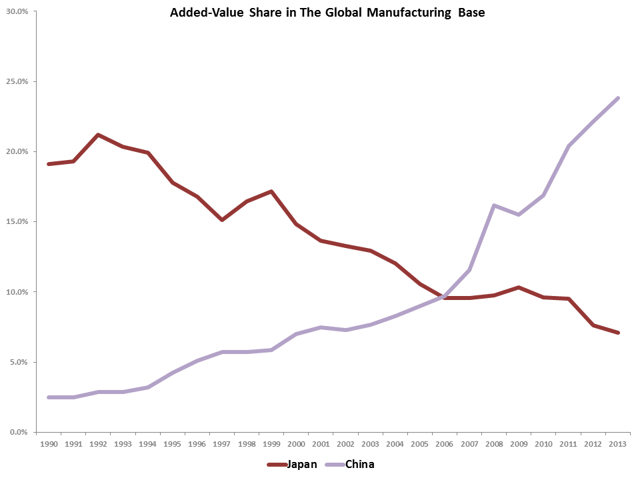 Source: World Bank
This means that even though Japan remains the fourth biggest exporter in the world, the devaluation of its currency is not bringing the benefits to its exporters as it once did. An increasing portion of Japanese production chains is being carried out in offshore locations throughout Asia which do not benefit from yen devaluation. As a matter of fact, Japanese manufacturers don't wish for an extremely cheap yen, anymore, because it can disrupt the financing of their supply plans. This should come as no surprise if we consider that the recent weakness of the yen was generalized, meaning that most other Asian currencies strengthened against it and increased the cost of production for those parts which are produced in their jurisdictions.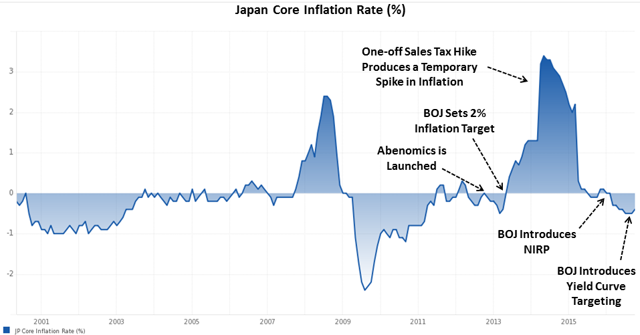 Source: ieconomics.com
Apart from the offshoring of manufacturing jobs, exporters have another reason to dislike an extremely cheap currency; the increasing risk of a USD funding shortage. The BOJ's negative interest rate policy, massive quantitative easing and yield curve targeting have created one of the biggest financial distortions globally. As the US-dollar strengthens, Japanese banks' balance sheets are being stressed and this inflates the cost of procuring dollars. This, in turn, makes the banks less willing to provide USD loans as well as hedging services to institutional investors as well as to exporters in need to hedge their future dollar revenues. Beyond domestic funding pressures, though, the US dollar rise impairs Japanese banks' ability to finance other Asian firms located at the closest trading partners of Japan. This means that if Japan's Asian trading partners, absorbing about 57% of Japan's total exports, are in danger of experiencing a bank lending shortage, then their demand for Japanese exports will also be curtailed. Banks have yet another reason to be concerned, since the gradual implementation of Basel III rules by BOJ will weigh on their capital adequacy ratios, a metric of how much bank capital is available to cover future losses. Even though, according to the latest BOJ financial system report all capital adequacy ratios are above regulatory limits, risks are to the downside, since a lot of items that count as capital will be gradually neglected.
What is more, a potential drop of Asian demand for Japanese exports due to an escalating USD funding shortage, as the dollar goes higher, will overwhelm any positive price effects from the yen devaluation. This argument rests on an old dictum in macroeconomics, according to which the income elasticity of demand in an economy is much higher than the exchange rate elasticity of demand. This practically means that as the yen drops by a certain percentage against its Asian peers, for example, Asian demand for Japanese exports gets hit due to the squeeze of USD lending much more than the stimulation it receives from lower prices, as expressed in local currencies.
Overall, the premise that the lower the yen drops the more the Japanese exporters benefit is seriously flawed. The cross-border inter-connections between the Japanese banking system and these of the other regions, as well as an excessive reliance of Asian manufacturers on USD borrowing, can produce the opposite effects; credit throughout Asia can contract, demand for Japanese exports can become bumpy, and the facilitation of offshore production bases by Japanese manufacturers can turn their CFOs financial planning on its head.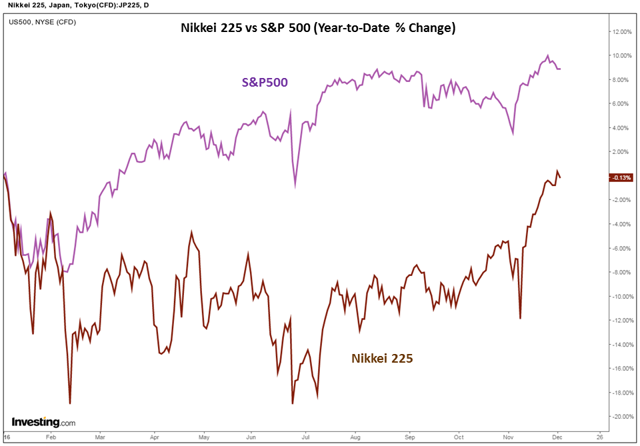 Source: investing.com
Analysts' belief in the relative strength of Japanese shares rests more on foreign and less on domestic macro forces. The anticipation of a massive fiscal stimulus in the US, the pro-growth turn of the UK government, and a potential relaxation of fiscal austerity in the Euro-area, as a response to a "No" Italian vote, could be stimulating foreign demand for Japanese exports. Nevertheless, these forces are not enough, since the bulk of Japan's exports is directed towards its Asian partners, and financial interconnections there become more complicated. Maybe the latest disappointing Japanese trade data for the month of October, which exhibited a greater than expected fall in exports, is an early indication of such a trouble. Whatever the case maybe, Japanese equities could very well experience some further gains ahead as traders engage in trend-following tactics, but in order to outperform their US peers an absolutely smooth financial as well as macroeconomic environment is needed. The financial implications of a weaker yen do not allow for such optimism. This time, Japanese policy makers might very well discover that the three arrows of Abenomics have become too short.
Disclosure: I/we have no positions in any stocks mentioned, and no plans to initiate any positions within the next 72 hours.
I wrote this article myself, and it expresses my own opinions. I am not receiving compensation for it (other than from Seeking Alpha). I have no business relationship with any company whose stock is mentioned in this article.
Additional disclosure: The views expressed in this article are solely those of the author, provided for informative purposes only and in no case constitute investment advice.