There have been several healthcare-related REITs (Real Estate Investment Trusts) that have sold off recently (for one reason or another). The first one that caught my eye was Medical Properties Trust (NYSE:MPW). The second one that caught my attention was Ventas (NYSE:VTR). VTR represents one of the most diversified healthcare REITs available. Two of its direct competitors include industry leaders HCP (NYSE:HCP) and Welltower (HCN). All three of these REITs have achieved significant size and scale while maintaining a diversified portfolio of senior housing and healthcare properties.
What are the trends VTR is benefiting from?
VTR has focused its business model around the projected change in the aging American population. This trend carries with it increased healthcare costs, as well as a growing need for seniors who will need to live in private pay facilities. The following graph from VTR's strategic opportunities page gives perspective to the change in demographics that is expected to take place from 2015 to 2060.
These statistics help investors better understand why VTR has adopted such a diversified approach. By operating is multiple areas of medical real estate, VTR is diversifying risk while still enjoying strong growth in the various segments it operates in.
Another important factor to VTR's success is that it understands that the medical industry is ripe for consolidation and liquidation of physical assets. When we think of hospitals and medical offices, we think of the specialized personnel that provide services we need in the most effective way possible. However, we don't consider that if that company owns the real estate it operates in, that it is tying up valuable capital that could be used to grow the company, improve technology, or add financial flexibility. This same concept applies to VTR in that they specialize in the ownership of real estate assets, so that hospitals, senior housing centers, skilled-nursing facilities, etc. can focus on doing what they specialize in.
VTR notes in its presentation that Public REITs only own 12% of the $1 trillion senior housing and healthcare market, meaning that 88% of the market that doesn't specialize in real estate will be likely to sell ownership rights to well capitalized REITs that can free up their capital.
VTR's Diversification
I like to use to chart from HTA's investor presentation because I think it accurately demonstrates the asset based of some of the more well-known REITs in the market, but also because it shows what type of risk is associated with each area of specialization.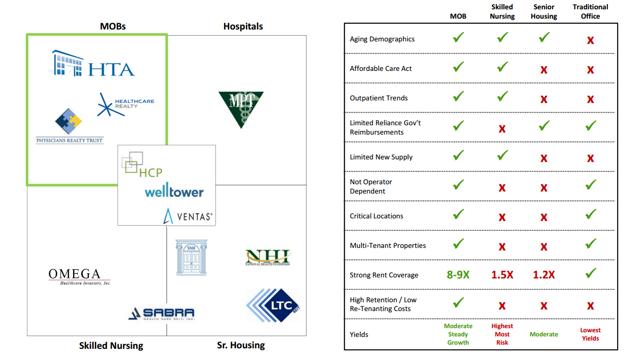 HTA's representation of VTR is fairly accurate, as VTR operates in a number of medical real estate sectors. The following graph from VTR's investor presentation shows NOI Diversification by property type.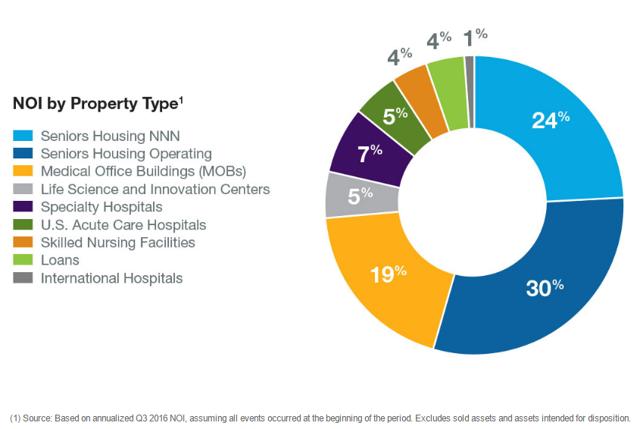 The diversification of VTR's business means that the risk is spread between the four categories of HTA's chart. Of VTR's 1275 properties, the largest concentration of properties are in Senior Housing Communities and Medical Office Buildings. VTR's operations are also diverse geographically, with the majority of operations in the United States. VTR also has smaller operations in Canada and the United Kingdom. The following chart demonstrates VTR's website demonstrates this diversification.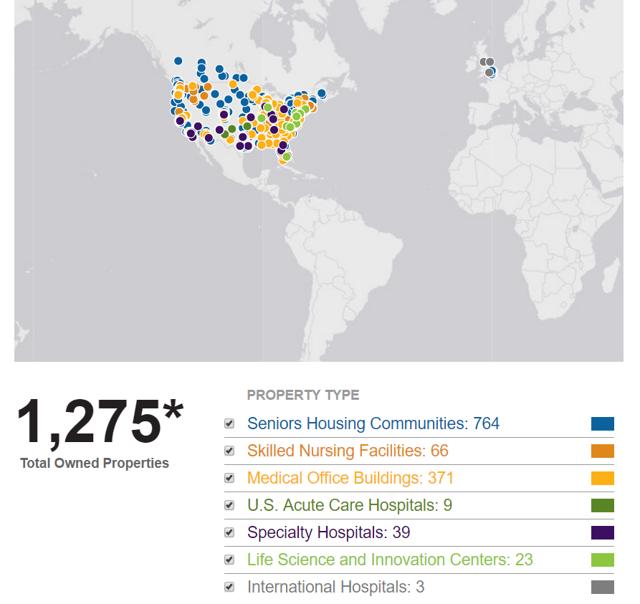 VTR Strengths
The biggest take away that I had from VTR's Q3 - 2016 Investor presentation was the strength of its budget and compliance with established covenants. Here is the following set of charts from that presentation.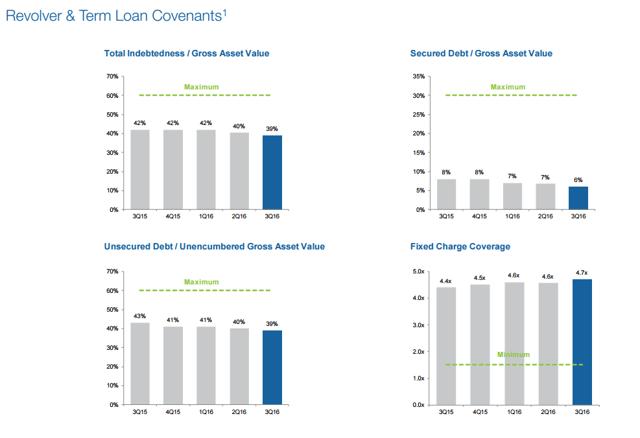 What impresses me the most about VTR's compliance with its covenants is that it has managed to reduce exposure to all three areas of debt, while also increasing fixed charge coverage. By reducing the number of assets that encumbered, VTR is freeing up capital that provides strong financial flexibility. A growing fixed charge coverage of 4.7x is more than 3x the minimum of 1.5x required to comply with the covenants that are in place. Simply put, VTR can more than cover its fixed financing expenses.
As a side note, one thing I especially liked about VTR's investor presentation is that it is very user friendly, in that anyone can compare quarterly reports going back to 2007 and see that the format of each report is nearly identical.
FFO Growth and Care Capital Properties Spin Off
An examination of VTR's FFO shows that the company has had a very stable year with little to no growth in FFO. One reason for the stagnant FFO levels is because of the spinoff of Care Capital Properties (CCP). Referring back to the chart from HTA at the beginning of my article, we can see that the spinoff of CCP was helpful because it removed a significant degree of risk from VTR's portfolio (skilled nursing facilities are considered to be riskier because of their reliance on reimbursement rates. For better proof of the risk created by SNF's look at the recent spinoff of ManorCare from HCP). The following graph from the investor presentation shows VTR's FFO over the last year.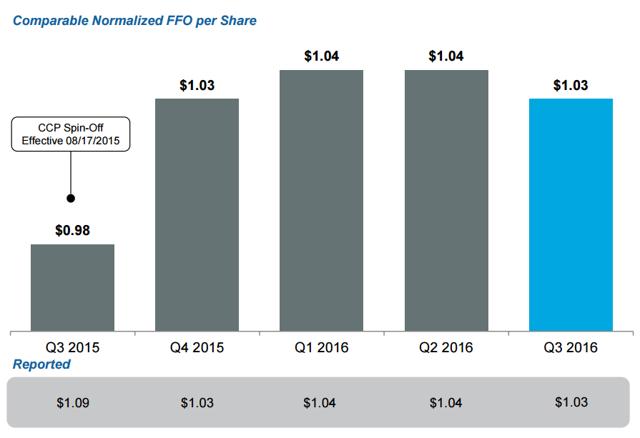 Prior to spinning off CCP, we can see that SNF's made up 18% of VTR's portfolio. The spin-off of CCP resulted in several material changes to VTR's NOI Portfolio. The following chart from VTR's presentation shows this change.

To recap, the following changes include:
1. SNF ownership has dropped from 18% to 4%.
2. VTR has made a significant move into general hospital real estate, moving from 0% of NOI to 6% of NOI.
3. Senior Housing and Medical Office Buildings now make up more NOI than before the spin-off.
By adding hospital real estate and removing SNF's from their portfolio, VTR has created an even more stable portfolio. VTR's portfolio is stable, but also has the assets necessary to continue growing because the hospital industry is still very fragmented and is ripe for consolidation. Hospitals are also an attractive real estate investment because trends show that hospital/emergency care is growing rapidly. Here are a few stats from the American College of Emergency Physicians:
1. Emergency Department visits have increased at twice the rate of the US population (1997 - 2007).
2. 75% of physicians reported an increase of patients since the implementation of the Affordable Care Act (ACA).
VTR Historical Performance
VTR's fundamentals are all impressive by my standards, especially in reference to the debt/fixed-rate charge covenants. If we look at the last 6 months (below) we can see that the company's stock price is not following the strong fundamentals demonstrated by VTR.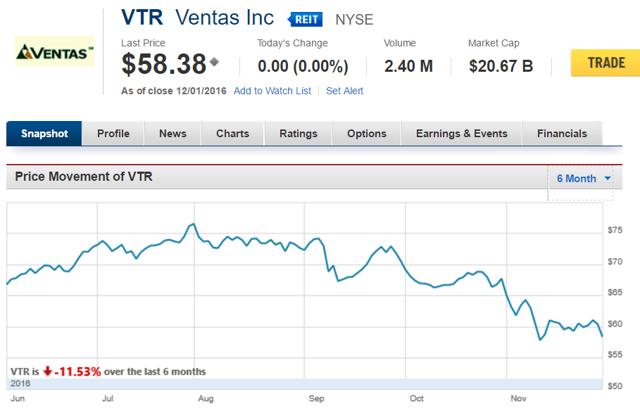 Here is the 6 month chart for HCN: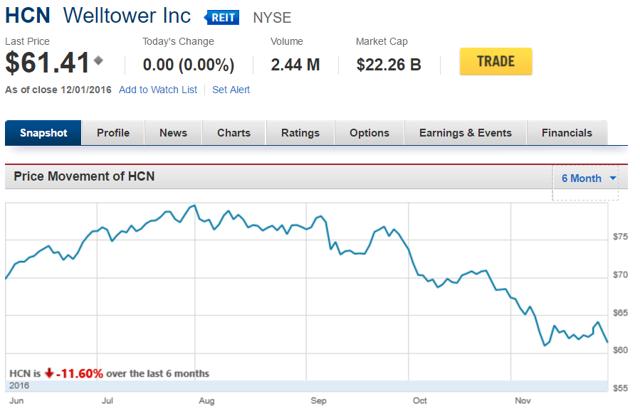 When we compare VTR's performance to competitors like HCN (I am not going to use HCP due to the ManorCare spinoff). From the graphs, we can see that both companies have suffered almost identical losses over a 6-month term. Although it isn't a direct competitor, Medical Properties Trust shows what I feel is the difference between an event-driven runoff and a healthcare REIT industry runoff. The following is the 6-month chart for MPW.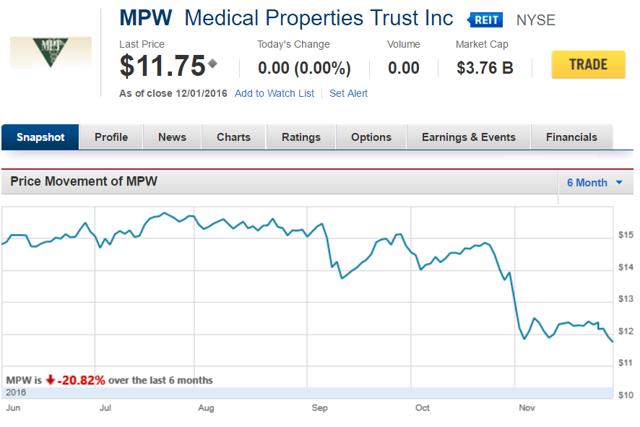 In my opinion, MPW's stock price seems to be more event driven by the situation with Adeptus (NYSE:ADPT) than it does by Healthcare REIT runoff (Please see my article on MPW for further insight into this). This isn't to say that REIT Runoff isn't affecting MPW's price, but that a significant portion of its losses appear to be more event-driven.
Conclusion
10-year total return for VTR is 222.9%, and with a current dividend yield of 4.78% VTR has given investors searching for yield and growth something worth looking at . VTR may still go lower, but going long under $60/share appears to be a strong long-term investment. Based on industry trends and VTR's financials I would personally rate the stock as a BUY. Investors who purchase VTR are likely to experience capital appreciation and a regularly growing dividend.
Final Note: If you enjoy my articles please take the time to follow me. While I enjoy performing analysis, following me is the best method for showing me that SA subscribers are finding my work useful.
If you have any suggestions to improve my articles or if you would like me to perform analysis on a stock please feel free to message me and I will do my best to make it happen.
Disclosure: I/we have no positions in any stocks mentioned, but may initiate a long position in VTR over the next 72 hours.
I wrote this article myself, and it expresses my own opinions. I am not receiving compensation for it (other than from Seeking Alpha). I have no business relationship with any company whose stock is mentioned in this article.
Additional disclosure: This article reflects my own personal views and is not meant to be taken as investment advice. It is recommended that you do your own research. This article was written on my own and does not reflect the views or opinion of my employer.