The November jobs report, released at 8:30 AM today, said 178,000 jobs were created at an average weekly wage of $890.62.
The unemployment rate dropped from 4.9% to 4.6%; however, most of this drop was from fewer people in the labor force. The "U-6" number, (i.e., unemployed, plus all persons marginally attached to the labor force, plus total employed part time for economic reasons, as a percent of the civilian labor force plus all persons marginally attached to the labor force) also decreased, from 9.5% to 9.3%.
September jobs was revised upward from 191,000 to 208,000. October was revised down from 161,000 to 142, 000 for a net change of 2000 jobs over the two months. Average 3-month jobs creation was 176,000 jobs for the three months commencing in September.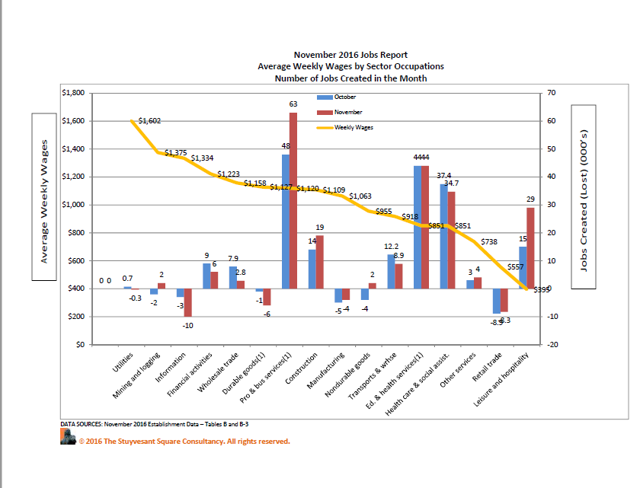 As shown in our exclusive chart of monthly job creation by average weekly wages, the strongest job creation was in Professional and Business Services, which created 63,000 jobs. We suspect, however, that a good portion of those jobs are hiring for year-end accounting and tax compliance positions. For example, in the preliminary December 2015 jobs report, there were approximately 72,000 jobs created in the same occupational sector. (Over the years, we have noticed hiring in the latter part of the year but then, in the Spring, job creation in the professional and business services sector declines precipitously. This, of course, coincides roughly with the time that Americans file their income tax returns and corporations release their financial reports.)
In terms of the job creation in other sectors, the most surprising element was the decline in jobs in the Retail sector. While, certainly, much of this is attributable to increasing "point-and-click" (as opposed to "brick and mortar") shopping, we have thought for some time now that there would be a distortion in retail hiring tied to the Hanjin Shipping Company bankruptcy in 2016Q4. We expect this Retail employment anomaly to self-correct in December as those goods that were tied up at dockside or sitting out at sea in 2016Q3 finally find their way from distribution centers to retail outlets just in time for Christmas.
The other big job creation sectors were, as usual in this low-growth economy, those related to services paid for or heavily subsidized by government, such as Education and Health Services and its sub-sector, Health Care and Social assistance. (We show the single sector broken out into two for clarity in our charts.)
Finally, the largest sector in terms of hiring is Leisure and Hospitality. These tend to be part-time, lower-paying, lower-skilled jobs with an average payroll of about $395 per week.
OUR VIEW
We really don't see that this is a terribly strong hiring report for November, particularly given job losses in sectors like information technology and net Manufacturing (separated into Durable and Nondurable Goods for detail in our schedule.)
The market consensus is that the Federal Reserve will raise rates at its December meeting by 25 bps. In our view, that is likely to occur, as the Fed has telegraphed it. But it may nevertheless still be a jump ball.
Simply put, there is nothing in this jobs report or in 2016Q3 GDP that should set the hearts in the Open Market Committee aflutter. Wages, a key indicator of inflation for the Fed, actually decreased in November. While that was a "blip" in a year where wages mostly increased, the decline might cause the FOMC to be circumspect.
Moreover, this is still a struggling economy, and the European situation, discussed here, particularly with respect to the Italian referendum and the Austrian elections on Sunday, as well as the Eurogroup meeting on Monday with respect to the Greek debt situation, may well induce the Fed to continue on its course of accommodation into 2017. As we pointed out previously, the Fed now has tools to "snap back" an overheated economy it did not have prior to 2008. We're inclined, then, to think the FOMC may err to caution when it meets in two weeks.
_______________________________
Author's note: My commentaries most often tend to be event-driven. I also write mostly from a management consulting perspective for companies that I believe are underperforming; that is, I sometimes lay out strategies that I would recommend to the company to improve its business and strategy were they my clients. I think this approach lends special value to contrarian investors who see the opportunities that I do in companies that are otherwise in downturn. My opinions with respect to the company here, however, assume the company will not change. If you like my perspective, you might consider following me by clicking the "Follow" link below.
Disclosure: I/we have no positions in any stocks mentioned, and no plans to initiate any positions within the next 72 hours.
I wrote this article myself, and it expresses my own opinions. I am not receiving compensation for it (other than from Seeking Alpha). I have no business relationship with any company whose stock is mentioned in this article.
Additional disclosure: Disclaimer: The views expressed, including the outcome of future events, are the opinions of the writer and do not represent, and should not be considered to be, investment advice. You should not use this article for that purpose. This article includes forward looking statements as to future events that may or may not develop as the writer opines. Before making any investment decision you should consult your own investment, business, legal, tax, and financial advisers.