The financial markets have been somewhat behind the curve in its efforts to start moving past the last US Presidential election, as stocks continue to move higher based on sentiment and little else. It can be argued that a significant portion of this optimism can be based on the fact that US consumers have been told constantly about the 'spectacular' economic performance that has been posted under President Barack Obama.
Chart View: SPDR S&P 500 Trust (NYSEARCA:SPY)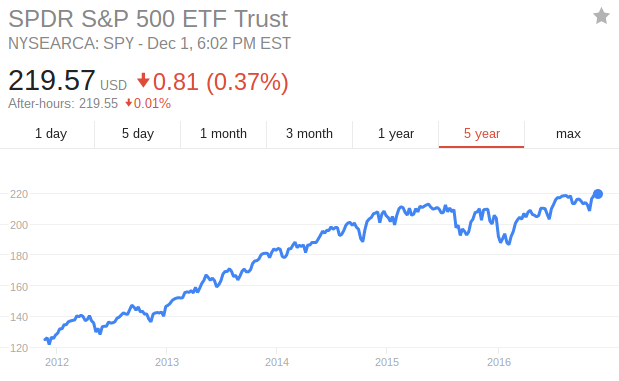 Chart Source: Gold Traders
Recent headlines have dealt with the decisions at Carrier, which is owned by United Technologies Corporation (NYSE:UTX). President-elect Trump is now making the rounds touting the fact that 1,100 jobs will remain in Indiana rather than move to Monterey, Mexico. This prompted responses from the current White House press secretary, which highlight the fact that "we will only need to see this type of jobs gain 8,000 more times in order to match what was seen in manufacturing during the Obama administration."
This is the type of news headline that has been ubiquitous over the last year, and it has created an environment where highlighting the positives has unfairly obscured the negatives when we look at the fundamentals of the broader economy.
Jobs Performance
A significant misrepresentation in the economic narrative proposed during most of the election period can be found in the jobs numbers themselves.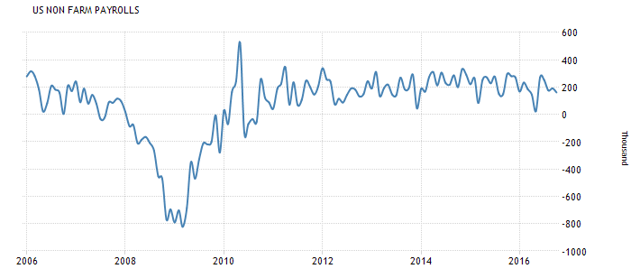 Chart Source: Gold Traders
In the chart above, we can see the US nonfarm payrolls data that has been posted over the last 10 years. This covers the Obama period and shows that essentially no progress has been made since the period that defines the 'global financial crisis'. At best, proponents of previous economic policy can argue that domestic strategies did successfully pull the country out of the most destructive economic downturns in memory.
At worst, it can be said that it is much easier to pull an economy out of the depths than it is to propel performance during a period of prosperity - and that these meager numbers are actually more disappointing. The fact is that the US economy needs to create roughly 150,000 jobs each month in order to keep up with typical population increases.
This ultimately means that a "strong" nonfarm payrolls report of 150,000 simply does not exist, and the Trump administration is not inheriting an economy that is nearly as strong as this year's political headlines would suggest. If this turns out to be the case, gold stands to benefit in ways that might not be readily apparent to most of the market.
Chart View: SPDR Gold Trust (NYSEARCA:GLD)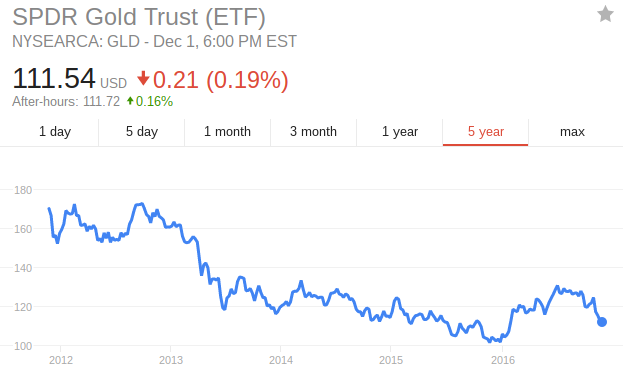 Chart Source: Gold Traders
All of this does suggest higher valuations in safe haven assets. Given the 5-year performance in GLD, this is one of the first assets that should be considered when looking for places to establish long positioning. Even more precarious is the current task that the Federal Reserve has set for itself. The bank has essentially backed itself into a corner with respect to further tightening intentions in monetary policy but the real question is whether the Fed can meet these challenges with a strong level of efficiency.
Viewed as a microcosm, it should be remembered that Carrier is receiving a significant tax break for its decisions to remain operating in the United States, so this deal is not without its costs. And when we apply these micro trends to what is being seen in the broader picture, it looks as though investors should be positioning for caution rather than the next real bull market - and this points clearly to higher levels in GLD as we head into next year.
Disclosure: I/we have no positions in any stocks mentioned, and no plans to initiate any positions within the next 72 hours.
I wrote this article myself, and it expresses my own opinions. I am not receiving compensation for it (other than from Seeking Alpha). I have no business relationship with any company whose stock is mentioned in this article.