Although some may not like the idea of it, a notable part of the dividend investing crowd is new to the game. They were driven to dividend stocks by interest rates so low that they needed to shift out the risk spectrum to find decent yields. The result? A dividend fad. And venerable Coca-Cola (NYSE:KO) is one of the names that has been caught up in that trend to some degree. After falling over 10% from its highs this year, however, more committed dividend investors might be wondering if it's time to buy in. Here's what I see…
The fad
In a recent article I got some heat for suggesting that dividend investing is a fad. A great comment thread on the article compared it to ties. No, ties are not a fad, but the type of tie (fat versus skinny, for example) is… And that's really what's going on today. No, dividend investing is not a fad in and of itself. However, there's a new crop of investors driven by outside factors (predominantly low interest rates) that have jumped into dividend investing and are just as likely to jump out of it when the outside factors change.
The Wall Street Journal just had a great article describing a nunnery that has shifted more of their assets into stocks because the rates offered by the banks were so low. Although that's just anecdotal evidence of investors shifting out of "safe" but low yielding investment and into stocks (yield was one of three main investment criteria for the nuns), it shows the broad impact that low rates have had on investor behavior. That's the dividend fad.
Coca-Cola, with 54 years worth of annual dividend increases, is just the type of company that a new dividend investor would be drawn to. A big piece of the allure, of course, is the company's globally recognized name and solid industry position in the drinks space. So it's little wonder that the stock is trading near all-time highs, despite a recent 12% or so price pullback. But for dividend investors with a longer-term commitment to the investment approach might be wondering if that's enough of a decline to consider Coca-Cola cheap again?
Yield alone?
Interestingly, Coca-Cola's yield of around 3.4% is at the high end of its historical range. If you were looking only at that metric, you might be tempted to jump aboard. It's certainly enough to suggest a deeper dive.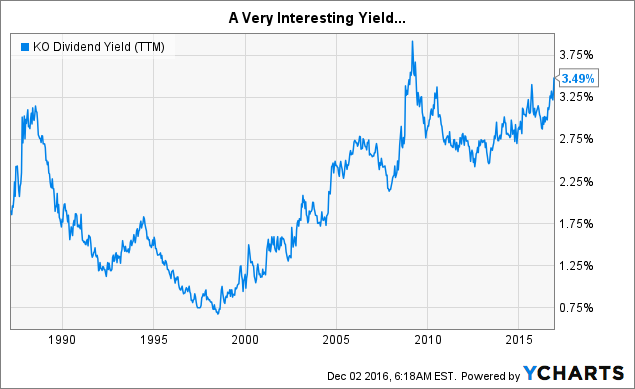 KO Dividend Yield (TTM) data by YCharts
But here's the thing, Coca-Cola's business hasn't exactly been robust of late. Revenues have fallen in each of the last three years and 2016 looks like it will be number four at this point. The bottom line has been relatively weak, too. This isn't the picture of a company hitting on all cylinders, it's a company struggling through a rough patch. I would normally expect the company's shares to be trading much lower, looking at the soda maker as a fallen angel.
But with a share price that's hovering fairly close to its all time highs I can't say that. And valuation numbers prove this out. The price to earnings ratio, for example, is nearly 25% over the company's five year average. Price to book, price to sales, and price to cash flow are all elevated, as well. The only number that suggests value is the dividend yield, which is 20% above its five year average.
But here's the thing, dividend growth over the past 10 years has averaged around 9%. Last year it was closer to 8%. Not a big deal, you may say, it's still going up. That it is, but at a 10% slower rate. And, here's a fact that shouldn't get overlooked, Coca-Cola's payout ratio is higher than it's been in a decade at over 80%. Dividends come out of cash flow, so maybe that's not a big deal. But it certainly suggests that Coca-Cola is going in the wrong direction on dividend security.
I don't think the company will cut the dividend. But it is fairly clear that the growth rate could easily slow further from here. Which, in my mind, says now is not the time to jump aboard Coca-Cola if you are a dividend investor.
Great company, not a great price
There's no question that Coca-Cola is an amazing company. And the yield, while not huge, is quite enticing in today's low-yield world. But with the company facing a difficult period on the top and bottom lines, the price just looks too high today even though the yield is toward the high end of its historical range. That's a good indicator of value, but not one that you can follow without doing a deeper dive. And at this point, as far as I can tell, it's the only piece of the Coca-Cola story that suggests now is a good time to buy.
Disclosure: I/we have no positions in any stocks mentioned, and no plans to initiate any positions within the next 72 hours.
I wrote this article myself, and it expresses my own opinions. I am not receiving compensation for it (other than from Seeking Alpha). I have no business relationship with any company whose stock is mentioned in this article.