In just the last few weeks of the year, I always look to selectively buy shares that have been beaten down due to disappointing earnings results, weak guidance, or some other challenge that businesses often experience. Stocks that are trading down towards the 52-week lows often get unfairly punished even more in the final weeks of the year due to tax loss selling. This temporary selling pressure can turn an already cheap stock into a real bargain.
Buying these types of stocks can often lead to strong gains in a short time because the tax loss selling typically starts to dry up in the last couple of weeks of December and ends completely by the first of the year. As the tax loss selling ends, these stocks frequently experience strong rebounds. This is known as a "January Effect Rally." I now see one stock that could be particularly well positioned for a rebound into January and potential longer-term gains as well.
I have found that low-priced and small-cap stocks often experience the biggest potential gains because these stocks are often hit hardest by tax-loss selling due to a lack of volume and liquidity. With this in mind, let's take a closer look at one very beaten down stock that could have strong rebound potential in the next few weeks. This stock also has longer-term upside due to recent cost-cutting and streamlining efforts as well as from asset sales.
Jason Industries (NASDAQ:JASN) manufactures a number of products including seating, components, and goods for the automotive sector. Some of these products are used by many well-known companies. For example, this company makes upholstered passenger seats for Harley-Davidson (NYSE:HOG), Toyota (NYSE:TM), Caterpillar (NYSE:CAT), John Deere (NYSE:DE), and many other firms.
These seating products are used in boats, tractors, forklifts, golf carts, motorcycles and construction equipment. Some of the other industrial products this company makes includes: smart utility meters, gas engine components, lawn and garden drives, anti-slip walking surfaces for railcars, perforated metals that are used for filtration, fencing, outdoor furniture, lighting, and even speaker grills.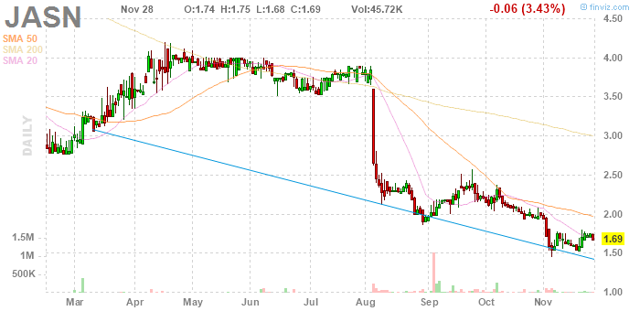 As the chart above shows, this stock has taken a beating. Recent results were below expectations, but a drop from about $4 per share in early August, to under $2 per share in just a matter of weeks seems to be a major overreaction.
Recent Financial Results Were Weak, But New Initiatives Suggest Sell-Off Is Overdone:
For the third quarter, the company posted a loss of $1.8 million or 6 cents per share, on revenues of $170.1 million. In the same period last year, the company posted an adjusted net loss of $500,000 or 2 cents per share, on revenues of $170.2 million. As part of a recent cost reduction program, the company said it would take further action by closing a manufacturing facility in Illinois and consolidate two facilities into one location. It also said the finishing division would close in Brazil.
In addition to this, the company initiated the process of selling the European operations of its acoustics division, which generates about $30 million in annual revenue. These moves should help reduce costs further and streamline the company. A cost reduction goal has been set for $30 million annually, with $22 million of that expected to be implemented by the end of 2017. The company reported it had $85 million in liquidity at the end of the quarter, so this greatly reduces potential balance sheet risks.
Also, the sale of the acoustical division in Europe could result in many millions of dollars in proceeds. This could bolster the balance sheet even further, as soon as the sale is completed. Also, the company is considering the sale of some facilities and then leasing them back, which could also create additional liquidity balance sheet strength.
The Numbers Indicate This Stock Is Undervalued:
Now let's run through some numbers: Jason Industries generates about $700 million in annual revenues and this is equivalent to about $30 on a per share basis. That shows a very low price to sales ratio, which is often a sign a stock is undervalued. Jason Industries posted nearly break-even results last quarter on just over $170 million in revenues. This company has about 22.4 million shares outstanding. Let's say that sales barely move up or even stay flat in 2017, but that the company is able to reduce expenses by the $30 million it has set as a goal.
That level of cost reduction is equivalent to roughly $1.40 per share. So, even if sales are basically flat, that implies it could be earning $1.40 per share in the not too distant future. But let's be pessimists and assume the company is only able to achieve about half of its goal and therefore only reduces expenses by $15 million per year.
Even that would be equivalent about 70 cents, on a per share basis. If we apply a PE ratio of 10, that would imply a $7 price target that might be reasonable in 2018, once all the cost reductions are fully implemented. If you think $7 per share seems crazy for 2018, it is worth noting that this stock traded for $8 per share in early 2015 and above $10 per share in 2014.
Tax Loss and Short Selling Factors:
Tax loss selling and short selling can hit small cap stocks very hard because of a lack of liquidity. This is a potential downside risk that investors have to consider; however, it can also be a double-edged sword that investors can benefit from as well. Very liquid large cap stocks like Exxon (NYSE:XOM) barely even budge compared to the volatility seen in the small cap sector. This is mostly because there is a deep and liquid market for Exxon shares and it has plenty of analyst coverage. However, small cap and micro-cap stocks are not liquid (and often have little analyst coverage).
This means when pullbacks occur due to disappointing earnings or tax loss selling pressure, these pullbacks can often turn into a plunge in the stock price that is totally overblown. With a 52-week high of $4.23 per share and with this stock trading near 52-week lows, it is likely that much of the selling at these low levels is for tax loss purposes.
As for short selling, in some ways I would love to see lots of short interest in this stock because that could mean there is the potential for a short squeeze. However, according to Shortsqueeze.com, only about 107,000 shares are currently short. In fact, shorts have been covering a bit lately because the prior period shows short interest of about 128,000 shares. I find this to be another sign that Jason Industries is likely to bounce back because if shorts saw major liquidity issues and a balance sheet problem, or significant downside potential for the stock at current levels, we would most likely be seeing a much higher short interest.
We would also be seeing shorts increasing their positions, but here we are seeing a very insignificant level of short interest, which is getting even smaller. That is a sign that shorts do not see a worst-case scenario playing out here and that is a potentially bullish indicator.
Significant Upside Potential:
Now let's take a look at where this stock could be heading in the next few months to a year. On November 7, (which was after most financial results were released), analysts at Stifel reiterated a buy rating and set a $3.25 price target. That is another bullish indicator in my opinion and a sign that the current market price of this stock is very undervalued. I believe that $3.25 per share is probably where the stock should be trading now, and it was trading at that level and for even more just in August.
It appears that some disgruntled investors have been recently selling this stock at very low levels due to tax loss selling. However, once that fades in the next few weeks, this stock could be poised for a significant rebound back towards the $3 level, which is right around the 200-day moving average. A move back towards the 200-day moving average of $3, and the analyst price target of $3.25 would offer very high percentage gains for investors who buy now.
The Trump Factor Appears Significant And Not Yet Priced Into The Stock:
Not only does this stock appear greatly undervalued due to recent tax loss selling, but it also looks like this company will be benefiting from pro-growth policies that many expect to come soon from the new Trump administration. This includes reducing corporate and personal taxes, and greatly increasing infrastructure spending, which could help industrial companies like Jason Industries. We are already seeing some large cap infrastructure stocks like Caterpillar moving up, and John Deere just reported a strong quarter and forward guidance that just pushed its stock to new 52-week highs. Just take a look at the charts below: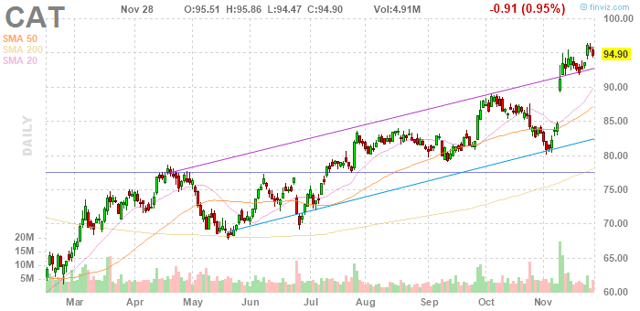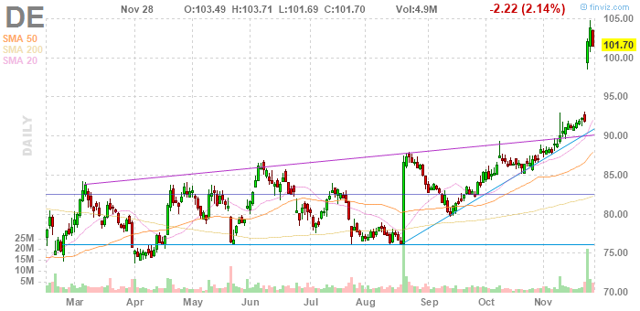 If Caterpillar is seeing renewed investor interest due to promises of heavy infrastructure spending, and if John Deere is reporting strong results and guidance for 2017, it makes sense that suppliers to Caterpillar and Deere should also start to benefit and move higher. Jason Industries makes seating (through its Milsco division) which is standard equipment for John Deere, Caterpillar, Toyota , Kubota (KUB) and many other household names. The company also makes outdoor metal fencing, the likes of which is often used to secure construction projects.
It makes safety grating and walking surfaces that are used at industrial facilities and in rail cars. Rail car stocks like Trinity Industries (NYSE:TRN) have also recently surged to new 52-week highs on the expectation that rail car demand will rise. If that is the case, then Jason Industries is well positioned for revenue growth and a higher share price. These are just a couple more examples of how this company is likely to benefit under the incoming Trump Administration. Take a look at the chart of Trinity Industries, which shows big recent gains as well as photos of some products made by Jason Industries: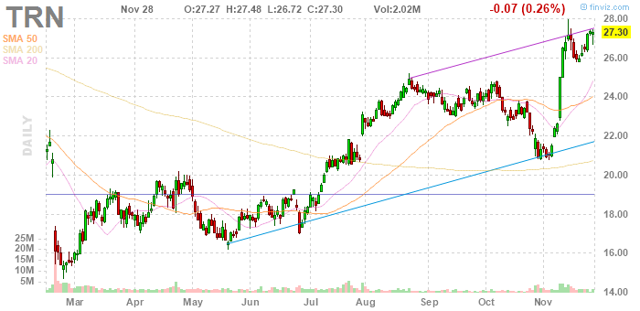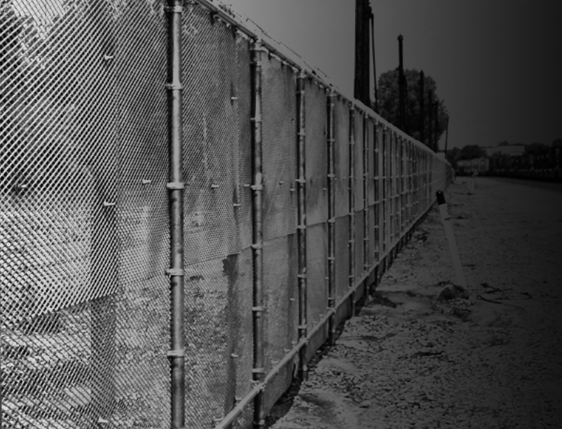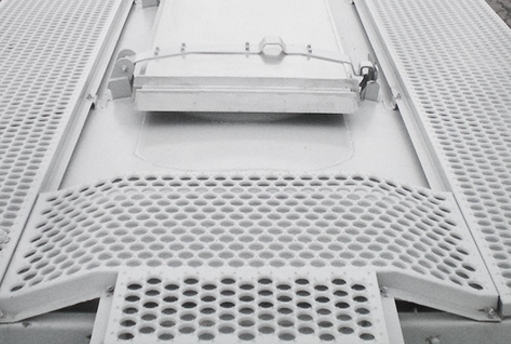 Photo credit: Metalex website (a division of Jason Industries)
If consumers feel better about the economy because the stock market is up and because they have more money due to Trump tax cuts, they might go out and spend money more freely on products that have seating made by Jason Industries. This includes: Chris Craft and Bayliner boats, Harley Davidson and Indian motorcycles, Polaris (NYSE:PII) and Arctic Cat (NASDAQ:ACAT) snowmobiles, Club Car golf carts and other products.

Photo credit: Milsco Seating website (a division of Jason Industries)
Take a look at the chart of Harley-Davidson, which has recently surged on the belief that tax cuts and jobs growth will lead to consumer spending on motorcycles.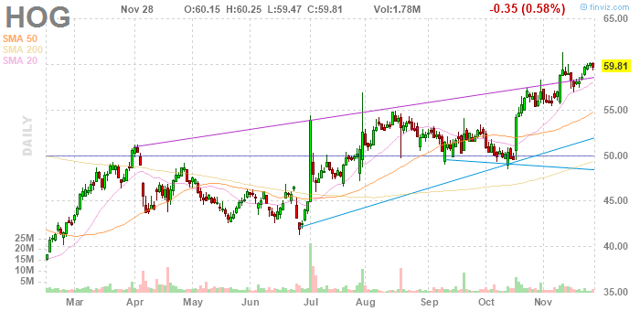 In Summary:
Jason Industries has disappointed investors who bought the stock at much higher levels. However, as we all know, price matters and so does timing when you are investing. Insiders seem to think the timing is right to buy, and in the past six months, they have purchased over 500,000 shares and now collectively own about 9.5 million shares. This is another very bullish indicator and sign that the current pullback is a buying opportunity.
I believe potential downside risks are limited at these levels because the company has plenty of liquidity and will likely see additional strength in the balance sheet when asset sales and cost cutting goals are achieved. With the stock now at dirt cheap levels due to tax loss selling and with a renaissance of investor interest now showing up in many industrial and infrastructure stocks, this appears to be a very ideal time to buy Jason Industries.
The large cap stocks that have recently posted huge gains could and should trickle down to smaller cap stocks and to suppliers of these same names. Because both the House of Representatives and the Senate are controlled by Republicans, President Trump appears poised to move quickly to implement deregulation, infrastructure spending, and both personal and corporate tax cuts.
All of this appears highly beneficial to Jason Industries and none of this appears to be priced into the stock yet. I believe small cap stocks that have exposure to industry, infrastructure and also benefit from deregulation and tax cuts will be next to rally as investors consider the rapidly changing political and economic environment.
The end of tax loss selling could also push this stock higher in the next couple of weeks. The price target of $3.25 per share that was set by analysts at Stifel appears reasonable in the near term, but if management succeeds (even half-way) in its cost-cutting goals and if this company begins to see stronger demand from companies like John Deere, Caterpillar, Harley-Davidson and Indian Motorcycles, plus more demand from the rail and industrial sector, the potential upside appears much greater.
This stock has shown signs it has bottomed out and it is now trading off the lows. It is currently trading around $1.75 per share and that means investors could see a near double if the Stifel price target of $3.25 is reached or potentially even more longer term.
Data is sourced from Yahoo Finance. No guarantees or representations are made. Hawkinvest is not a registered investment advisor and does not provide specific investment advice. The information is for informational purposes only. You should always consult a financial advisor.
Disclosure: I am/we are long JASN.
I wrote this article myself, and it expresses my own opinions. I am not receiving compensation for it (other than from Seeking Alpha). I have no business relationship with any company whose stock is mentioned in this article.