Fractals won't tell you what the news will be. If the OPEC deal fell through, the oil (USO) fractals highlighted in my last article would have been 'toast'. Price patterns will only repeat if the catalysts and positioning are similar.
But when they are......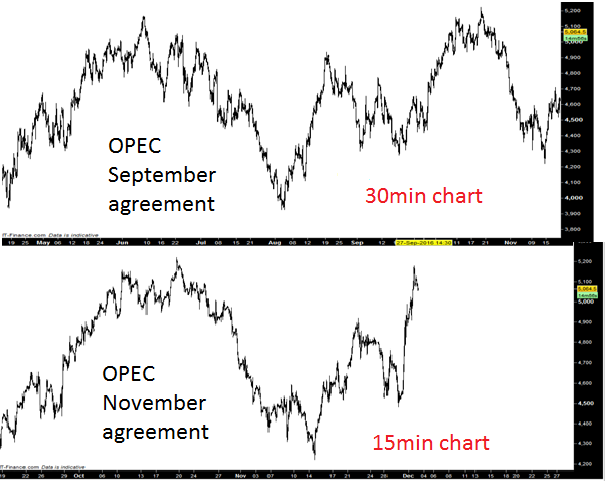 Prices usually do something pretty similar.
I used the price patterns leading into the September OPEC agreement in Algiers as a guide for the recent November meeting. The indecision and price swings leading into each meeting were very similar.
Here is the original version from a few days before the meeting on the 30th November: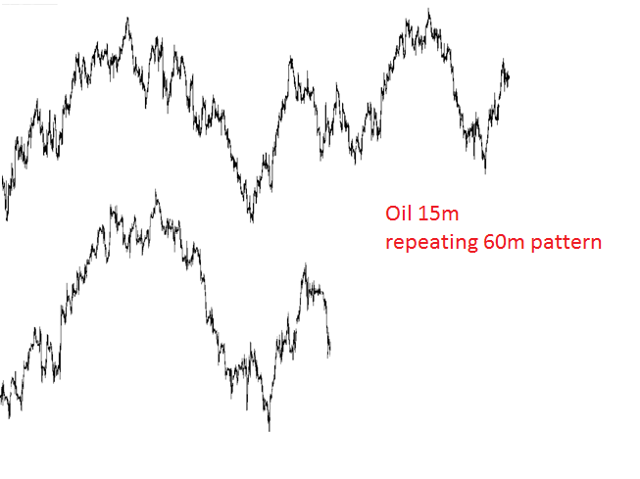 When the news of an agreement started to leak out, I had a good guide to how price would react. Was it a buy the rumor, sell the news scenario? Not according to the fractal. Or at least not straight away.
Thankfully I spotted the similarities early and made a good few trades in the days leading up to OPEC meeting. I didn't have to take a large position into the event itself.
I won't list all the trades I made, but most of them are listed here on Seeking Alpha and on Twitter.
I'd rather look forward, and at what the continuing similarity means for oil in the next few months,
From the first chart it should be fairly clear. Any new highs will likely fail and prices will drop right back down.
The Rally Won't Last
There are all kinds of potential catalysts to reverse this rally.
As always, there are doubts about the OPEC agreement. Will the proposed cut materialize in January? Will it have any effect? The doubts are usually ignored while price is rising and come to the fore when price is decreasing. For now, everything is rosy and I read this morning oil is surely heading to $60-$70.
The other potential cause of resistance to the rally is the hedging of producers. Every time oil trades in the $50 range it is met with a wave of selling in quite a repetitive manner.
This was highlighted in my article on Nov 3rd: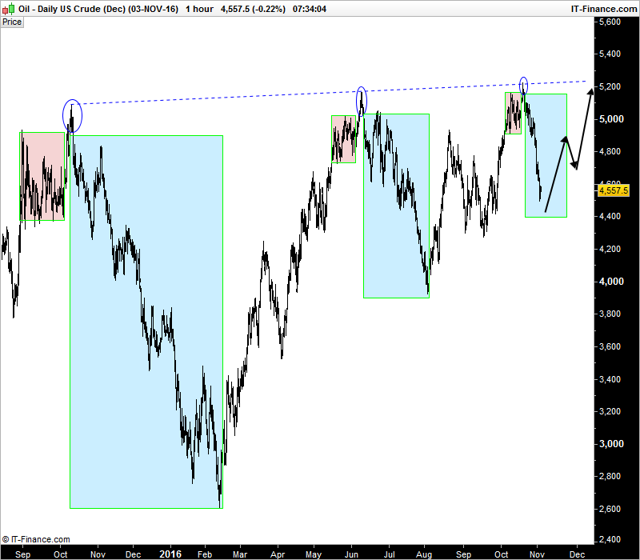 Here is an update, along with a projection of what would happen if the pattern were to repeat again.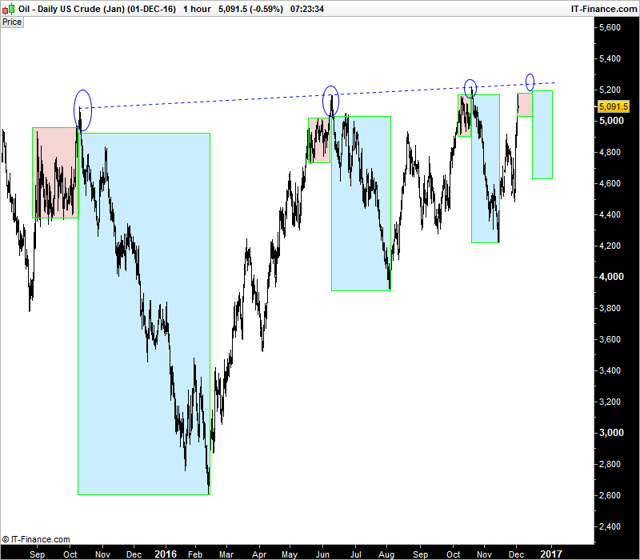 Note the downside reactions are getting smaller. At some point the selling will have such a negligible effect it will be overpowered and a new pattern will form.
Also note how the above projection ties in with the first chart from the article. Again, a new high and sell off is suggested.
Much like the October highs, I wouldn't be surprised if the hedgers increased their shorts into this rally, while speculators got overly long looking for the break. Robert Boslego writes on Seeking Alpha about COT positioning in oil so keep a look out for his next article on the subject.
Conclusions
I don't think it's the best time to buy oil here. A new high above $52.2 would look bullish, but it would be the fourth time it has tried to break out and I'm not sure this time is different.
The eventual break will likely come when no-one expects it and everyone has lost interest. For now oil is a hot topic and former bears are turning bullish because of the OPEC news.
My longs from $45 were closed at $49 and $51. I might be able to squeeze $2 more out of the trade, but I'd rather be safe and I'm now back to a small core long I am trading around.
Disclosure: I am/we are long USO.
I wrote this article myself, and it expresses my own opinions. I am not receiving compensation for it (other than from Seeking Alpha). I have no business relationship with any company whose stock is mentioned in this article.
Additional disclosure: I am long CL futures