The crazy, turbulent month of November 2016 has finally come to a close. But you know what November coming to a close means, right? The best darn dividend month of the year is set to begin and I am as intrigued as everyone else what December will have in store for us. Before I begin looking too far forward, it is time to summarize the past month and the dividend income I earned. How did I perform compared to November 2015 and was I able to achieve a higher year-over-year dividend growth rate compared to Lanny? Time to find out!
November dividend income and analysis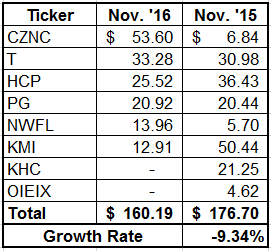 In November, I earned $160.19 in dividend income. What sucks is the fact that my dividend income decreased 9.34% compared to the prior year. What the heck! Looks like Lanny crushed my performance this year since he was able to sport a 9.52% increase in November. Nice job Lanny; you may have won our fake competition this month, but there will be plenty of other chances for me to strike in 2017.
Watch out! I was upset about the decrease for about two seconds, and then I realized the decrease was purely cosmetic and the devil was in the details for my performance this month. You know, for only receiving dividends from six companies this month, I have an awful lot of explaining to do. Here are the major events that impacted my November dividend income summary.
Summary
The past isn't the only thing that has me excited as I reflect back on the prior month and November had a lot of memorable activities as well. I look forward to including Realty Income (NYSE:O) in my monthly dividend income summaries going forward since I purchased shares in the company at the beginning of the month. Further, that purchase helped me knock out a 2016 goal as the purchase helped push my forward annual dividend income above $3,250.
Nothing is more motivating to me than seeing these kinds of results on a monthly basis and I cannot wait to review each of your summaries in the coming weeks. I truly believe that we are all on the right path and in the process of making amazing things happen. Developing this passive income stream can help you accomplish a lot, whether it is covering most of your monthly expenses to helping pay down your student loans/other debts.
And the more I see the monthly payouts increase (despite the fact my income appeared to decrease 9% this month, my dividend income would have increased without the KHC timing difference), the more motivated I become. So let's make the best of our final month of 2016 and set the table for an amazing 2017!
Did you have a record-setting November? Were you bit by the KHC timing difference as well? What stocks are you watching/targeting for December? Are you ready for an insane December in terms of dividend income??