It wasn't a big surprise that the Saudi's finally "softened".
A piece put out in September argued that any more squeezing down the price would be pointless, so likely they would change position. A previous piece put out in April predicted they would blink in Doha (they did) and Brent would see $60 by Christmas. Last week in Vienna they threw in the towel. Brent hit $54 yesterday, up $10 from two weeks ago; $6 more in three weeks is looking very possible, could be perhaps the underlying logic for those predictions; might be sound?
So what does that logic predict for the future...that future which as Niels Bohr once said, is the hard part of prediction; and Donald Trump (allegedly) said "If it was easy we'd let girls do it".
Two years ago Rystad Energy were saying breakeven for tight oil (some people call that shale) was $70. That was based on "bottom-up" analysis of financial results of the E&P players; Rystad is a serious outfit, so no reason to disbelieve them. Two years ago the cunning plan (unspoken) was to destroy tight oil. That didn't happen, it nearly did, but it didn't, that's the thing about wars, there are sometimes unknown unknowns.
The time-line to watch was Initial Production (IP) and in particular IP per completed well (IP/C).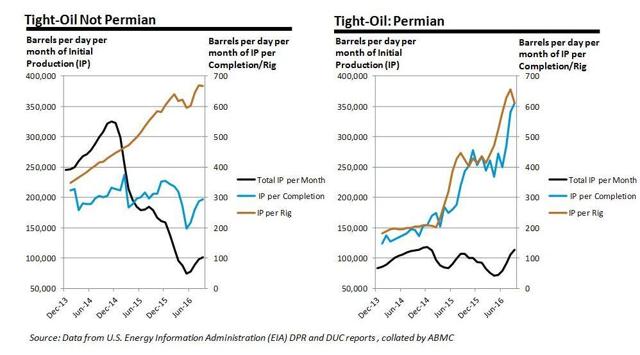 I showed Permian separately from other tight/shale plays because it behaved differently. IP/C in Permian is now running at 600 barrels per day (BPD), up from 200 two years ago. Two years ago Permian IP was less than 30% of total tight/shale IP, now it's 50%; and legacy loss in Permian runs at 4% a month compared to 7% elsewhere.
More oil is being brought on line in Permian than was coming on line when oil was $100; likely because (a) the drillers/geologists are getting better and presumably learning from their mistakes (b) the equipment, and the services, are selling for pennies on the dollar. IP elsewhere is ticking up, it's highly likely the lessons learned in Permian will start to kick in when (not if); Brent goes above $60.
So how about $85?
After the exuberance caused by the Saudi blink in Doha, or was it a wink? The price went up to $50 (Brent), in May a variation of the prediction model said "$85 by Christmas (2016)". Three-weeks to go and that's looking a bit of a stretch.
The logic behind that model was that the price of oil that the world can afford to pay, without going into debt, and/or creating inflation, which is what happened in the 1980's, was between $75 and $85. So when oil was $100+ the customers were paying too much, likely that was thanks to QE which gave them the money to finance current expenditure by going into debt, which is always a bad idea.
So what happens if you find out you have been inadvertently over-charging your customers? If you are an honest business-man, you say "How about if I sell you oil at a 50% discount on the "fair-price", until we are square?" And that's exactly what Saudi Arabia did, you can't criticize that.
The model figured that by Christmas all of the money paid out above the "fair-price" during the oil-price bubble, would have been paid-back (in kind), at which point the price would go back to the "fair-price".
All that happened was the Saudi's told their competitors, "we have paid our customers back what we over-charged them, and so now we are going to start charging "proper" prices...but we will only do that if you promise not to steal our customers."
That's one explanation, another explanation is the "invisible hand", waved its wand, after all The Prophet Mohamed (Peace be upon Him), once said "only God fixes prices". The Saudi's are not fixing prices; they are simply communicating an intention, subject to how the market goes.
OK - perhaps not $85 and perhaps not by Christmas. Unless:
The main source of "new-oil" these days is offshore. Currently 40% of offshore drilling rigs are stacked, and the trend-line is down, likely 60% will be stacked by Christmas. Charter-parties for offshore rigs are typically five-years with no option for termination for convenience so it takes time to react to an oil-price bust.
Two years ago Rystad Energy were saying breakeven for offshore was also about $70. The difference between offshore and shale is that number didn't change much. It's not just the cost of the drilling rig, or the crews (going for pennies these days), you also need the pipelines, jackets and topsides; that's the real cost, and that cost didn't change.
The point is it takes five years to develop offshore, and if you are pulling rigs, you are not building, or even planning the rest. So unless within a year or two tight-oil can supply all or most of the extra three-million BPD per year that will be needed to maintain supply, after the current glut gets used up, there will likely be a spike again.
Chances of that happening in two or three year's time are looking pretty much 50:50.
Disclosure: I/we have no positions in any stocks mentioned, and no plans to initiate any positions within the next 72 hours.
I wrote this article myself, and it expresses my own opinions. I am not receiving compensation for it. I have no business relationship with any company whose stock is mentioned in this article.