How Good Was November For Bank Investors?
A member of the Seeking Alpha community recently asked me whether the extraordinary performance registered by bank stocks in November was some kind of record.
Actually, as good as November was for bank investors, there are three months since 1986 when bank stock prices appreciated even more than what we saw last month.
Before getting into those details, let's look at the November performance of 15 big bank stocks used for this study.
The average big bank's stock price increased 18.8% in November. Chart 1 shows the change in stock prices for Bank of America (NYSE:BAC), BB&T (NYSE:BBT), Citibank (NYSE:C), Comerica (NYSE:CMA), Fifth Third Bancorp (NASDAQ:FITB), Huntington (NASDAQ:HBAN), JPMorgan Chase (NYSE:JPM), KeyBank (NYSE:KEY), M&T (NYSE:MTB), PNC (NYSE:PNC), Regions Financial (NYSE:RF), SunTrust (NYSE:STI), U.S. Bancorp (NYSE:USB), Wells Fargo (NYSE:WFC), and Zions (NASDAQ:ZION).
Chart 1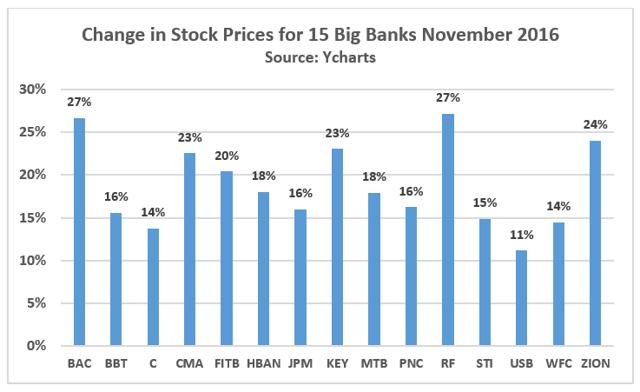 Chart 2 provides a view of the monthly change in stock price for the 15 banks (on average) for 360 months dating back to 1986.
Note the tall bar at the end of the graph. This indicates November was the fourth best performance over the past 30 years, exceeded only by three months of extreme growth during the Financial Crisis years.
Chart 2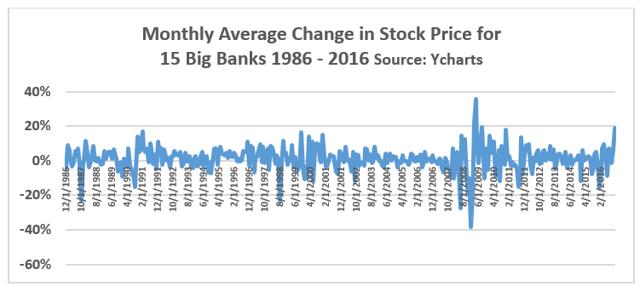 The next chart should be encouraging to long-term, buy-and-hold investors in bank stocks.
Since 1986, bank stock prices have moved up over the course of a month 59% of the time. On the flip side, 5% of the time (18 months of 360) bank stock prices fell at least -10%.
Chart 3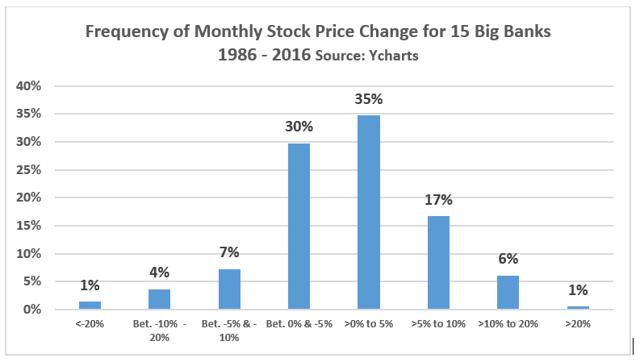 Odds Are In Investors' Favor - But Averages Can Be Deceiving
On average, bank stock prices appreciate 1% per month. But don't let averages fool you.
Consider this: Eight of the 18 months in which bank stocks have fallen more than -10% occurred between December 2007 and August 2010, including four months in 2008 and 2009 when losses exceeded -20% per month.
In my recently published book about bank investing ("Investing in Banks" published by the Risk Management Association, 2016), I compared bank stock performance during the Financial Crisis to stock prices during the Great Depression. Bad as the 1929 to 1934 time was for investors, 2004 to 2009 was even worse for bank investors.
Just to drive home the point about monthly extremes in bank stock price performance, Chart 4 shows the 24 best months during the past 30 years for bank investors. These 24 months account for nearly 95% of the growth in bank stocks since 1986.
Bank volatility predates the Financial Crisis. The second half of the 1980s was a wild roller-coaster for bank investors as nearly 3,000 banks and S&Ls failed between the mid-80s and early '90s.
Chart 4 identifies key drivers behind the best months. Extraordinary growth in bank stock prices - as well as extraordinary declines - does not occur in isolation. There is always a major theme driving big changes.
Chart 4 also indicates that the Financial Crisis produced nearly half of the best months in bank stock performance since 1986. But that's hardly good news. The same can be said about the era of Great Depression investing when extreme volatility produced frequent record high growth months for stock prices.
Keep this in mind: When stock prices fall -20% in one month and bounce back +10% the next month, the net effect is a -12% decline in prices over the two months.
Chart 4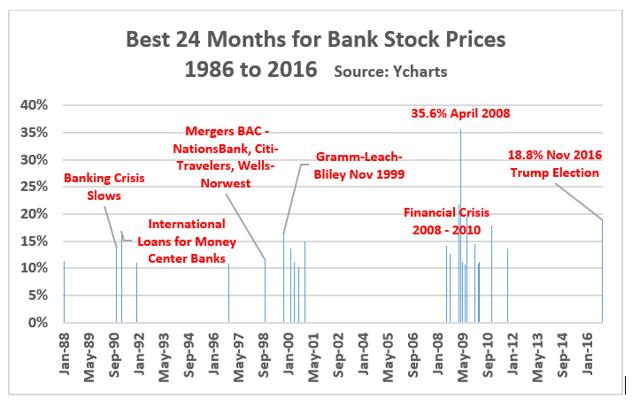 Buy, Sell, or Hold?
Where do bank stocks go from here?
Bulls argue that there are at least four reasons banks should continue to appreciate: A Trump-led expanding economy, higher interest rates engineered by the Fed, lower bank regulations, and reduced corporate tax rates.
Bank bulls may find the chart above encouraging as it suggests double-digit pops in bank stock prices usually occur in clusters. Perhaps investors will enjoy another 10%+ month soon.
Bears argue that bank stocks need to take a breather and allow for the headlines portending good news for bank earnings actually turn into real facts that drive real earnings. Unless the facts work the way bulls think, the rapid rise in bank valuation multiples will prove short-lived.
Here's what I think:
The best banks in America were solid investments a year ago and will be a year from now. Bank stock prices are highly volatile. Investors uncomfortable with volatility - especially after getting burned by banks during the Financial Crisis - should avoid bank stocks and stick with a broad market ETF.
Final thought for now: My examination of the industry's financial condition reveals no imminent threats to bank earnings. However, as I will chronicle for these pages in the coming week, bank investors must recognize that the industry's most important metric looks more favorable today than it has since the FDIC began tracking this metric since 1984. Eventually this metric will revert to historic averages. When that happens, expect earnings to suffer, valuations to shrink, and stock prices to take hit. Stay tuned.
Disclosure: I am/we are long FITB, HBAN, PNC, JPM.
I wrote this article myself, and it expresses my own opinions. I am not receiving compensation for it (other than from Seeking Alpha). I have no business relationship with any company whose stock is mentioned in this article.
Additional disclosure: Even though I have no current position in BAC, as a retired employee from BAC, I have certain financial interests in the bank.