Earlier this week, I argued that:
investors still have one full quarter or more to add Ford (NYSE:F) to their portfolios, even at a slightly higher price than $12 a share."
My previous Ford coverage for the year follows:
Reaction
The chart below shows how Ford shares reacted to the announcement of November US auto sales on Thursday.
At one point during the trading session, Ford stock hit $12.80 (up 7% around noon), which is only $1.58 away from its 52-week high.
Ford shares have fallen 11% so far this year, having struggled to recover since the group lowered guidance for core earnings earlier this summer.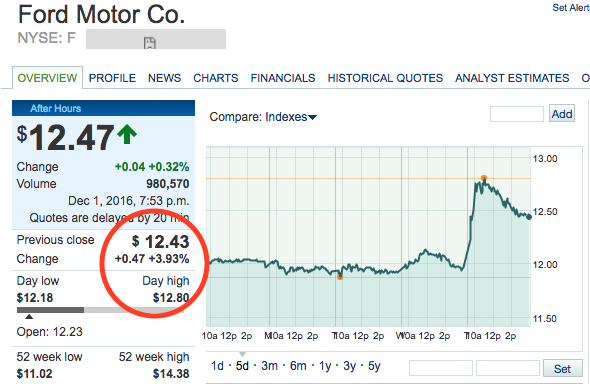 (Source: marketwatch.com)
Incidentally, given the sensitivity of auto stocks to interest rates, its performance on the stock exchange was remarkable on Thursday, because it came when the 10-year Treasury yield hit a fresh 17-month high.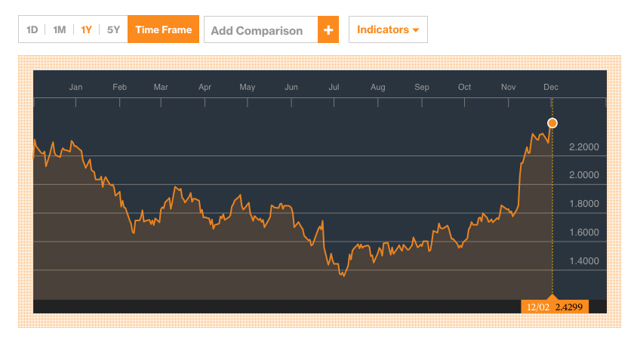 (Source: Bloomberg.com)
F is not cheap because its trading multiples are low, but because it is possible that strength in the broader auto industry both Stateside and elsewhere will spur more appetite for equity risk across the industry. Chronic overcapacity persists in parts of the world, but the bulls have other things in mind following the latest beat.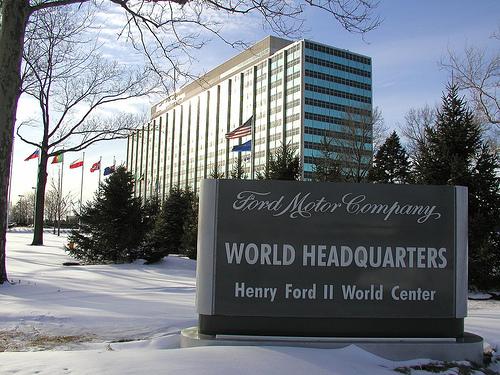 (Source: Fordinsidenews.com)
And they were proved right this week.
Estimates
Several automakers destroyed sales estimates in November, as the table below shows.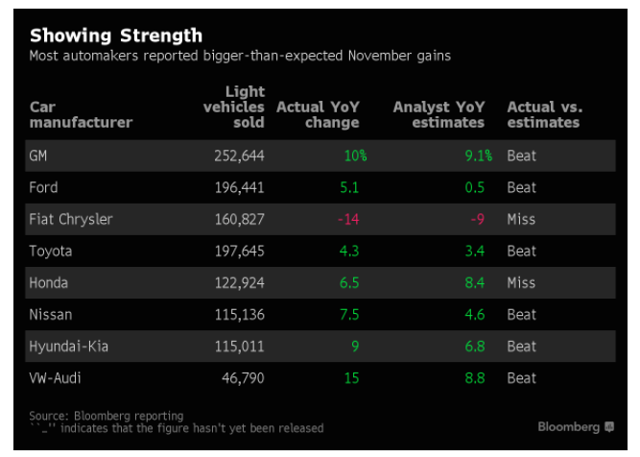 (Source: Bloomberg.com)
This is what Bloomberg had to say on latest sales figures:
Ford was the biggest beneficiary, with its stock jumping after it posted a 5.1 percent sales increase that far exceeded the average estimate. General Motors (NYSE:GM) Co.'s 10 percent sales gain was aided by incentives topping $10,000 on some Silverado pickups and Suburban SUVs. Even the scandal-tarnished Volkswagen (OTCPK:VLKAY) brand got a holiday bonus: Its deliveries rose for the first time in more than a year."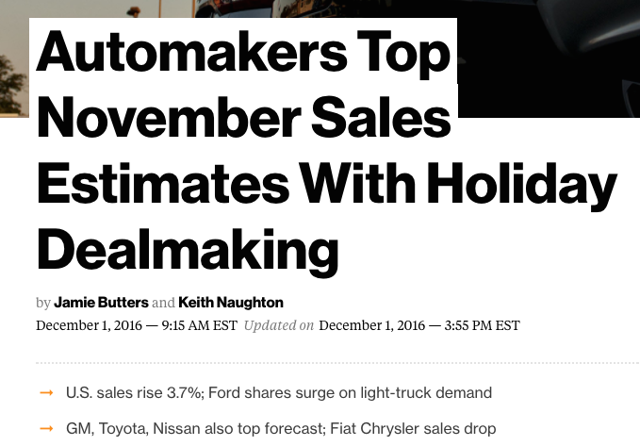 For its part, Reuters reported "some analysts worried that near-record high discounts, also called incentives, were artificially inflating demand to extend a sales boom that began after the 2008-09 economic crisis."
There are signs all that glitters is not gold.
Transcript
Excluding the nitty-gritty details of total vehicle sales and their break-down, which can be found in the official announcement, I think it is worth flagging a couple of the key elements that emerged in a call with analysts and journalists following the release of US auto sales on Thursday.
Ford's Mark LaNeve - Vice President, US marketing, sales and services - noted that:
Our early read is a total sales including medium and heavy trucks came in at approximately 1.41 million vehicles last month. This will correspond to a total industry SAAR of about 18.3 million vehicles, providing the overall industry with an approximate 5% increase versus a year ago.

Our outlook for the year remains unchanged at 17.8 million total vehicles. We had a strong sales in November, which places the year-to-date pace at a level consistent with the year ago, with 2015. And we are maintaining our guidance for 2017 as well at 17.7 million vehicles."
Meanwhile, senior economist Bryan Bezold discussed the macroeconomic outlook, essentially arguing that short-term risks are unlikely to be material; "economic data showed a trend of relatively healthy household sector, an improvement in the corporate sector extending into the fourth quarter," Mr Bezold noted.
I am inclined not to disagree with him.
Full Swing
However, at a time when risk-on trades are in full swing, certain fundamental risks persist.
In the Q&A session, Dan Levy from Barclays noted: "there was an Edmonds article from a couple of weeks ago in which they mentioned about a third of the trade-ins that we've seen for new car sales this year, they've had negative equity."
I'm wondering if you are seeing a similar trend, can you give us a sense first of all for us, what percent of your new car sales involves trade-ins and are you hearing more plus from your dealers for greater trade allowances that they can accommodate consumers with negative equity."
You want to know more about negative equity, and why related news is bad for your investment in Ford?
Mr Bezold's words do not necessarily clarify the matter, but can be found here.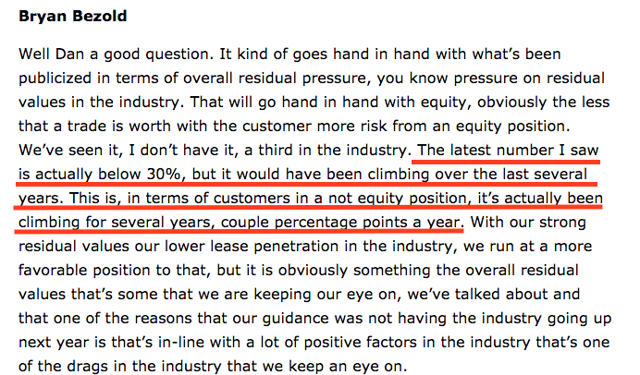 So, end of the story?
No, really.
Zero Tolerance?
In a must-read article titled "Negative Equity Rolled Into New Car Purchases Reaches Record High", Zero Hedge wrote this week:
Of course, that's no problem when you can simply roll that negative equity into a brand new 7-year loan at a 2% interest rate. Sure, with the average car priced at $33,000, that means your starting principal balance is 115% of your new car's value but that's no big deal, right? That just means you'll have to roll over even more negative equity in 4 years when you buy your next brand new vehicle." (Source: Zerohedge.com)
"We have frequently written," it continued, "about the unsustainable trends in new car sales in the United States created by the combination of lower rates, loosening underwriting standards and voracious demand for new securitizations by wall street and pension funds that will do just about anything for an extra 20bps of yield."
Given Ford's current valuation and trading metrics, this could be just a nuisance trough to the first quarter, and I doubt the short-term risk associated to the equity story of Ford has officially heightened.
While these risks might be priced into the stock, though, certain trends and news should be closely monitored by shareholders who want to avoid being caught off guard.
That said, Ford remains a hold for me.
Disclosure: I/we have no positions in any stocks mentioned, and no plans to initiate any positions within the next 72 hours. I wrote this article myself, and it expresses my own opinions. I am not receiving compensation for it (other than from Seeking Alpha). I have no business relationship with any company whose stock is mentioned in this article.
Editor's Note: This article discusses one or more securities that do not trade on a major U.S. exchange. Please be aware of the risks associated with these stocks.