Preferred stocks, which despite their name have more in common with bonds, had a rough November.
The Trump effect--the post-election expectation of fiscal stimulus next year--has caused a massive rotation, raising prices of cyclical and financial stocks while depressing fixed-income.
The preferred portion of my portfolio took a beating, causing me to take another look at my holdings.
The PowerShares Financial Preferred Portfolio ETF (NYSEARCA:PGF) is an fund I had held for several years as a way of diversifying my preferred stock holdings (Quantum description).
It has a four-star Morningstar rating and had been performing well for several years, with a five-year return of 8.6%. But it began weakening in September after interest rates bottomed over the summer, and then the wheels came off after the election, with the price falling 4.7% in November.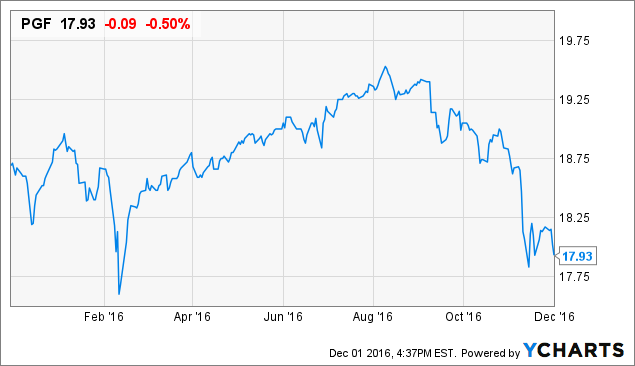 Here is a description of the fund:
The investment seeks investment results that generally correspond (before fees and expenses) to the price and yield of the Wells Fargo® Hybrid & Preferred Securities Financial Index. The fund generally will invest at least 90% of its total assets in preferred securities of financial institutions that comprise the underlying index. The underlying index is a market capitalization weighted index designed to track the performance of preferred securities traded in the U.S. market by financial institutions."
Expenses are a bit higher than other preferred ETFs, but not awful:
Annual Fund Operating Expenses
(expenses that you pay each year as a percentage of the value
of your investment)
Management Fees
0.50%
Other Expenses
0.13%
Total Annual Fund Operating Expenses
0.63%
Source: PowerShares prospectus
I plugged PGF into a spreadsheet to see how an investment at last year's closing price looks compared to my largest holding, Wells Fargo (NYSE:WFC) series L convertible preferred, which I've written about several times. (Since WFC-L has gone ex-dividend, I included the payment on December 15 in the calculation.)
PGF
1000 shares
WFC-L
20 shares
1/1/2016
-18830
1/1/2016
-23750
1/30/2016
89.7
2/28/2016
88.3
3/31/2016
91.4
3/15/2016
375
4/30/2016
92.5
5/31/2016
92.5
6/30/2016
86.7
6/15/2016
375
7/31/2016
87.6
8/31/2016
84.9
9/30/2016
84.3
9/15/2016
375
10/31/2016
83.8
11/30/2016
84.3
12/15/2016
375
11/30/2016
18020
11/30/2016
24047
XIRR
0.009278
0.084911
Wow, look at that difference. Even though it got crushed in November (down 7.9%, WFC-L is still up 8.5% for the year on a total return basis, compared with just 0.9% for PGF. (WFC-L trades like a long-dated bond because the conversion feature is very unlikely to be triggered).
Why such a large difference? Several factors are involved.
Even though as an ETF it has relatively low expenses, PGF's return is lowered by its expense ratio, 0.63%, which owning the individual security avoids.
PGF's yield-on-cost for the year will wind up about 5.5% (adding all the dividends and dividing by the opening price). By the same measure, WFC-L yielded 6.3%.
WFC-L has appreciated 1% during the year on a price-only basis despite the Trump tantrum, possibly as the result of more investors wanting a 6 percent yield with little call or credit risk. PGF has gone down 4.5% on a price-only basis. It now sells at a slight discount (0.17%) to its net asset value.

Source: Charles Schwab
Conclusion: I decided to sell my PGF, believing it's not a great value in a strong-dollar, rising-rate environment and I prefer to own individual investment-grade securities where the risk is largely confined to interest rates.
Disclosure: I am/we are long WFC-L.
I wrote this article myself, and it expresses my own opinions. I am not receiving compensation for it (other than from Seeking Alpha). I have no business relationship with any company whose stock is mentioned in this article.