This article was released to members of the Cambridge Income Laboratory two weeks ago.
During my research into overvalued and undervalued CEFs, I noticed an interesting pair of Minnesota muni bond funds, one run by Nuveen and the other by Delaware Investments:
Nuveen Minnesota Municipal Income Fund (NYSE:NMS): 4.72% yield, +13.80% premium, +2.00 1-year z-score, 37.53% leverage, 1.73% expense ratio.
Delaware Investments Minnesota Municipal Income Fund II (NYSEMKT:VMM): 4.24% yield, -7.19% discount, -0.60 1-year z-score, 30.22% leverage, 1.42% expense ratio.
These two funds are the only two Minnesota bond funds in the CEF database of CEFConnect. Intriguingly, one trades at a +13.80% discount (+2.00 1-year z-score), while the other trades at a -7.19% discount (-0.60 z-score), an over 20% differential. As we have recently seen with the PIMCO Municipal Income Fund (NYSE:PMF) and the Invesco Value Municipal Income Trust (NYSE:IIM), two national muni CEFs, quick profits can be had when premium/discount values revert.
The fact that both NMS and VMM are Minnesota funds lowers the risk of this pairs trade, as we don't have to worry about state-specific effects. VMM appears to have a slightly higher quality portfolio (83% investment grade holdings) versus NMS (77% investment grade), but the two funds appear to be quite similar in most respects.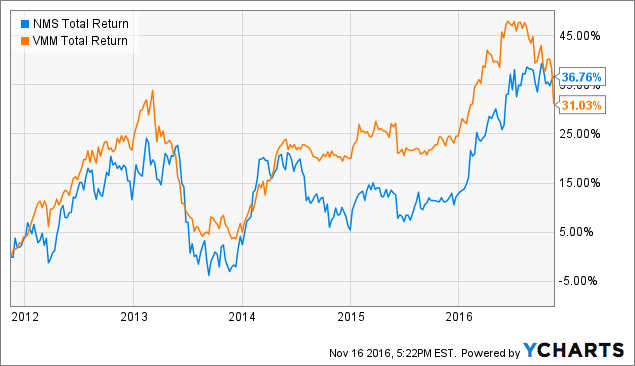 Over the longer term NMS has recorded higher returns, with about 1% extra per year over 15 years. Although does this justify a 20% differential in premium/discount value, not to mention the alpha that NMS holders are losing (and VMM holders gaining) by the very fact that distributions are being made at a premium for NMS (and discount for VMM)?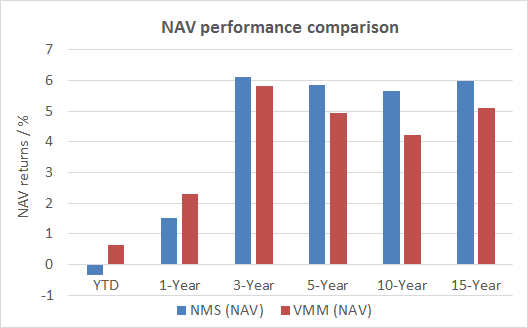 (Source: Stanford Chemist with data from Morningstar, performance figures above 1-year are annualized)
Over the past 6 months, VMM's discount has been on a downward trajectory: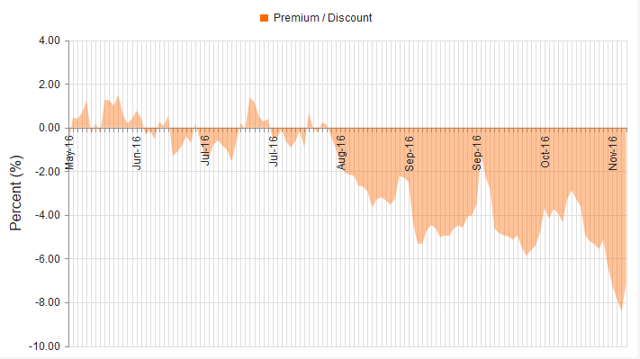 (Source: Stanford Chemist with data from CEFConnect)
In comparison, NMS's premium has risen to 52-week highs: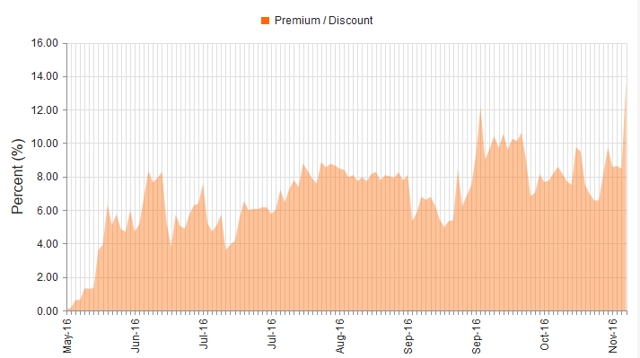 (Source: Stanford Chemist with data from CEFConnect)
The thrust of this difference is that while both NMS and VMM have exhibited nearly identical (and flat) NAV performances over the past 6 months, NMS has seen a price increase while VMM's price has gone down.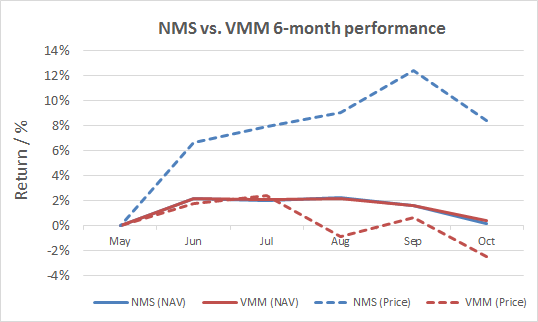 (Source: Stanford Chemist with data from CEFConnect)
Part of this discrepancy might be due to negative sentiment regarding VMM, which recently cut its monthly distribution by about 10%, from $0.0525 to $0.0475. Meanwhile NMS's distribution has held steady at $0.0665 per month for the last 12 months.
A contraction of VMM's discount from -7.19% to its 1-year average of -4.72% would net about 2.5 percentage points in alpha, whereas over 10 percentage points of alpha could theoretically be gained if NMS' premium of 13.80% reverted to its 1-year average of 2.25%. Thus, I would recommend anyone owning NMS to swap into VMM, while more adventurous individuals may consider a long VMM/short NMS pairs trade.
[Dec. 2nd update] NMS's premium has contracted from +13.80% to +10.47% over past two weeks. At the same time, VMS's discount has contracted from -7.19% at the time of writing to -4.26% today. In other words, both sides of the trade moved in our favor, at least in terms of premium/discount reversion. An investor who swapped from NMS to VMS as I suggested would have saved 6.71% over this time period, equivalent to gaining over 1 year's worth of distributions from NMS just over two weeks!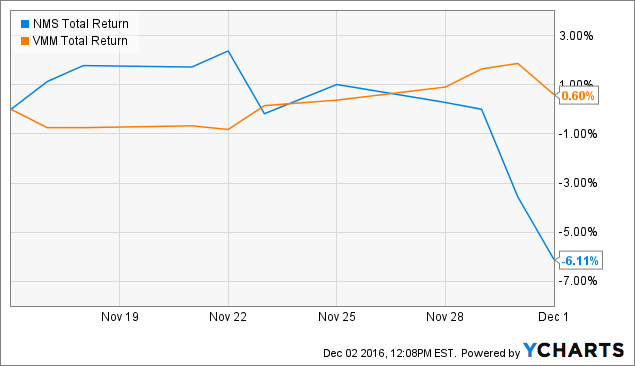 As NMS's premium is still significantly higher than its 1-year average of +3.20% (1-year z-score = +1.20), there might still be room for this trade to run. However, note that VMM's discount is now slightly narrower than its 1-year average of -4.53% (1-year z-score = +0.10).
If you have enjoyed my article, please consider clicking the "Follow" button next to my name to be alerted to new content! Also, subscribers to the Cambridge Income Laboratory receive my best trade ideas in advance, have access to my personal ETF/CEF income portfolio, and can request specific ETF/CEF analysis.
Disclosure: I/we have no positions in any stocks mentioned, and no plans to initiate any positions within the next 72 hours.
I wrote this article myself, and it expresses my own opinions. I am not receiving compensation for it (other than from Seeking Alpha). I have no business relationship with any company whose stock is mentioned in this article.