The municipal closed-end fund market has realized sharp negative sentiment since early August. We have been hitting on the fact that the space was susceptible to a large pull-back and recommended our subscribers significantly reduce exposure. A perfect storm of negative factors combined to crush what was one of the best performing asset classes in the first half of the year.
Yield-seeking behavior, which helped to boost the REIT, utilities, and consumer staples sectors to an extremely overvalued state lead us to start our series labeled "Beware of Yields Too Good To Be True." Since this summer, we have been warning about the negative factors likely to affect munis.
Those include:
Large amounts of call risk
Large supply issuance
Increasing short-term borrowing costs
Lower earnings as long-duration yields fell dramatically
From our July update on munis article:
Without a significant move higher in rates of both GO and revenue munis, call risk is going to become even more acute. Most of the Nuveen Funds are subject to bond calls, within the next year, amounting to 15% to 25% of the portfolio. If you lose 25% of your highest-yielding bonds in the next year and they are replaced by bonds yielding half as much, the sustainability of the distribution comes into question.
Yesterday, Nuveen and Eaton Vance cut their distributions across a large number of their municipal funds. This is a now slightly dated chart but is still relevant with the 10y Muni Bond Yield now at 2.573%. We have seen three such moves since the last recession with the prior two being solid buying opportunities. The question is will this move result in the same outcome?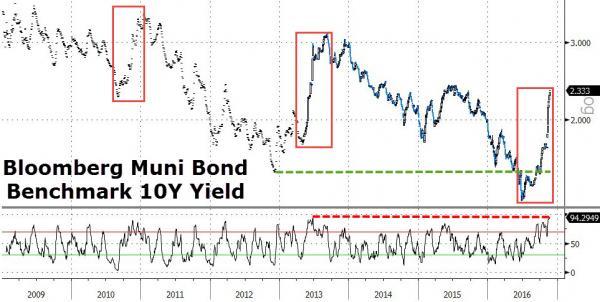 (Source: Zerohedge)
As we wrote previously, muni bonds, and really municipal closed-end funds, can be the ultimate sentiment indicator on rates. This is simply due to the dynamics of the market including a large amount of call risk coupled with long durations. Investors can be quick to yank money when they get a whiff of higher rates. After 54 straight weeks of capital inflows, investors pulled a massive amount in the week following the election selling over $3 billion. Last week, it continued with another $2.2 billion flowing out of the sector.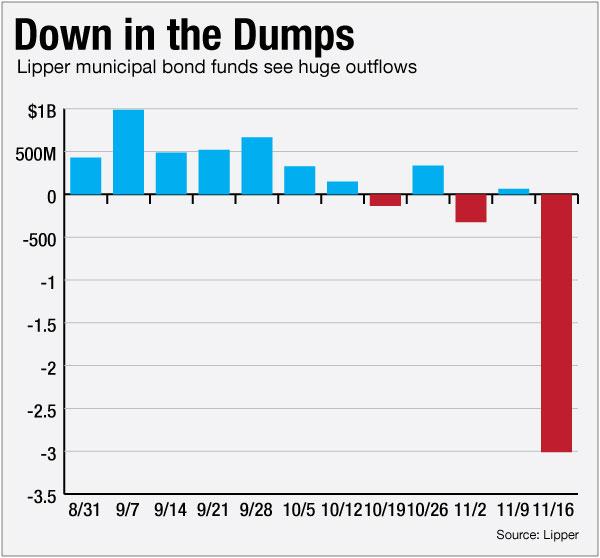 (Source: Bond Buyer)
The confluence of negative factors boiled up after the surprise Trump victory on November 9th. The effects of tax reform on the space could be crushing, especially when you combine that with supply issuance possibilities. Municipalities have been issuing new supply at a prolific rate in the last six months in an effort to reduce interest costs and stay ahead of the well-telegraphed rate hike in December.
October municipal supply volume surged to an all-time record of $53 billion, a 51% increase over October 2015. Issuance YTD through October was $339 billion and on track for approximately $450 billion. That would easily break the all-time yearly record of $430 billion set in 2010 due to the Build America Bond program launch. All this occurred as demand waned due to interest rate and inflation fears along with the Trump victory.
Supply dwindled during the Thanksgiving week but is expected to rebound to $10 billion this week. Supply should slow as issuers likely pulled forward a significant amount of planned issuance for the next six-to-twelve months. The real question is demand and if the sharp negative flows will continue, slow, or reverse. In the summer of 2015, we did see almost $4 billion of outflows over a four-month span, again as interest rate hike expectations loomed. That of course reversed and despite the large outflows in November, nearly $55 billion has still moved into the municipal sector in 2016.
The prospect of tax reform is now a looming factor that will likely weigh on the entire space for a number of years. The tax plan put out by the Trump campaign called for three brackets with a top rate of 33%, down significantly from 43.4%. That alone will crush munis due to the tax-equivalency of the muni yields.
He has also talked about spending on infrastructure which was also a centerpiece of his campaign. A $1 trillion spending bill on infrastructure over the next ten years would also increase muni supply and cause a headwind to the sector.
Closed-End Muni Update
The chart for most closed-end muni CEFs look extremely ugly. The VanEck Vectors CEF Municipal Income ETF (NYSEARCA:XMPT), an ETF of muni closed-end funds, has collapsed since the start of September and accelerated lower since mid-October.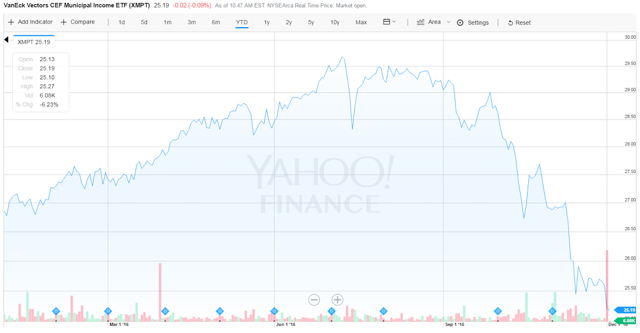 (Source: Yahoo Finance)
The average discount of the levered muni CEF space, however, peaked right after the election in the high-6% area and has since tightened back to the low 5%. Do not let this fool you into thinking that a bottom is in as it simply means the NAV is falling faster than the price.
| | | | | | |
| --- | --- | --- | --- | --- | --- |
| 10/21 | 10/28 | 11/4 | 11/11 | 11/18 | 11/25 |
| -3.2% | -5.3% | -5.0% | -6.7% | -6.4% | -5.2% |
For the Nuveen Quality Muni Income Fund (NYSE:NAD) and the Nuveen AMT-Free Quality Muni Income Fund (NYSE:NEA), it took less than three months before they were forced to cut their distribution despite the synergies and increase in assumed risk within the portfolio in an effort to generate higher earnings. Investors flocked to these funds as they didn't cut their distribution and even raised them post-merger. But as we noted (and warned!), the increase in the distribution was due to the merger agreement which required the acquiring fund to take on the highest distribution of the target funds.
What's Next?
We very well could see a repeat of last year when the fear of the interest rate hike provided selling pressure which quickly reversed by Christmas. But the additional factors that are hurting the sector including high supply, Trump fears, and the reflationary trade are new variables with which to contend. We have advocated to subscribers that they should hold off buying until you see fund flows and interest rates stabilize. Discounts are likely to expand out again as pricing catches up to faster-falling NAVs. Tax-loss selling is also likely to continue through the end of the year given the stark sell-off and gains in the equity markets.
Our marketplace subscribers were able to get early warnings on the issues surrounding the municipal closed-end fund sector and we encouraged a shift into taxable closed-ends this past summer. They will also get early warnings when we think a bottom is in for the sector. Muni CEFs are a very solid and safe way to generate high single digit tax-equivalent yields over medium-to-long periods of time. Getting in at the right time is a key to those kind of returns.
Note: To get these types of articles as soon as they are published, just click on the "follow" button next to my profile and choose the 'real-time alerts' option.
Marketplace Service For Those Hunting For Yield
In April 2016, we launched our marketplace service Yield Hunting: Alternative Income Investing dedicated to yield investors who wish to avoid the froth associated with most of the equity market. We encourage investors to utilize the free two-week trial in order to benefit from our yield opportunities within closed-end funds, business development companies, and other niche areas. We attempt to construct a "low-maintenance portfolio" with a yield in excess of 7% on a tax-equivalent basis with capital gain optionality. The core portfolio is now up 15.8% YTD through the end of September and generates a high-single digit yield.
Disclosure: I/we have no positions in any stocks mentioned, and no plans to initiate any positions within the next 72 hours.
I wrote this article myself, and it expresses my own opinions. I am not receiving compensation for it (other than from Seeking Alpha). I have no business relationship with any company whose stock is mentioned in this article.
Additional disclosure: The commentary does not constitute individualized investment advice. The opinions offered herein are not personalized recommendations to buy, sell or hold securities. As I have no knowledge of individual investor circumstances, goals, and/or portfolio concentration or diversification, readers are expected to complete their own due diligence before purchasing any stocks mentioned. The strategies discussed are strictly for illustrative and educational purposes and should not be construed as a recommendation to purchase or sell, or an offer to sell or a solicitation of an offer to buy any security. There is no guarantee that any strategies discussed will be effective. The information provided is not intended to be a complete analysis of every material fact respecting any strategy. The examples presented do not take into consideration commissions, tax implications or other transactions costs, which may significantly affect the economic consequences of a given strategy. This material represents an assessment of the market environment at a specific time and is not intended to be a forecast of future events or a guarantee of future results. This information should not be relied upon by the reader as research or investment advice regarding the funds or any security in particular.