Centennial Resource Development (NASDAQ:CDEV) is a pure-play Delaware Basin E&P company run by Mark Papa. Centennial owns 77,504 acres in the southern Delaware Basin, with over 1,800 horizontal drilling locations. Centennial Resource Development is the product of Papa's Special Purpose Acquisition Corp. acquiring an 89% controlling interest in Centennial Resource Production on July 6, 2016. I believe Centennial is in a great place to grow. The first half of 2017 is when I predict well results and cash flows will begin to support the increasing stock price.
Management Team
CEO Mark Papa's resume speaks for itself. Previously, he was CEO of EOG Resources (NYSE:EOG), where he was named the highest-ranked Global Energy CEO in 2010 and 2013 by Harvard Business Review and the Top Independent E&P CEO by Institutional Investor. EOG's stock performance under Papa returned 2,035% (1999-2014) vs. a return of 486% for the S&P O&G index and 67% for the S&P 500. After a brief retirement while crude prices plummeted, Papa is back in the industry heading Centennial Resource Development.
VP of Operations Oscar Peters worked with Papa at EOG from 2008 to 2013. More recently, he has been the Drilling and Completions Manager at Resolute Energy (NYSE:REN), specializing in the Delaware Basin Wolfcamp Shale development. Say what you will about Resolute Energy, but they have been drilling some outstanding wells under Peters. Their well performance (the decline rate in particular) makes his name worth noting for the future prospects of Centennial. (The well results can be found at the end of this article.)
How CDEV's Investor Presentations Undersell Themselves
One reason Centennial's upside is being undervalued in the market is because of the modest and safe investor presentations they've released. By releasing barrels of oil/day numbers instead of barrels of oil equivalent/day, which is the normal unit used, casual readers might underestimate their drilling potential. Centennial also hasn't released comprehensive well results yet. This could either be due to their most recent acquisition, with more to come, or because they're still working on the best well completion design.
One of Centennial's goals is to be a technical leader in well completion technology. Well design improvements don't get investors' attention the way that fluctuating oil prices do, but the argument could be made that well design is actually more important than the oil price environment, since a slower decline rate realizes more barrels of oil over the length of the well. Centennial makes it a point to note that in a volatile oil environment, they will try to be the leanest producer. Another thing being undersold is the number of potential locations in the Bone Springs (right above sands) and Avalon plays. The Pecos County acreage is also not listed with any locations.
One other aspect to note is that during the third quarter conference call, Papa stated that Centennial was looking to grow organically, spending only $100MM a year to maintain current production. Less than one month later, Centennial spent $855MM on bolt-on acreage. In my opinion, Papa has no intention of being just a small-cap E&P. In the original investor presentation (p. 19), Centennial claims there is no current inventory exactly where they just purchased acreage. The argument could be made that this was deliberate and part of the reason acreage was acquired at a discount to other Delaware deals.
Recent Acquisition
Centennial's acquisition on Nov. 28, 2016, of ~35,000 net acres has increased their southern Delaware basin presence by over 83%. The real upside to this acreage isn't the quantity but the location. As Wolfcamp extended laterals are reaching new lengths of about 10,000 feet, blocky acreage is needed. (The blocky acreage is shown in the image below.) The other benefit of blocky acreage is the additional value of pad drilling. When multiple wells can utilize the same surface equipment (storage tanks, gathering systems, artificial lift, etc.) there are significant cost savings. Centennial's bolt-on acquisition created a very attractive block of acreage right in the hottest section of the Delaware Basin. Side note: The newly acquired acreage is closer to Resolute Energy's acreage, which is where Peters knows best.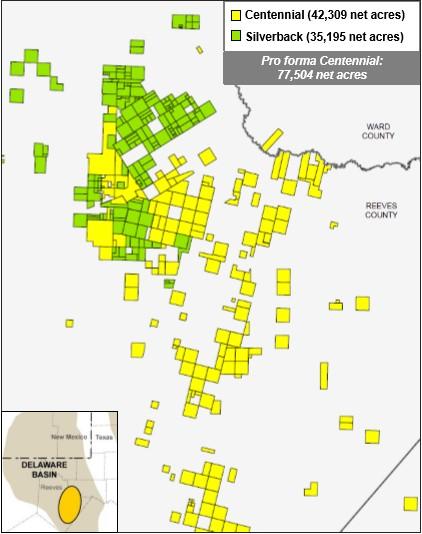 Source: Centennial Resource Development.
Somehow, they were able to acquire the acreage for under $20,000 an acre (after accounting for current flowing production). Below, one can see that the price Centennial got on this acreage is well below average for the proven productive region of the Delaware Basin. The only recent acreage bought for a lower price is the acreage sold in the mostly untested Lea County in the northern Delaware Basin (which was also a good deal, in my opinion). Price/acre is adjusted to account for a $50,000 per flowing BOE/day premium. One possibility the purchase price is lower than average is due to the ~10,000 acres with 80% of interest still undecided.

Source: Investor presentations, author's calculations.
Where Can Growth Come From?
After Monday's acquisition of Silverback's acreage, the pro forma rig count has increased 50% and 44% to six and nine rigs for 2017 and 2018, respectively. Improved well completion designs are recovering more barrels of oil quicker. These statistics are only for laterals of 5,000 feet or less. If you couple the better well completion designs with extended laterals, these additional rigs will be increasingly productive. Q4 2016 earnings might be too early to get results from the newly added acreage, but Q1 2017 will definitely show where this company is headed.
The 1,800 locations Centennial has are only in the Wolfcamp and Bone Spring sands, which are the most productive regions. But there is additional upside if the Avalon and the bulk of the Bone Spring plays are found to be economical. Diamondback (NASDAQ:FANG) has a really good breakdown of the Lower Spraberry in their third-quarter presentation, which has been compared to the Bone Springs zones that are potential locations not identified yet. Below the Wolfcamp is the Woodford, Barnett and Pennsylvanian plays, as seen in Apache Corporation's (NYSE:APA) recent Alpine High discovery. It's possible to have 12 pay zones below this acreage, as compared to the five currently identified.
During the third-quarter conference call, Papa made it clear that designing the most efficient wells in the industry is on the top of his list of priorities. As rigs ramp up starting in the fourth quarter of 2016, more well results will be released. The Q3 investor presentation shows the improvement in well performance with the new completion design. Well completions have shown higher proppant, more frack stages, and higher slickwater percentages. These trends are analogous to Resolute Energy's well design improvements.
I've included Resolute's well results (from the November presentation) below to show how effective they're drilling right now just north of the newly acquired acreage. Delaware Basin producers are still testing to discover the best completion design. It's not uncommon for E&P investor presentations to show the progression in Delaware basin types of curves as completions have improved.
Potential Risks
One of the risks involved with this company is that well results are very limited, and the well results shown aren't using the new completion design. If Centennial's original and acquired acres aren't as productive as they look, the stock price could drop significantly. This is a young company, and there is always a risk/reward relationship there.
Another inherent risk in this company is commodity prices. With a commodity producer, half of the revenue calculation (price x quantity) relies on market forces. Assuming OPEC actually restricts output, oil prices should be somewhat steady over the next 18 months.
Conclusion
Although Centennial has increased significantly (mostly due to the acquisition and OPEC deal) since I started formulating my thesis, there is still opportunity for this stock to run up. I believe the fourth-quarter earnings release will include more well statistics from Centennial's acreage utilizing their new completion design. Once the new acreage comes online, the growth potential will be seen. This could be an investor's last chance to get in at entry price before the well results get released.
Resolute Energy November Presentation Well Results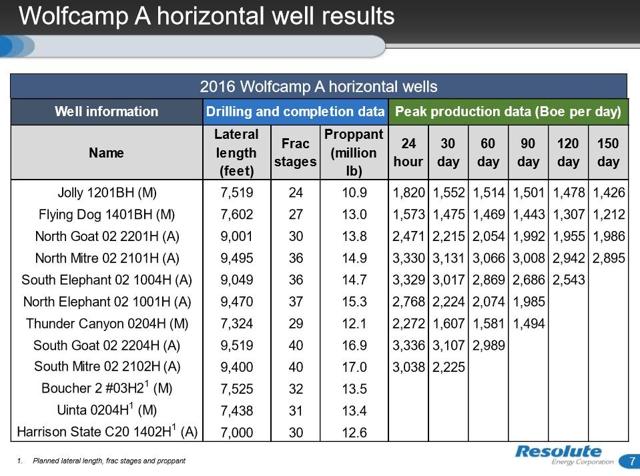 Disclosure: I am/we are long CDEV.
I wrote this article myself, and it expresses my own opinions. I am not receiving compensation for it (other than from Seeking Alpha). I have no business relationship with any company whose stock is mentioned in this article.