The production of the Agreement looks as if OPEC, like a magician, pulled a rabbit out of a hat. This article, if true, explains, "How Putin, Khamenei and Saudi prince got the OPEC deal done."
Based on OPEC's behavior this year, the Agreement, and the press conference following the meeting, the deal looks and feels bogus to me.
Delay, Delay, Delay
It was mid-February when several oil ministers, including Saudi Arabia and Russia met. They ended the meeting agreeing that they would seek to "freeze" production at January volumes, which were 31.85 million barrels per day (mmbd), according to the Energy Information Administration (EIA). They were rewarded with an oil price rally.
When it came to the meeting in Doha two months later, the freeze deal never happened. Iran did not even attend, and Saudi Arabia refused to participate without Iran. Prices continued to climb anyway, due to a confluence of circumstances that produced outages around the world, including Nigeria, Venezuela and Canada.
Oil prices deteriorated over the summer as production was restored and slipped below $40 in early August. That prompted the new OPEC Secretary General to issue a press release about an informal OPEC meeting in late September, almost two months later, to address supply issues.
The meeting ended in a surprise Extraordinary Meeting, producing the "Algiers Accord," an agreement to reduce production to 32.5 mmbd. But as Saudi Energy Minister al-Falih subsequently said, it contained no "effective mechanism" to allocate cuts among members.
It vowed to implement the agreement at the next OPEC meeting, two months away. In the meantime, it manufactured "fake news" to make it appear that they were making progress.
The Agreement takes effect January 1st, and so we will not know whether they are complying until the first part of February, buying another two months.
Agreement Flaws
The Agreement itself says that OPEC will limit production to 32.5 mmbd. However, three OPEC producers have no limits: Nigeria, Libya and Indonesia.
Nigeria and Libya are trying to restore their oil industries. As I recently detailed, OPEC production would climb to 33.9 mmbd if they were fully successful. The Agreement contains no provision for how OPEC would restrain total production if their production increases.
Indonesia would not comply with the Agreement, and so their membership has been suspended. Yet, their production is still included in the 32.5 ceiling, which makes no sense. And this is the first curious point which leads me to believe the Agreement is bogus.
I believe it was hastily drawn up after the meeting as a result of a question at the press conference asking about a table showing the production allocations by country. The answer was they had one, but it had not been posted on their website together with the press release about the meeting.
A more glaring error is Iran's "Reference" and January production levels (see table below). As the footnote below the table states, the Reference case is October production, except for Angola, which is September. Together the adjustments below add up to almost 1.2 mmbd. With October OPEC production above 33.6 mmbd, the adjustments get the total down to 32.5 mmbd.
However, Angola's production in October was 1.586 mmbd. So the "January" levels, with adjustments, including October levels for Indonesia, Nigeria and Libya, is 32.7 mmbd, not 32.5 mmbd. A simplistic arithmetic error.
Secondly, Iran's Reference production, a hotly contested issue, is listed at 3,975 mmbd. According to OPEC's Monthly Oil Market report, it was 3,690 mmbd, a big error.
Third, the Adjustment listed for Iran is +90, but the January level is listed as 3,797 mmbd. The math was done wrong. It doesn't add.
Agreed crude oil production adjustments and levels* (tb/d)
| | | | |
| --- | --- | --- | --- |
| MBD | Reference | Adjustment | January |
| Algeria | 1,089 | (50) | 1,039 |
| Angola | 1,751 | (78) | 1,673 |
| Ecuador | 548 | (26) | 522 |
| Gabon | 202 | (9) | 193 |
| Indonesia | | | |
| Iran | 3,975 | 90 | 3,797 |
| Iraq | 4,561 | (210) | 4,351 |
| Kuwait | 2,838 | (131) | 2,707 |
| Libya | | | |
| Nigeria | | | |
| Qatar | 648 | (30) | 618 |
| Saudi Arabia | 10,544 | (486) | 10,058 |
| UAE | 3,013 | (139) | 2,874 |
| Venezuela | 2,067 | (95) | 1,972 |
* Reference base to crude oil production adjustment is October 2016 levels, except Angola for which September 2016 is used, and the numbers are from Secondary Sources, which do not represent a quota for each Member Country.
** Indonesia suspended its membership.
Finally, the Agreement states, "In testimony of the above-stated the undersigned, authorized by their governments, have signed this Agreement." I believe this is bogus. They would have caught these errors before signing this document.
Non-OPEC Compliance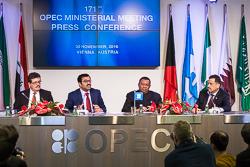 Source: OPEC.
At the press conference, OPEC's president, HE Dr. Mohammed Bin Saleh Al-Sada, Minister of Energy and Industry of the State of Qatar and Head of its Delegation, was asked by a reporter whether OPEC's cuts were contingent on the non-OPEC 600,000 b/d of cuts he had mentioned. He was also asked how OPEC would enforce any cuts from non-OPEC producers. He did not answer either question. But he said they would be meeting with Russia and other non-OPEC producers on December 9 th in Doha.
Russian Energy Minister Alexander Novak said in Moscow that it will cut by as much as 300,000 barrels a day, "conditional on its technical abilities." Russia had previously stated that its wells are old and they didn't think they would come back if shut.
It appears that there is a lot of wiggle room and that non-OPEC producers may also say one thing and do another in the interest of maximizing revenues. Once the price is lifted from the expected cutbacks, each individual producer has an incentive to maximize output, inventing all kinds of excuses. Look what it took to get OPEC members to get a deal.
Today, former Saudi Arabia Oil Minister Ali al-Naimi expressed skepticism that Russia would follow through on its promise to reduce output. "Will Russia cut 300,000?" he said. "I don't know. In the past, they didn't."
Conclusions
For these reasons, I believe OPEC announced a deal to reap the benefit of higher prices following the announcement. I don't believe they will keep the deal, which is full of errors, and has no "effective mechanism," to restrain production to 32.5 mmbd. And I don't believe they have signed it, as stated.
Even al-Naimi said of OPEC at an event in Washington, D.C., that the "unfortunate part is we tend to cheat."
Disclosure: I/we have no positions in any stocks mentioned, and no plans to initiate any positions within the next 72 hours.
I wrote this article myself, and it expresses my own opinions. I am not receiving compensation for it (other than from Seeking Alpha). I have no business relationship with any company whose stock is mentioned in this article.