Opening Rant
Well, here we are again, another month, another BLS job report. At this point, I'm not going to get into anything more. For reporting purpose, the month of November showed that 178k jobs were created and the unemployment once again magically fell to 4.6%. Expectations were for 170k jobs to be created and an unemployment rate of 4.9%. The most magical number of all though is that average hourly earnings, that FELL -0.1% in the month. We have an economy of what is defined as full employment, but there is no wage pressure? If everyone has a job and there is no one out there to hire, shouldn't the laws of supply and demand indicate wages move up? It is what it is, though.
Equity Market
The equity market doesn't seem to think much of this job report one way or the other. The S&P 500 (NYSEARCA:SPY) is down two points today and is right at 2,188.
S&P 500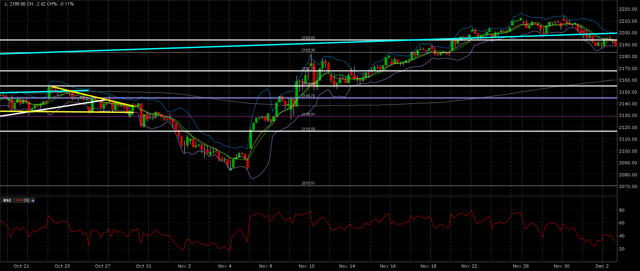 (Interactive Brokers TWS)
We can see the S&P 500 index has done almost nothing all week. The same cannot be said of the tech-heavy Nasdaq (NASDAQ:QQQ).
Nasdaq Composite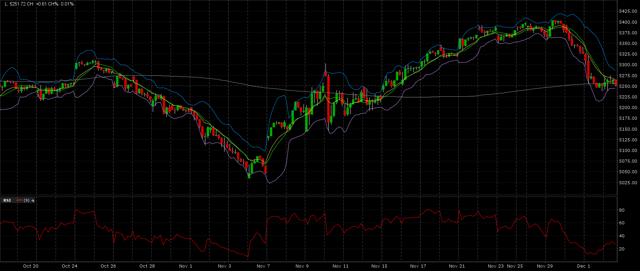 (Interactive Brokers TWS)
A very different story. The Nasdaq is down nearly 3% from its high point on November 29 to its current level. To be honest, that hourly chart above doesn't look all that appealing if you are a bull.
Sectors
If you want to know the tale of the week that was, look no further than Energy ETF (NYSEARCA:XLE) and Tech ETF (NYSEARCA:XLK).
XLK Hourly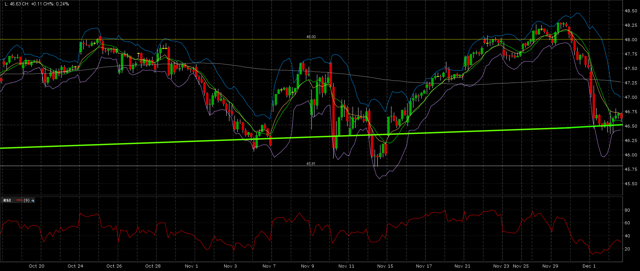 (Interactive Brokers TWS)
XLK Weekly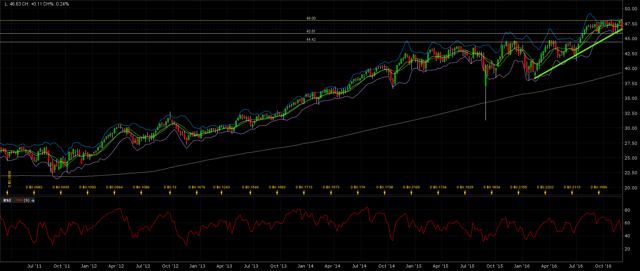 (Interactive Brokers TWS)
Shares of XLK were trading around $48.30 on the 29th. They are now at $46.60, a decline of 3.6% in just a couple of days. However, you can see on the weekly and hourly chart, the XLK finding some support around the uptrend line has held steady since the February 2016 lows.
Where did all the money that left the tech sector go to? Well to energy, of course.
XLE Hourly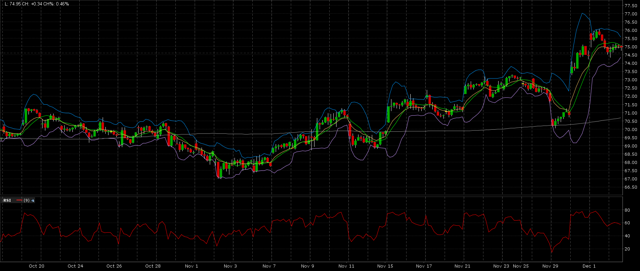 (Interactive Brokers TWS)
The 29th XLE touched as low as $70.07. Today, it is trading at $74.85, a near 7% advance. It would seem investors are bullish on the OPEC deal to cut production.
Quickly the IBB Hourly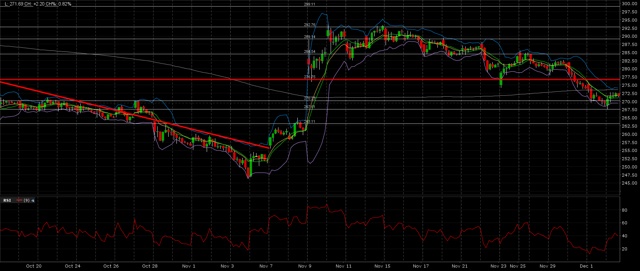 (Interactive Brokers TWS)
Financials (NYSEARCA:XLF) Hourly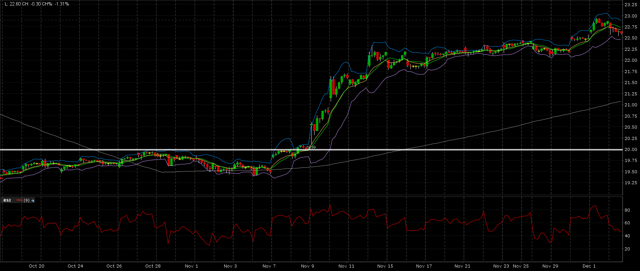 Money in, money out. The money has to come from somewhere. Clearly, investors just aren't selling bonds to buy these energies and financials.
Read what I wrote on November 9th, the day after the election from Trump Won, And The Market Won:
"The sector that had been beaten up the most from when the market began to price in a Clinton victory was biotech (NASDAQ:IBB). All of that is unwinding very quickly today. Today, the IBB is up nearly 7% and is trading at $278.

(Interactive Brokers Trader Workstation)
You can see that huge gap. Is the ETF likely going to go in a straight line? No. Does it fill that gap and trade back down to around $265, before it begins to move higher? It would seem likely that we see the group trade a little bit over the days to follow. Clearly, a Trump win with a Republican Congress is more favorable than if Clinton had won."
Now look at this IBB chart again....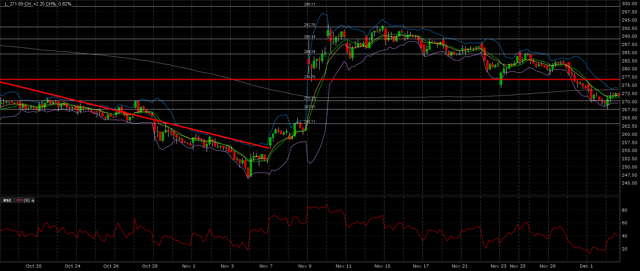 (Interactive Brokers Trader Workstation)
Gap filled? Pretty close...
Summary
It is Friday, and I'm tired. The story this week for the market is about the haves and have-nots. This week, the haves were energy and financials, and the have-nots were technology and biotech. Next week, things will start heating up. Italy and Austria vote on Sunday, and then Draghi gets his turn at the plate on the December 8th.
I will leave you with my interview with Jane King from the Seeking Alpha Interview Series, in case you didn't see it already.
Note: If you'd like to get a full listing of the different items we currently have a rating or view on, you can find a list in our research area. Remember, if you like reading these commentaries, make sure you follow us with that little "+" button at the top of the page next to our name.
Have a great weekend!
- Mike
Disclosure: I/we have no positions in any stocks mentioned, and no plans to initiate any positions within the next 72 hours. I wrote this article myself, and it expresses my own opinions. I am not receiving compensation for it (other than from Seeking Alpha). I have no business relationship with any company whose stock is mentioned in this article.
Additional disclosure: Mott Capital Management, LLC is a registered investment adviser. Information presented is for educational purposes only and does not intend to make an offer or solicitation for the sale or purchase of any specific securities, investments, or investment strategies. Investments involve risk and unless otherwise stated, are not guaranteed. Be sure to first consult with a qualified financial adviser and/or tax professional before implementing any strategy discussed herein. Past performance is not indicative of future performance.