Crude futures prices fell $2.42/b (5%) in the week ending November 29th (to correspond to the data below). Over the balance of the week, crude futures rallied over $6 (14%).
Saudi Energy Minister al-Falih canceled the pre-OPEC meeting with non-OPEC producers, saying there was no path to an agreement. And then OPEC pulled a rabbit out of a hat, announcing a production ceiling of 32.5 million barrels per day. It was within the context that traders were rebalancing short and long positions going into the OPEC meeting.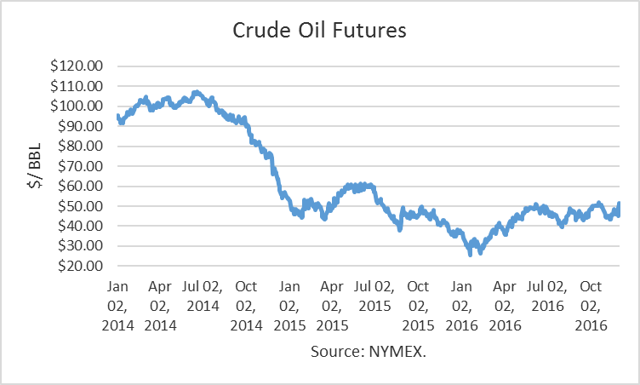 Commitments of Traders
Utilizing the Commodity Futures Trading Commission's (CFTC) Commitments of Traders (COT) reports for crude oil, I was able to dissect how traders were re-positioning in the week ending November 29th.
The four groups I follow - Hedgers (Producer/Merchant/Processor/User) Longs and Shorts, and Speculators (Money Managers) Longs and Shorts - are defined below:
Hedgers: A "producer/merchant/processor/user" is an entity that predominantly engages in the production, processing, packing or handling of a physical commodity and uses the futures markets to manage or hedge risks associated with those activities.
Speculators: A "money manager," for the purpose of this report, is a registered commodity trading advisor (CTA), a registered commodity pool operator (CPO) or an unregistered fund identified by CFTC. These traders are engaged in managing and conducting organized futures trading on behalf of clients.
The latest data include data for both options and futures combined for the New York Mercantile Exchange (NYMEX). All comments below pertain to each group as a whole, on balance, noting there are exceptions among individuals.
Findings
Hedgers increased their bets, fearing outcomes contrary to their risks. Short hedgers, primarily crude producers, sold 26 million barrels. As a result, their hedges totaled 613 million barrels, close to their highest level since 2010.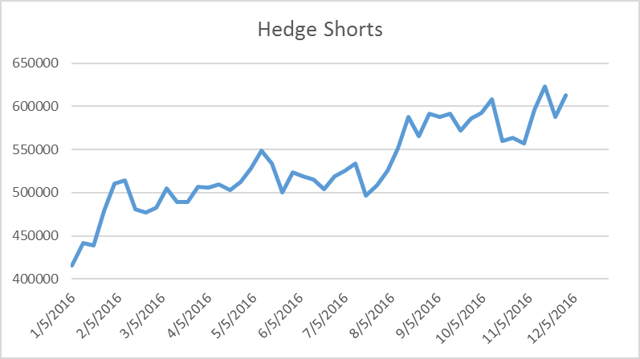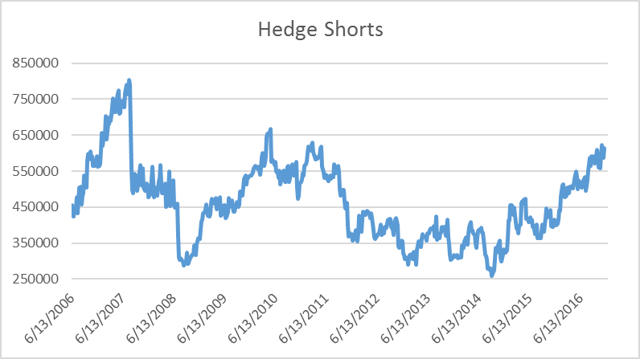 Hedge buyers purchased 22 million barrels, raising their positions to 345 million barrels. This is as close to their highest position all year and going back to 2013.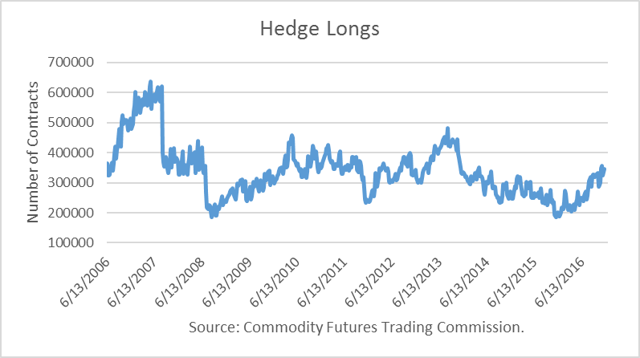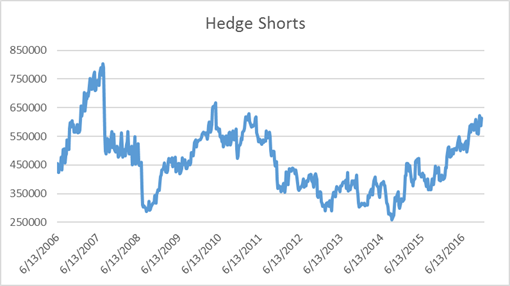 Spec shorts covered (bought) 17 million barrels. Their position going into the OPEC meeting was 146 million barrels, near the upper-end of their range this year, but still well below their maximum level in early August.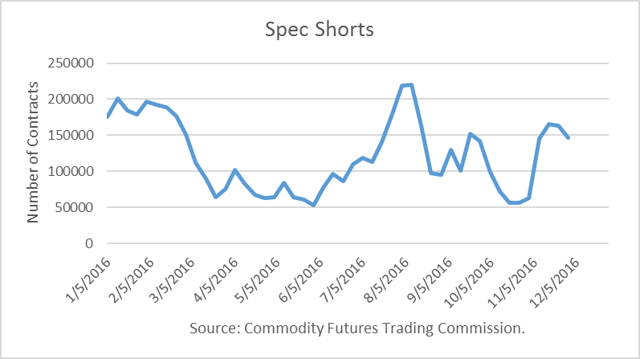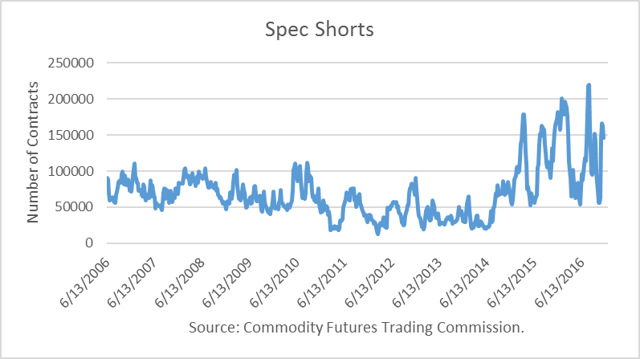 Long speculators covered (sold) their positions by 16 million barrels to end at 335 million barrels. Based on historical levels, this was still a high number.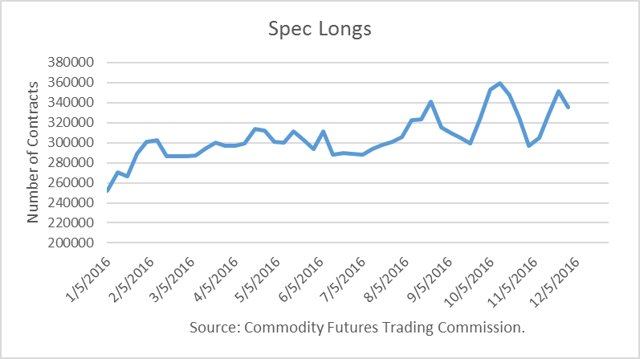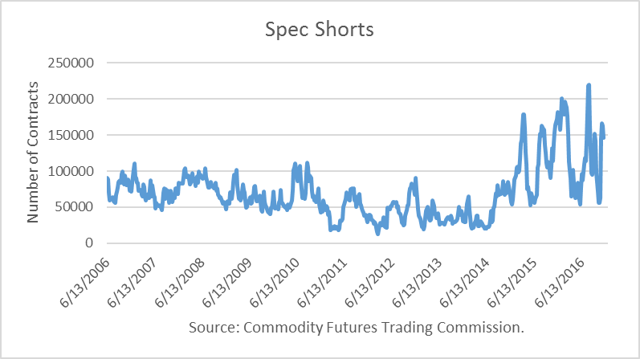 Netting the long and short positions of both these hedgers and speculators, there was a net sale of 3 million barrels. As a result, the net short position of these categories was reduced to 79 million barrels.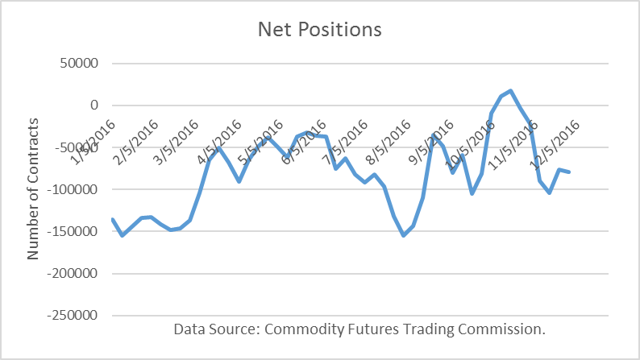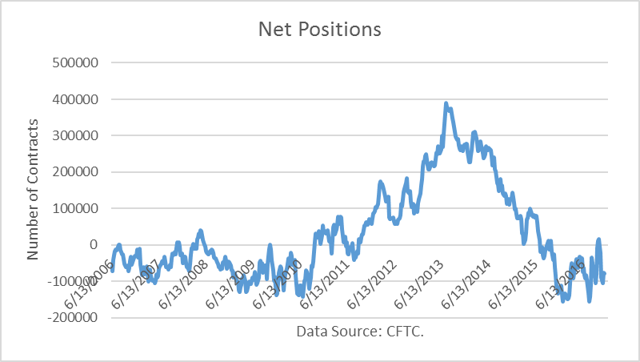 Conclusions
The position changes before the OPEC meeting indicate to me that oil producers will be more interested hedging (selling) due to the higher prices. And the reduction in spec shorts tells me that the follow-through buying will be somewhat more modest because their short positions were not as extreme as in early August.
Disclosure: I/we have no positions in any stocks mentioned, and no plans to initiate any positions within the next 72 hours.
I wrote this article myself, and it expresses my own opinions. I am not receiving compensation for it (other than from Seeking Alpha). I have no business relationship with any company whose stock is mentioned in this article.