The emerging markets debt market has evolved significantly over the past two decades, growing in both size and diversity. The market's growth reflects the dynamic structural reforms that have transformed many emerging markets economies and helped boost economic growth. Also, investor understanding and appetite for emerging markets bonds has increased significantly as more investors recognize the asset class's potential income and diversification benefits.
In this five-part blog series (read last week's post, A Case for Emerging Markets Bonds: Part 1), we advance the case for investing in emerging markets debt and identify some of the opportunities the asset class provides in today's market environment.
Favorable Fundamentals
Fundamentals of many emerging markets countries have stabilized and improved following the headwinds of the past few years. This week's post examines these favorable fundamentals.
Although many emerging markets economies have been significantly impacted in the past few years by the collapse in commodity prices, the stronger U.S. dollar and the slowdown in Chinese economic growth fundamentals now appear to be stabilizing and, in some cases, showing signs of improvement. In addition, the longer-term fundamental rationale for investing in emerging markets remains intact. This is perhaps best characterized by the higher economic growth that emerging markets have enjoyed versus developed markets over several decades.
As a result, emerging markets today contribute approximately 39% of global gross domestic product (OTC:GDP) versus only 19% two decades ago (Source: IMF). Despite this growth, emerging markets have, on average, maintained steady and manageable debt levels through disciplined borrowing, in stark contrast to many developed countries, which have seen their debt-to-GDP ratios balloon to more concerning levels.
Emerging Markets Have Significantly Lower Debt-to-GDP Ratios versus Developed Markets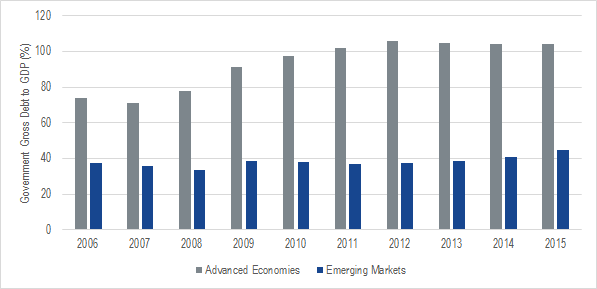 Source: IMF
The economic growth advantage enjoyed by emerging economies stems from several factors, including favorable demographics, growing middle classes, increased urbanization, and improving infrastructure. From a policy perspective, much of the credit goes to reforms undertaken following several emerging markets debt crises in the 1980s and 1990s.
Before the early 2000s, external debt denominated in U.S. dollars accounted for a much larger portion of emerging markets borrowing than it does today. A weaker local currency can significantly impact a country's ability to repay its external debts, which may result in capital flight as investors pull out of vulnerable markets. In order to avoid the political, social, and economic disruptions of a large and rapid devaluation, countries may deplete foreign currency reserves to defend their currencies. In some cases, however, devaluations and even defaults can inevitably occur, which can shut off a country's access to global capital markets for years and result in a lack of foreign investor confidence.
Structural Reforms Have Strengthened Emerging Markets
In response to the crises of the 1980s and 1990s, many countries adopted floating exchange rates, pursued structural reforms to enhance fiscal discipline, and increased local currency debt issuance to help reduce the vulnerability of their economies to external shocks. For many emerging markets countries, taken together, these reforms have increased foreign currency reserves and also resulted in secular reductions in borrowing costs.
Emerging Markets Reserves and Spread vs. U.S. Treasuries
As of October 2016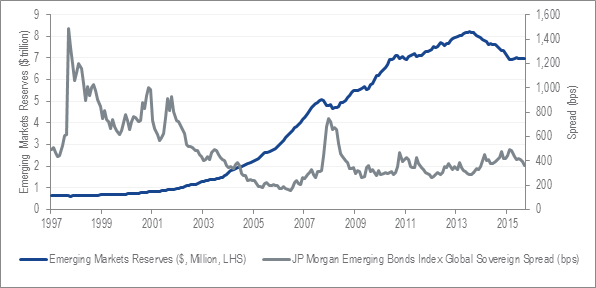 Source: Bloomberg
Since the greater adoption of flexible exchange rates, the ability and willingness of emerging markets central banks to use them as shock-absorbers have been tested several times. The financial crisis of 2008 and European debt crisis thereafter provided significant tests for the new emerging markets model of lower external debt, higher reserves, and greater fiscal flexibility. In both cases, central banks took swift action to insulate their economies without depleting reserves to dangerous levels. The more recent "taper tantrum" of 2013 demonstrated that policymakers in many countries were willing to tolerate weaker currencies and higher interest rates in order to maintain stable reserves and control inflation.
In summary, the fiscal stability of emerging markets has increased considerably in the past 20 years. Exchange rate flexibility along with higher reserves and healthier fiscal positions have allowed emerging markets economies to avoid a repeat of earlier crises, maintain market access, and help boost investor confidence.
Next Week: A Look at Ratings Trends
Next week, I will concentrate on how ratings trends reflect long-term progress while also touching on recent headwinds within the asset class.
IMPORTANT DEFINITIONS AND DISCLOSURES
Diversification does not assure profit nor protect against loss.
Any indices listed are unmanaged indices and include the reinvestment of all dividends, but do not reflect the payment of transaction costs, advisory fees or expenses that are associated with an investment in a fund. An index's performance is not illustrative of a fund's performance. Indices are not securities in which investments can be made.
J.P. Morgan EMBI Global Index is comprised of U.S. dollar-denominated Brady bonds, Eurobonds, and traded loans issued by emerging markets sovereign and quasi-sovereign entities. The index weighting methodology limits the weight of countries with larger debt stocks.
The information herein represents the opinion of the author(s), but not necessarily those of VanEck, and these opinions may change at any time and from time to time. Non-VanEck proprietary information contained herein has been obtained from sources believed to be reliable, but not guaranteed. Not intended to be a forecast of future events, a guarantee of future results or investment advice. Historical performance is not indicative of future results. Current data may differ from data quoted. Any graphs shown herein are for illustrative purposes only. No part of this material may be reproduced in any form, or referred to in any other publication, without express written permission of VanEck.
This content is published in the United States for residents of specified countries. Investors are subject to securities and tax regulations within their applicable jurisdictions that are not addressed on this content. Nothing in this content should be considered a solicitation to buy or an offer to sell shares of any investment in any jurisdiction where the offer or solicitation would be unlawful under the securities laws of such jurisdiction, nor is it intended as investment, tax, financial, or legal advice. Investors should seek such professional advice for their particular situation and jurisdiction.
Please note that Van Eck Securities Corporation offers investment products that invest in the asset class(es) included in this commentary.
Debt securities carry interest rate and credit risk. Interest rate risk refers to the risk that bond prices generally fall as interest rates rise and vice versa. Credit risk is the risk of loss on an investment due to the deterioration of an issuer's financial health. Securities may be subject to call risk, which may result in having to reinvest the proceeds at lower interest rates, resulting in a decline in income. International investing involves additional risks which include greater market volatility, the availability of less reliable financial information, higher transactional and custody costs, taxation by foreign governments, decreased market liquidity and political instability. Changes in currency exchange rates may negatively impact a Fund's return. Investments in emerging markets securities are subject to elevated risks which include, among others, expropriation, confiscatory taxation, issues with repatriation of investment income, limitations of foreign ownership, political instability, armed conflict and social instability.
Investing involves substantial risk and high volatility, including possible loss of principal. Bonds and bond funds will generally decrease in value as interest rates rise. An investor should consider the investment objective, risks, charges and expenses of a Fund carefully before investing. To obtain a prospectus and summary prospectus, which contains this and other information, call 800.826.2333 or visit vaneck.com. Please read the prospectus and summary prospectus carefully before investing.