By David Dittman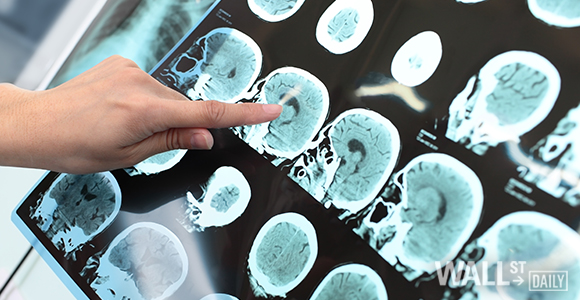 Alzheimer's disease basically eats your mind, subjecting the patient to a living death and loved ones to the most agonizing form of witness. Today, we bring you a "good news/bad news" update on the state of Alzheimer's research.
The burden of Alzheimer's is well-known. It's irreversible and progressive. It destroys memory, language, thought, and reasoning skills. Apart from cognitive damage, it also alters personality and makes its sufferers irritable, anxious, and/or depressed. In late stages, it disturbs sleep. It causes agitation, including physical and verbal outbursts, as well as general emotional distress and restlessness via pacing, shredding paper or tissues, and yelling.
It creates delusions ("firmly held beliefs in things that are not real") and/or hallucinations ("seeing, hearing, or feeling things that are not there"). According to the National Institute on Aging, it's the sixth leading cause of death in the United States, though recent studies suggest the number of deaths from the disease may be underreported.
It's likely that Alzheimer's ranks third, behind only heart disease and cancer. That's the human impact, experienced by those afflicted with the disease, along with their families and friends.
The financial cost is staggering, too. According to the Alzheimer's Association, Alzheimer's "is the most expensive disease in America." "In 2016," the Association estimates that "the direct costs to American society of caring for those with Alzheimer's and other dementias will total an estimated $236 billion."
It costs an average of about $287,000 (2010 dollars) per year to care for a person with Alzheimer's during the last five years of life. It costs $175,000 for a person with heart disease and $173,000 for a person with cancer. There is no prevention. There is no cure. There is no treatment, even.
That's why the failure of Eli Lilly and Co.'s (NYSE:LLY) solanezumab immunotherapy in a high-profile, highly anticipated Phase III clinical trial made so many headlines last month.
As BioSpace.com's Mark Terry explains:
"The drug candidate didn't show significant improvement versus placebo in mid-stage trials… Solanezumab didn't show a statistical slowing in cognitive decline compared to the placebo arm."
Eli Lilly's share price fell from $75.99 at the close on November 22 to $64.34 at the open on November 23. Right now, it's at $65.97. This is actually par for the Alzheimer's research course: Data compiled by the Cleveland Clinic indicate that the failure rate for Alzheimer's therapeutics was 99.6% from 2002 to 2012.
Eli Lilly, among other Big Pharma names, including AstraZeneca Plc (NYSE:AZN) and Merck & Co., Inc. (NYSE:MRK), is focused on the prevailing beta-amyloid hypothesis, which traces the onset and progression of Alzheimer's to "flaws in the process governing production, accumulation or disposal of beta-amyloid." Beta-amyloid, or Aβ, is a fragment of a larger protein, "amyloid precursor protein."
According to the Alzheimer's Foundation:
It accumulates by stages into microscopic amyloid plaques that are considered a hallmark of a brain affected by Alzheimer's. The pieces first form small clusters called oligomers, then chains of clusters called fibrils, then 'mats' of fibrils called beta-sheets. The final stage is plaques, which contain clumps of beta-sheets and other substances.

According to the amyloid hypotheses, these stages of beta-amyloid aggregation disrupt cell-to-cell communication and activate immune cells. These immune cells trigger inflammation. Ultimately, the brain cells are destroyed.
Merck's candidate in the amyloid-lowering race, verubecestat, is now well into Phase III clinical trials after preclinical and Phase I trials showed it "put the brakes on Aβ production and reduced the amyloidogenic peptide by more than 90% in the brain, cerebrospinal fluid, and blood of animal models."
As Alzforum notes:
"More meaningfully, it did so, too, in the cerebrospinal fluid and blood of healthy young to middle-aged people, and in people with Alzheimer's disease. It did so without causing harmful side effects in people - at least in these short trials."
There are other, newer fronts in this long struggle against Alzheimer's. Axovant Sciences (NASDAQ:AXON), a $1.3 billion company, is currently recruiting patients with mild to moderate Alzheimer's for its Phase III trial of intepirdine, a 5-HT6 receptor antagonist first developed by GlaxoSmithKline Plc (NYSE:GSK).
Intepirdine blocks the 5-HT6 receptor and thereby raises levels of acetylcholine, a brain chemical that boosts cognition and helps in the performance of daily activities. It's intended to be used along with a cholinesterase inhibitor such as donepezil. Intepirdine stimulates release of acetylcholine while donepezil prevents the breakdown of acetylcholine after it's released.
Progress on treatment will, obviously, benefit the more than five million Americans already living with Alzheimer's. Right now, it's estimated that every 66 seconds, someone in the United States develops the disease. By 2050, someone in the United States will develop the disease every 33 seconds. So prevention, detection, and cure are obvious priorities.
In the October 13 Wall Street Daily, we discussed research conducted at the Salk Institute for Biological Studies that suggests "a road map for not just treatment of Alzheimer's, but for early detection and prevention."
It's based on the active ingredient in marijuana:
Cannabinoids such as tetrahydrocannabinol (THC) stimulate the removal of intraneuronal Aβ, block the inflammatory response, and are protective. Altogether, these data show that there is a complex and likely autocatalytic inflammatory response within nerve cells caused by the accumulation of intracellular Aβ, and that this early form of proteotoxicity can be blocked by the activation of cannabinoid receptors.
As we noted:
The Salk Institute team found that "the production of amyloid-β initiates an inflammatory response that ultimately leads to neuronal death."

But they also learned that the brain naturally produces endocannabinoids, which help clear amyloid-beta from neurons.

And - spark it up! - they discovered that introducing chemical compounds like THC "reduced inflammation and prevented cell death."
The bottom line is that THC protected the cell and helped it heal itself. Meanwhile, New Scientist recently detailed research at the University of New South Wales in Australia focused on a protein called tau. "Tau tangles" are a well-known phenomenon in Alzheimer's patients.
Recent laboratory results show that the enzyme p38γ kinase "helps keep tau in a healthy, tangle-free state, preventing the onset of memory loss and other symptoms in mice that have been bred to develop a range of Alzheimer's-like pathologies." This is all about prevention - getting in front of beta-amyloid plaque.
"We've got treatments now that decrease beta-amyloid levels, but they don't have much efficacy," Ralph Martins of Edith Cowan University in Western Australia tells New Scientist.
"Animal work is increasingly showing that beta-amyloid toxicity is mediated through tau, so it's an attractive target."