Referendum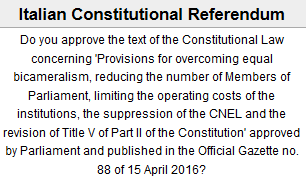 The referendum, introduced by Italian Prime Minister, Matteo Renzi, and his left of center Democratic Party, has divided the Italian citizenry. Renzi has promised to resign if the vote is no.
Let's Oust Renzi Opposition Demonstration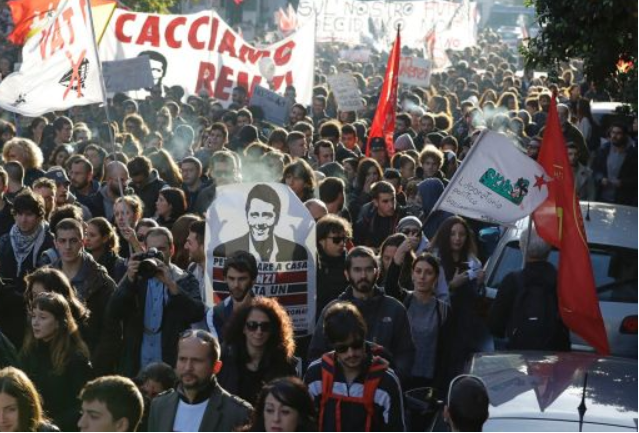 Italy's Brexit
On Sunday, December 4, Italy will vote yes or no on a referendum that can have grave consequences for Italy and the EU. The referendum proposes to change Italy's constitution by cutting the number of senators from 315 to 100 and removing the Senate's right to hold votes of no confidence in the government. This will eliminate some of the checks and balances enacted after World War II.
A yes vote increases government power and critics say it could create an obstructionist Senate.
A no vote might trigger a crisis for Italy's debt-laden banks. There is possible contagion to other weak European banks. Stress testing showed 25 of 51 that failed.
There are political forces in Italy, post Brexit, that are arguing in favor of:
Italy is the sixth largest economy in Europe and a "No Vote" may be an initial shot that could lead to Italy's exit. The political game is afoot and poses a potential threat to the EU and the entire globalization movement.
Take Away
The results of this vote will likely be felt in the global market-place Monday morning, and beyond. The U.S. markets were quiet at Friday's close anticipating the upcoming event as investors watch closely.
Note: Thank you for reading and commenting. You can follow my articles on SA by going to the top page of the article and clicking the circle follow button after my name.
Disclosure: I/we have no positions in any stocks mentioned, and no plans to initiate any positions within the next 72 hours.
I wrote this article myself, and it expresses my own opinions. I am not receiving compensation for it (other than from Seeking Alpha). I have no business relationship with any company whose stock is mentioned in this article.