"A journey of a thousand miles begins with a single step" - Lao Tzu
Market participants seem to always find themselves struggling with the idea that they have to do something. The recent change of sentiment and the rally that has followed is moving sectors and stocks at speeds that traders are having a hard time coping with. That movement seems to compel all of us to take part in this market action.
In reality, the time to do something isn't now, it is when the stock market serves up opportunity on a silver platter. Sometimes it develops because of a macro event or a sector that is out of favor. It can be when the majority of investors conclude that they can see no value in investing in these companies. What I have experienced is the selling that ensues to provide that opportunity is born out of fear.

Taking advantage of the fear of others has been a mantra of mine for quite some time. The trick is knowing when that fear is unwarranted. Usually, it becomes an emotion that can't be controlled, and has gripped investors to the point of making emotional, instead of rational decisions.
Taking advantage of that is difficult for many because many times it requires that one steps out of their comfort zone. That is a very scary situation for most, as it will test an individual's risk tolerance. To make matters worse, in this age of instant news, we are constantly barraged with headlines and events that trigger that urge to act. TVs are blaring in the background explaining how we could be on the verge of imminent disaster. Most of the time, it's better just to tune all of that noise out, but that can be easier said than done.

Success is what we all strive for when we step into the world of investing. After all we are here to enhance our portfolios and build wealth. The difference between the successful active investor and the people who struggle along usually comes down to just a few minor differences. One of the most important, is that the good active investor realizes that smart investing is often the skill of doing nothing at the right time.
The strong across the board rally in equities now begs the question of "what to do now?" for a lot of investors. Certainly an individual's personal situation plays into that decision. For many that have stayed the course, this might be one of those times to exercise your right to do nothing. A tweak here and there taking advantage of some of the greed being displayed, of course. On the other hand, the time to do something of significance was when the fear of others presented opportunity.

It takes time to develop that mindset and put the strategy of knowing when to act in place. It is rarely mastered overnight, but when it is the results are dramatic. Of course what I am describing are the actions of one who believes that they are indeed working with a bull market backdrop. Not much of what is spoken about strategy is worth a lot, if one doesn't have the backdrop set properly. Surprisingly, many are still not sure, or worse yet, fighting the obvious trend in place.
Successfully navigating the Fear and Greed cycles that investors run into during the course of their investment careers can make the difference between exceptional and mediocre returns. A comfortable or a troubled retirement. One other fact to keep in mind. Neither of these cycles should ever be underestimated. Both of them can continue for longer than many investors realize.

Economy
Plenty of discussion about the woes in manufacturing here in the U.S. Real manufacturing output in the U.S. is at an all time high

Chart courtesy of Federal Reserve Economic Data

E-Commerce retailing continues on its relentless path higher.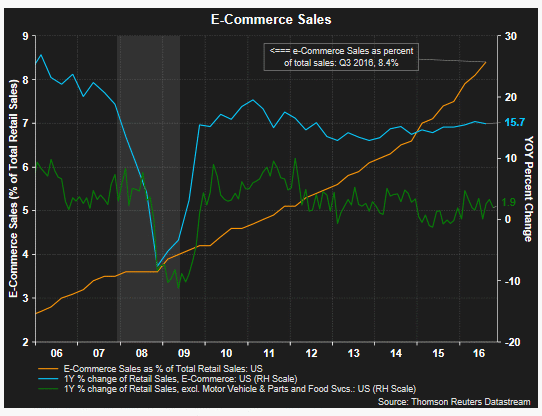 It is no wonder that Amazon (NASDAQ:AMZN) continues to outperform the major averages. While that is happening it has presented a challenging environment for companies that are stuck in the brick and mortar world of retail.
Dallas Fed Manufacturing survey has struggled for quite some time given the impact that lower oil prices have had on the region. There has been a subtle change taking place. The index recorded a fifth straight positive reading, coming in at 8.8. An uptick in spending in the oil patch lately may be the reason for this, and that may bode well for future GDP gains.
Chicago PMI recorded a gain of 7 points to 57.6. The new order component was especially strong as orders surged to their highest level since last June.
Construction spending rose 0.5% month over month in October. While the current pace of spending isn't anything to be too excited about, there has been a reasonable pace of late.
ISM Manufacturing matched its best levels since February of 2015 in November, rising to 53.2. While Markit U.S. Manufacturing PMI beat expectations at 54.1.
Third quarter GDP was revised upward to 3.2%. With second quarter GDP recorded at 1.4%, that is the largest quarter over quarter increase since 2014.

People are feeling good about things as consumer confidence came in at a robust reading of 107. Expectations were for the index to be reported at 101. This is the highest reading since before the financial crisis.
Early numbers reported last week from the auto industry are showing solid sales numbers for the month of November, improving on last month's sales pace (per the BEA) of 17.91mm units at a seasonally adjusted annual rate.

The monthly non farm payroll reports came in as expected, with the unemployment rate reported at 4.6%

Global Economy
The OECD raised its global growth forecast for 2017 to 3.3%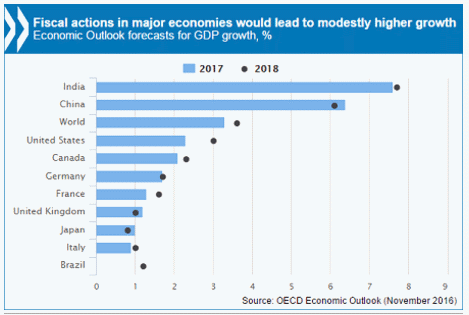 Reuters reports that The European Central Bank is ready to temporarily step up purchases of Italian government bonds if the result of a crucial referendum on Sunday sharply drives up borrowing costs for the euro zone's largest debtor. Some officials and senior bankers have come out and said that "eight of Italy's cash-strapped banks could fail in light of a 'no' vote".
I can't really say how the markets are going react to the vote regardless of the outcome. It does have the potential to throw in some added uncertainty at a time when the markets have rallied to, in some cases, overbought levels. Suffice to say, if the referendum is not passed it could rattle global market on Monday. Similar to Brexit, it is way too early to make predictions on the long term ramifications. Either way I don't view it as a cataclysmic event.
German Retail Sales for October missed expectations of 2.8%, coming in at -1.0%.

Analysts like to throw hand grenades around when it comes to China. Its seems once the negatives start, the piling on follows, and it is always about how China is on the precipice of taking the global economy down.
The chart presented below does not seem to imply a situation that is slowing, never mind imploding.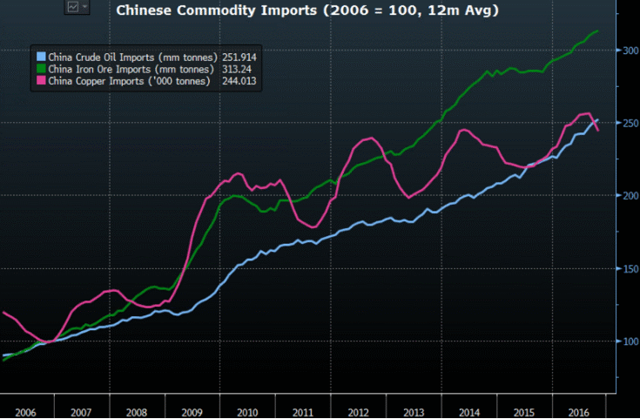 Source: Thomson Reuters
The Chinese Official Manufacturing PMI for November rose to 51.7, remaining in expansion territory.

Treasury chief Philip Hammond announced;
"The U.K. economy will grow more slowly over the next few years than was forecast before the country voted to leave the European Union. The government won't seek to close the U.K.'s budget deficit until after elections in 2020."
It appears they are trying to get an interim deal that effectively extends the timeline for Brexit beyond the two years outlined in Article 50 of the Lisbon Treaty.

Earnings Observations
Brian Gilmartin weighs in with his outlook on the earnings picture. What struck me was the observation that;
"Ex-Energy the S&P 500 grew earnings in Q3 '16 +7.9%. Ex-Energy" growth is +6.5% for earnings and +4.5% for revenue".
It was important when the earnings recession was taking place, just as it is now, to realize that the balance of corporate America earnings were not falling apart.
The crowd that said the earnings estimates being quoted were pipe dreams may need to revisit the crystal ball they are using.
Factset Research reports;
"For Q4 2016, the estimated earnings growth rate for the S&P 500 is 3.3%. If the index reports earnings growth for Q4, it will mark the first time the index has seen year-over-year growth in earnings for two consecutive quarters since Q4 2014 and Q1 2015."

"On September 30, the estimated earnings growth rate for Q4 2016 was 5.3%. The forward 12-month P/E ratio for the S&P 500 is 16.7. This P/E ratio is based on Thursday's closing price (2191) and forward 12-month EPS estimate ($131.59)."
My models suggest earnings in the $125- $127 range. That results in a PE ratio of 17.4. In my opinion, that is not representing wild overvaluation with the 10 year at 2.3%.

The Political Scene
The idea that a Trump presidency will compare to that of Ronald Reagan is stuff for people to talk about at a cocktail party, but in reality times are much different.
In 1981 there was double digit inflation, the 10-year Treasury yield was 12.6%. The stock market had gone nowhere for a while, and the economy was coming out of a deep recession.
Today, we're coming out of a period of record low interest rates, little or no inflation, an economy in year eight of expansion, and a period of 7+ years of a rising S&P.
So we really don't know if the new administration will track the Reagan years, despite the commentary. What I do know and subscribe to; any and all rumors that will swirl between now and inauguration day are merely noise. There will be plenty of them citing push back on the policies that are being proposed. That talk will be exacerbated because of the controversial nature of the President elect. I try to avoid making decisions based on a hypothetical.

Sentiment
In the early stages of this bull market fund managers were heavily overweight equities and underweight cash and bonds. Those allocations flipped in 2016, with investors moving away from equities in exchange for the desire to be in cash.
The S&P is up 20+% since the scares earlier this year. The bearish positioning of investors has been one of the biggest tailwinds for the market. Cash is still the first choice for some although levels dropped significantly in November.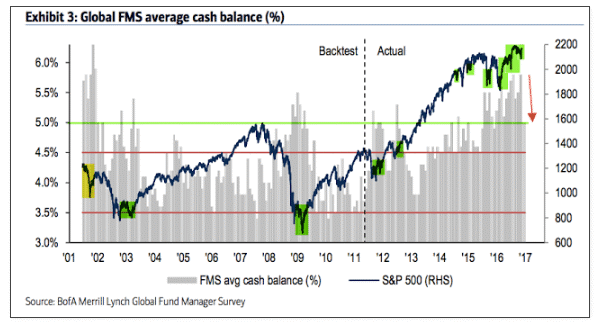 Fund managers' cash levels dropped from 5.8% in October to 5% in November. While that is a huge one month drop, it has to be put in context. The 5.8% recording was the highest cash level since November 2001. Cash has remained above the 5% threshold for all of 2016.
Also of note, equity allocations are just slightly higher than at the lows in February.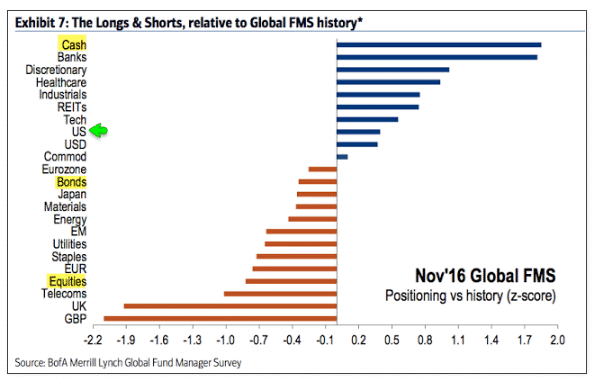 The chart above shows the defensive nature of fund managers that is in place. Overweight cash and more exposure to bonds than equities. We may have started to see the first step in the unwinding of this positioning. This type of data should be monitored closely as it has served to demonstrate the contrarian view quite well.
The AAII bullish reading dropped 6.1 percentage points from 49.8% down to 43.7%. So with the stock market making new highs sentiment has yet to eclipse the 50% level. As mentioned last week, building meaningful positive sentiment is a process, it is not accomplished in a week or so.

Crude Oil
Historically, there has been a very tight inverse correlation between oil prices and the U.S. Dollar. During the last month or so I have watched the correlation between the strong dollar and the price of WTI lessen somewhat.
The dollar has spiked by more than 3% since the beginning of November and more than 6% over the just the past three months. That type of U.S. dollar surge should have been coincident with a meaningful ($10 plus) decline in oil prices. That did not occur as oil prices remained stable.
I am not sure exactly how to interpret this disconnect, perhaps it reveals more demand than analysts believe. Maybe the oil gurus sniffed out the OPEC production cuts. Whatever the reason, we have seen the early third quarter inventory reductions (30 million bbls. in eight weeks) have given way to more stable inventory reports that have once again kept prices in a trading range.
The ink on the production cut deal isn't dry and already there are reports that it won't hold. That is noise. In my view looking at the intermediate and the longer term, it doesn't matter. The Global supply picture is coming back into balance.
If demand is truly very strong, as I believe it is, it could mean falling U.S. weekly oil inventories will be coming in the next few months. Combine that with any of the proposed OPEC supply cuts and you have a recipe for sharply higher oil prices over the next few months and into 2017.
WTI closed Friday at $51.68, up $5.62 for the trading week.

Here we are concerned about the strength of the dollar and the headwind we have been told it represents to the stock market. It may not be as relevant as perceived.
"One of the biggest perceived headwinds for stocks is sustained strength from the U.S. Dollar. While an extreme spike in the DXY would likely cause some volatility in the short-term, there is very little evidence that a strong dollar will prohibit stocks from advancing.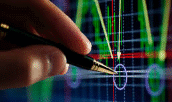 The Technical Picture
The headline from SentimenTrader on the recent new highs in the S&P, Dow 30, Nasdaq and Russell;
"When the "big four" make new all time highs together. Actually a negative average return 3 months later."
The chart below is a great example for us to play optimist/pessimist.
The data reveals that the last time this happened was 1999. That alone conjures up more distress given what followed in 2000. The optimist looks and discovers that the prior six times this happened the S&P was up 1 year later by over 20% each and every time.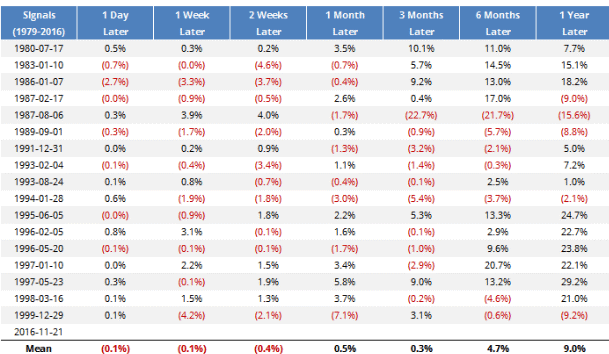 Chart courtesy of SentimenTrader
Headlines can be misleading.
Tony Dwyer from Canaccord Genuity has been making astute observations throughout this bull market. He reports;
"With help of sentimentrader.com, we found 1-day US 10-yr rate spikes of >5% have led to SPX gains six months later EVERY time since 1962."
That recently occurred after the election on 11/9
The tone for the week was set on Monday when the S&P rallied, but failed to record a new high, while the Russell 15 day win streak ended. The S&P hit a new intraday high on Wednesday but couldn't hold that level. More backing and filling is expected now, and I believe a consolidation in time more than price for now. What we are observing is that this uptrend has been quite resilient.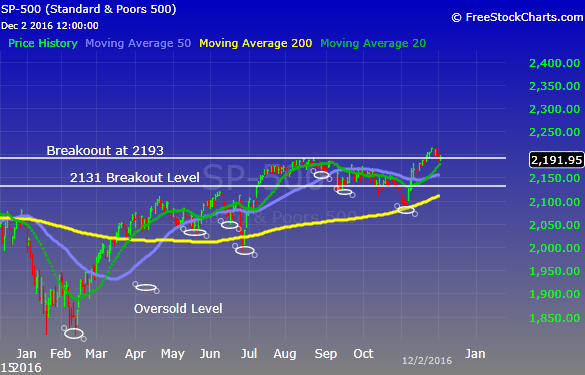 Chart courtesy of FreeStockCharts.com
Once the S&P traded down to its rising 20 day moving average this week it recovered quickly. Bulls will now be looking for the rally to continue as it rides that moving average to higher levels. A break below, and it will be more consolidation. I will stay with my original thoughts that any giveback will be contained to the 2-3% level. The index sits at 1% off the highs at present.
Short term support is at the 2177 and 2131 pivots, with resistance at the 2212 and 2270 pivots.

Individual Stocks and Sectors
Unless this December is different, the seasonality factor comes into play. With this rally, there isn't a fund manager out there that isn't going to show how smart he/she is by owning the hot stocks. The performance chase should keep the market going with an upward bias. Bespoke Investment Group provides us with data showing where the strength has been in November. Most of these results came after the election.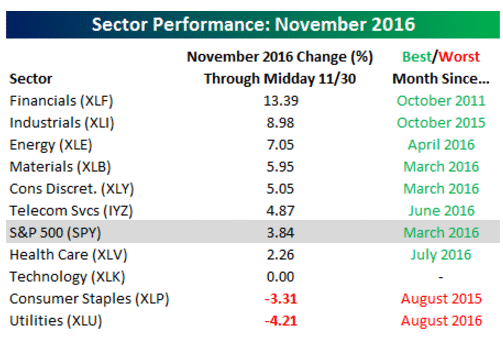 Source: Bespoke
As an active investor though, the strategy here is to hold onto winners a bit longer as those stock prices will be supported by that chase. The opportunity will arise now as the stocks that have been shunned because they are deemed not the place to be with the myopic short term view in place. These stocks will offer value as they will remain weak until year end.
Specialty Pharma presents two such examples. Mylan (NASDAQ:MYL) started the year around $53 then rallied to a high of $76. With the recent Epipen episode behind them, shares are trading at $36, a loss of 32% on the year. A dog that may have its day as we turn the page into 2017.
Teva Pharmaceuticals (NASDAQ:TEVA) is another company that has followed the same pattern. Starting the year at $55, rallying to $72 and now trading at $38. That is the area of long term support and where shares have rallied before. Teva also boasts a 3.5% dividend. Both companies could be candidates for a turnaround next year. I think they can regain at least half of what they lost this year, and that would be represent gains in the neighborhood of 20+%.
The Healthcare sector is one that I have been a fan of for a while. Brian Gilmartin gives us his view on the earnings story in Healthcare.
Medical device makers have been poor performers lately. Measured by the DJ Medical Device ETF (NYSEARCA:IHI) they are down 8% in the last 3 months, while the S&P is up about 3% in the same time period. The list of the top 40 companies in this space reveals solid companies that would fit nicely in any portfolio.
Medtronic (NYSE:MDT) is a standout to watch for more weakness into year end. A dividend aristocrat and favorite of many long term growth analysts that could easily rebound next year. While I would not use a Trump presidency as the only factor in my investment decision, it appears that the proposed policies would not be a detriment to the sector.
As I view the situation from 30,000 feet, given their huge outperformance, I would wait for both Industrials and Financials to revert to the mean before adding significant exposure to them. With December window dressing upon us that may take a while.
Regular reader know that I have favored the Energy sector since last July. Huge gains have already been recorded in the E&P segment of the energy patch. The stocks have gotten ahead of themselves in the short term but, we are in the early stages of the recovery in the oil market. The market will look ahead to that and keep pushing this sector higher. In my opinion, the sector remains a buy on ANY weakness in the days and weeks ahead.
What has moved the price of oil from $40 to $50 is the cut, no cut headlines that everyone is reacting to. Stated earlier, the global market is coming into balance. If one is going to use a pro growth background now in forming their strategy, it makes sense to believe that the demand for WTI will also pick up. Hence higher oil prices.
Health Care should also see mean reversion at some point. Once again seasonality may keep the sector depressed, but that is where bargains may be found. Technology has been a solid performer and has racked up significant gains. For myself, the sector is a hold and a place to look for select opportunities in 2017.
If you followed the rotation on Wednesday, you saw the money that was put into Energy came from Technology and the Biotech sectors. The select Energy ETF (NYSEARCA:XLE) was up 5% while the Nasdaq Biotech ETF (NASDAQ:IBB) was down 2% and the Select Technology XLF (NYSEARCA:XLK) down 1% on the day. For the week the tech laden Nasdaq was down 2.6%. The money to fund the Trump Trade has to come from somewhere.

The market rally that has followed the Trump victory is beginning to sound somewhat repetitive as commentators announce the market's close at a "new all time high" at the end of many trading days. Investor sentiment is spiking as the spread between Bulls and bears has now reached 20. The last time we saw that was November 2015. The S&P then proceeded to drop about 14% or so.
I am not suggesting that will indeed happen this time around due to the sentiment in place, but this has the feeling of an equity market that has just gone too far too fast. A better investment environment is being priced in based on potential policy changes in Washington.

In a lot of respects it isn't so surprising, once a stock or an index breaks out it can bring out the animal spirits and will feed on itself. Add in the computerized trading algorithms, and the machines take on the abilities of a shark smelling blood in the water and going into a frenzy. In this case it is to the upside, as they pounce on the positives that comes out in every headline.
All told the market is up 3.2% from the pre election close and up a very nice 20.5% from the February low when a lot of folks were telling us to sell our equity holdings.
Emotionally, it feels as though the market is due for a pullback, and for investors in cash, a pullback is being hoped for. Consolidation in either time, price, or both would not be surprising and actually healthy for the next move higher. While many indicators I follow show the stock market as a whole very much overbought in the short term, the sector rotation that has taken place tells a slightly different story.

The change of direction from stocks that work in a slow growing economy to those that fare better in a pro growth environment has been swift, and to date relentless. However, the number of stocks trading above their 50 and 100 day moving averages are at levels well below interim market tops.
Last week it was all about showing how the technical patterns suggest the market wants to move higher, while the fundamental picture has brightened with newly found earnings growth. Indeed the end of the earnings recession may now start an earnings driven bull market. If we do get policy reform as is proposed by the new administration, it could be the shot of stimulus that may translate into higher corporate earnings and faster economic growth. Stock prices will follow that trend.
In the interim, given the positive seasonal trends and other factors, there seems to be plenty of internal energy to allow the S&P to grind higher into early next year. That assumes there is not some kind of ensuing "black swan" event.
The headlines seem to be flooded with positives. That positive feedback loop will keep stock prices resilient. Let's stay grounded by remembering whether it be up or down, prices do not move in a straight line. In the coming days and weeks there will be plenty of opportunities presented to us.
Best of Luck to all!
Disclosure: I am/we are long AMZN.
I wrote this article myself, and it expresses my own opinions. I am not receiving compensation for it (other than from Seeking Alpha). I have no business relationship with any company whose stock is mentioned in this article.
Additional disclosure: may initiate a position in MYL,MDT, or TEVA in the next 2 weeks. The opinions rendered here, are just that – opinions – and along with positions can change at any time. As always I encourage readers to use common sense when it comes to managing any ideas that I decide to share with the community. Nowhere is it implied that any stock should be bought and put away until you die. Periodic reviews are mandatory to adjust to changes in the macro backdrop that will take place over time.