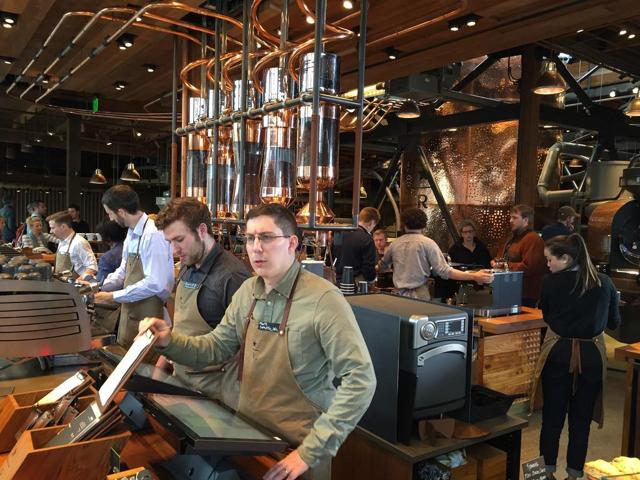 Throughout recent history the remarkable leadership and innovation of a few iconic corporate leaders have catapulted them into the collective conscious of a culture: Steve Jobs, Elon Musk, and Bill Gates all come to mind. Following the vast media coverage of Starbucks (NASDAQ: SBUX) leader Howard Schultz announcing that he will be stepping down from his role as CEO (his name was even trending on Twitter) and continuing as Executive Chairman, it is clear that the visionary Schultz has transcended the business world alongside Jobs, Musk, and Gates.
Because of this, it is easy to see how shares in Starbucks were trading over 3% lower after the announcement. Schultz is synonymous with Starbucks; it was his leadership that allowed Starbucks to multiple its value 170 times in its publicly traded life and his leadership that grew the company over 1,000% since he returned as CEO in 2008. However, his transition from CEO to Executive Chairman does not spell doom for shareholders as it did after his 2000 departure; it signals Starbucks's response to changing consumer dynamics and is akin to Derek Jeter in his prime moving from shortstop to second base, not retiring.
There are very few brick and mortar businesses that have the luxury of ducking from Amazon's (NASDAQ: AMZN) attacks, and the coffee industry is not one of those. Of course, Amazon is unlikely to launch any type of coffee delivery platform, but what the coffee industry must combat is declining retail foot traffic that stems from e-commerce competition. To maintain and grow store traffic, coffee retailers must make their stores the destinations, rather than just stops for consumers en route to other stores.
Surely there will always be the large market of workers and students looking for a jolt of caffeine for these companies, but to grow in the marketplace a coffee shop needs to differentiate its offering. Because If Macy's (NYSE: M), Nordstrom (NYSE: JWN), and other major retailers are struggling to drive foot traffic, then the radiated sales that extend to Starbucks as a result of consumers stopping for a beverage will cease to exist.
This is as true of independents and Dunkin' Donuts (NASDAQ: DNKN) as it is of Starbucks. These businesses must all provide value that extends beyond the coffee in the cup, especially since single-cup brewer systems provide a cheaper alternative to time-pressed consumers on the go. For Dunkin' Donuts this could mean providing quicker service at a price competitive with single-cup beverages; for cafes, it could mean live artists or providing a space for studying or relaxing. For Starbucks, this holds a unique importance as they continue to try to charge premium - and now superpremium - prices for their coffee, and it can be tapped for growth through new store formats and expanded use of technology.
When the company premiered its content series Upstanders in September I highlighted this fact, writing: "the company must provide value to its customers (and millennial workforce) in more ways than through an expensive handcrafted espresso beverage or coffee. Upstanders demonstrates the company's focus on more than profits and offers a platform for customers to gain personal value from the brand." The company also tries to create this value with its many social impact initiatives and its 1912 Pike Blog that provides coffee recipes and insights to readers.
Thus now, more than ever, Starbucks must evolve its retail strategy to leverage technology and position stores as an experience, not just a coffee stop. This has been at the center of Starbucks's strategy forever as it has attempted to establish itself as a "third place," but it will evolve even further under Schultz's new leadership position.
Howard Schultz focusing on "innovation, design and development of Starbucks Reserve® Roasteries around the world, [and the] expansion of the Starbucks Reserve® retail store format" demonstrates that the company is dedicated to creating this new destination by creating a compelling space worth visiting and socializing in. The company recognizes the dynamics changing traditional consumer behaviors and is prepared to reposition its brand in the marketplace. For the coffee industry, this means that Schultz may be attempting to radically reinvent the way Americans consume coffee once again.
After all, it was Schultz's vision that transitioned Starbucks from being a whole bean supplier to a hand-crafted specialty espresso beverage company. Without Schultz it is probable that Pumpkin Spice Lattes, Mocha Lattes, and Cappuccinos would have never been served at Starbucks. As he now attempts to expand the Starbucks Reserve store format he will again reinvent the Starbucks Experience.
What this reinvention will look like has already been hinted at by the company's announcement of adding up to 1,000 Reserve only stores that feature Reserve Coffees and food from the Italian company Princi by the end of 2017, which Starbucks recently invested in. In last quarter's Earnings Call Schultz revealed that he foresees Reserve bars in 20% of existing stores, and 20 to 30 roasteries in major cities in addition to the 1,000 new Reserve store concepts.
In these formats Starbucks will offer exotic coffees from all over the world and encourage experimentation and coffee education as yet another way to provide value through more than just a beverage. Prices in this format will be higher as warranted by the craft and quality of the food and beverages, while the experience will center around interactions with peers and colleagues rather than pick-up-and-leave transactions.
The financial opportunity in the company's pipeline of stores is tremendous, with Schultz suggesting that the financial performance of the Reserve Only Stores is two-times greater than the regular store. Dismissing the comparable same store sale increases that can occur in the 20% of stores that get augmented with Reserve bars, the increase in Revenue in the Americas alone looks to be about 20% with the addition of 20 roasteries and 800 new Reserve format stores:

This model takes the reasonable assumption that the Roasteries can generate double the foot-traffic of regular stores and 3.5-times the ticket size of a normal store, which is a comfortable assumption given that the ticket size is currently four times greater in the Seattle Roastery than it is in traditional formats. The Reserve Store concept is a bit more difficult to forecast, but the model assumes 20% higher foot traffic and ticket sizes that are two times greater than the traditional store. Under these parameters, with same-store sales set as flat, revenue for the Americas operating segment increases by over 20%. These stores will likely require large cash investments up-front due to their unique design (and larger store footprints for the roasteries) but will yield greater margins over the long-term due to the ability to charge "superpremium" prices.
By adding bars and augmenting the entire store experience Starbucks can continue to create an experience for consumers that is worth pursuing independent of any other shopping plans. But it is not just Schultz's leadership in his new role that should excite shareholders; new CEO Kevin Johnson's experience and expertise signal that Starbucks will expand its leveraging of technology.
Starbucks has been a pioneer in the food industry in utilizing digital to drive sales, acting almost as a technology company that serves coffee. The company has achieved this with one of the most robust loyalty programs (analyzed here and here), a mobile payment system that accounted for 25% of transactions last quarter, and a mobile order and pay system that account for 6% of transactions.
The firm also expanded its technological reach by transitioning from in-store CD sales to embracing Spotify as a platform to engage with customers and through its content offerings referenced above. To manage all of these technological platforms, as well as whatever may be in the pipeline, it makes sense to appoint Kevin Johnson as the next CEO because of his over 30 years of experience in the technology industry, serving at both Microsoft and Juniper Networks.
While Schultz is attempting to create an entirely new version of the Starbucks experience, Johnson and others will be busy connecting with customers through new technologies. The growth prospects of this are outstanding as expanded utilization of technology and new store formats each stand to provide a unique offering that can capture new consumer demand in spite of otherwise slow retail traffic. Competitors need be wary of Starbucks's digital strategy as it signals that the coffee industry must position itself in the omnichannel just as Macy's and Nordstrom must.
One last potential cause for shareholder worry is that many have speculated that Schultz is simply getting his affairs in order and arranging for a smooth leadership transition as he prepares a run for President of the United States in 2020, but in all interviews Schultz is adamant in saying that his heart and soul are with Starbucks.
So if Howard Schultz has any aims of running for President, it certainly won't be until after he's attempted to reinvent the way we consume coffee one last time.
Disclosure: I/we have no positions in any stocks mentioned, but may initiate a long position in SBUX over the next 72 hours.
I wrote this article myself, and it expresses my own opinions. I am not receiving compensation for it (other than from Seeking Alpha). I have no business relationship with any company whose stock is mentioned in this article.
Additional disclosure: I have served as a part-time barista at a licensed Starbucks store.