During a week when gold (NYSEARCA:GLD) prices have made more new lows, most investors would have expected the Gold Miners Index (NYSEARCA:GDX) to feel the brunt of this move. The lows for gold last week were at $1,171/oz, but this week we saw another 1% decline to the $1,160/oz level. Despite this 1% drop in gold prices, the GDX actually made a higher low from last week. The GDX is desperately trying to hold onto support at the $20.00 level, and has made 3 consecutive lows near this level since November 14th.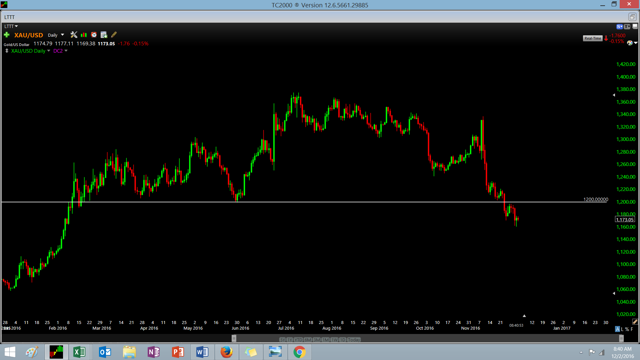 (Source: TC2000.com)
While it may not seem that impressive that GDX did not make a new low despite gold dropping another 1% this week, the two week disparity in the two assets' performance is eye-opening. As we can see from the below chart, gold is down 4.5% since November 14th, yet the GDX is actually up 1.63%. The GDX is doing its best to hold the psychological $20.00 level, while gold sliced right through its psychological $1,200/oz level. While this is a positive divergence for the time being, the GDX will not likely be able to hold on forever. This positive divergence is definitely worth noting, but gold is going to have to do its part and hold onto the $1,150/oz level to help the GDX out.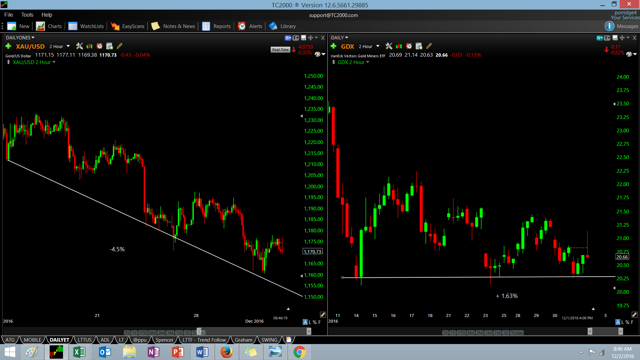 (Source: TC2000.com)
Due to the fact that the GDX and gold are below both of my key support levels I noted in October, I have exited both long positions. Having said that, I still remain in all of my mining positions. I have moved my gold exposure up from 34% at the beginning of October to 38% as of yesterday. My new additions in the space have been as follows:
Mariana Resources (OTCPK:MRLDF) - $1.18
Guyana Goldfields (OTCPK:GUYFF) - $5.40
RoxGold (OTC:ROGFF) - $1.18
Torex Gold (OTCPK:TORXF) - $19.10
B2Gold (NYSEMKT:BTG) $3.13
All of these prices are in Canadian dollars, as I trade on the Canadian exchanges. The majority of these positions have been averaging up on winning positions, but in B2Gold, and Guyana Goldfields' case, these were new positions. I have been adding these positions in tranches of 1/3 positions, as I see no point in getting aggressive until my support levels are regained. The two support levels I am looking at are $22.50 on GDX, and $1,200/oz on gold. In order for me to continue to add to my positions, I want to see both of these levels regained.
Sentiment
Sentiment in the gold space has become despondent, and it's hard to find any of the same $1400/oz calls and $1,500/oz calls we heard over the summer. This is a great sign for gold bulls as everyone is currently looking for $1,050/oz or $950/oz. While I am certainly not bullish on gold here, I think we are much closer to the bottom than we are the top. I am sticking to my previous range of $1,200/oz - $1,520/oz for the next 11 months, but the bottom end of my range has been overshot by 3% for the time being.
Everyone is worried about the rate hike this year, and has not even entertained the idea that it is already likely priced in. When everyone is in agreement of something occurring, typically this event becomes a non-event. A perfect example of this is the Trump win this year and the S&P-500 (NYSEARCA:SPY).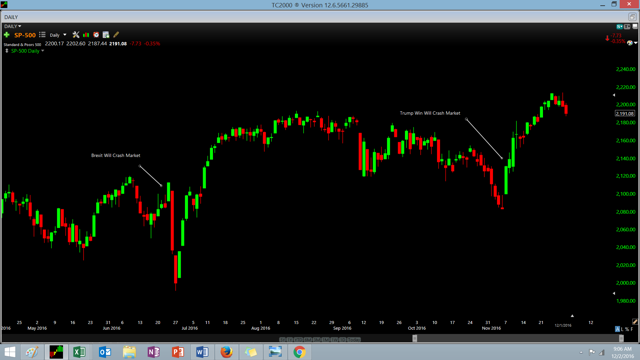 (Source: TC2000.com)
Everyone, including those that don't invest in the market were sure that a Trump victory would be catastrophic for financial markets. The S&P-500 went nowhere for weeks as the idea of a Trump presidency became a possibility, and began to dip into election week. In my opinion, the market was already pricing in the worst case scenario of a Trump election. The market had gone nowhere from its July highs, and had consolidated its gains leaving the possibility for a Trump election to occur. After Trump won the election, the market went on to gain 3.5% over 12 trading days. Was this because Trump won the election? No. This was because the market absolutely hates uncertainty, and it had already discounted in the possibility that Trump could win. The market loves to cause the most pain to the most people, and the bears were taken out and shot post-election.
I believe we have a similar scenario unfolding for gold, as everyone is sure that a rate hike will be the death knell for gold. Most are in agreement that the Fed will hike rates, and see gold making new lows below $1,050/oz. I believe what the gold market truly wants is certainty, and just wants to get this rate hike out of the way. If we get the rate hike as expected, I would be surprised to see the gold market continue lower. The gold market has already digested most of this bad news in my opinion, and is anxious to get the rate hike cloud hanging over its head over with.
To confirm the morose sentiment in the gold sector, the Daily Sentiment Index is showing the exact same thing. Gold bulls are currently at the 9% level, and the 21-day moving average for sentiment is at 16%. This is extremely rare for gold sentiment, and the 21-day moving average is now below the levels it got to last December. What this essentially means is that while gold sentiment can get very depressed, it typically does not stay down here for this long.
(Source: Daily Sentiment Index, Author's Chart)
Chart Legend - White Line: Gold Bullish Sentiment, Blue Line: 5-Day Moving Average, Green Line: 10-Day Moving Average, Red Line: 21-Day Moving Average
As we can see from the above chart, gold has been beneath the 20% bulls level for nearly a month now. Bullish sentiment briefly spiked to the 50% post-election, but has been trounced since. The one positive that comes out of this chart for gold bulls: we are currently setup for a massive buy signal, if sentiment can break out. The only other period in the past 4 years where gold spent 3 or more weeks under 20% bulls was in December of last year. Once gold bullish sentiment regained its sentiment moving averages, there was no looking back. While we currently do not have a buy signal yet, I am very closely monitoring this as we are in the zone from which these very rare buy signals occur.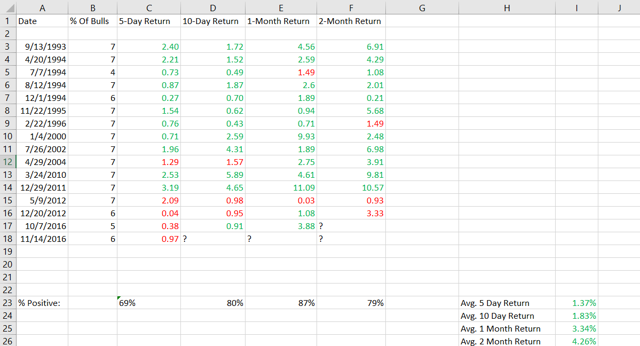 (Source: Author's Table)
The above table is a look at all of the past occurrences when gold sentiment dropped below 8% bulls, while gold closed above its 100-week moving average. The goal of using the 100-week moving average was to control for instances when gold was oversold but in a pronounced bear market. Oversold sentiment readings are much less reliable, and more or less useless when assets are in clear bear markets. The same is true of overbought readings when an asset class is in a very clear bull market. By using the 100-week moving average, I am able to avoid looking at readings when gold was in the midst of violent bear markets. This means that one of the most powerful signals in late 2015 was omitted, as gold had still not broken above its 100-week moving average.
Looking at the table above, there have only been 16 of these occurrences over the past 23 years. The results are quite positive for bulls, with all different time frames seeing a positive average return. The 5-day return is the least reliable signal, with investors only seeing a positive return 69% of the time. Moving out to the 10-day average forward return, the statistics are much more impressive. Gold sees a positive forward return 80% of the time, with an average return of 1.83%. Moving to the 1-month return, we can see the most statistics. Gold is up 87% of the time, with an average return over that period of 3.34%.
Technical Outlook & Summary
The Gold Miners Index continues to trade in a down-sloping channel since its August highs. While I am nibbling at positions here, I am not getting overly aggressive until $22.50 is regained on the upside. I believe this would fuel a short covering rally for those short GDX, a very popular trade currently.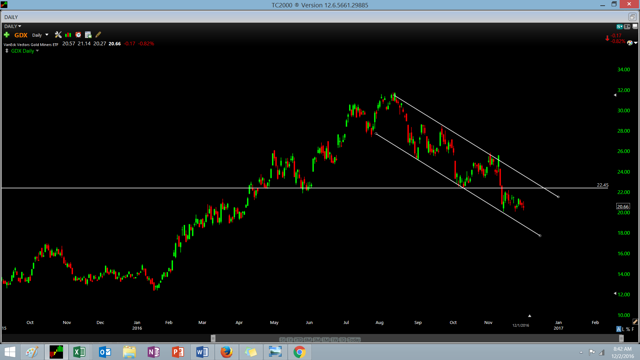 (Source: TC2000.com)
At this juncture, I have decided to be patient and wait for a sentiment buy signal on gold to deploy more capital. I have added 5% exposure in the past 2 weeks, and now nearly have 40% of my accounts long gold juniors. I have chosen not to buy the GDX itself as I prefer the best in breed gold miners in my portfolio. The GDX itself is made up of many dogs and laggards like Goldcorp (NYSE:GG), Anglogold Ashanti (NYSE:AU), and Randgold (NASDAQ:GOLD), and I'd rather hold the best of breed juniors.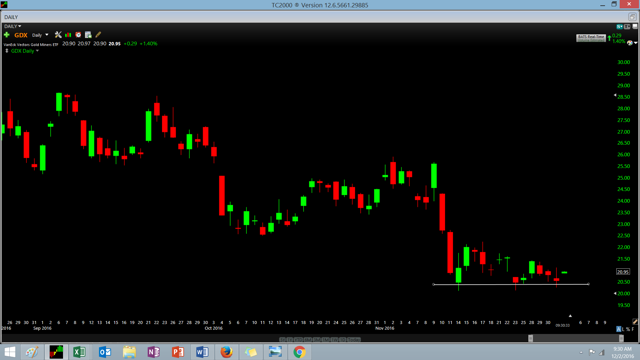 While there is no reason to get overly bullish on gold at these levels, sentiment is saying that we are much closer to a bottom than a top. I believe patience to be very important when investing, and this is why I am patiently waiting for the green light on my sentiment indicator. If I do not get the green light, then there is no need to get aggressive in the metals. If and when I do get my sentiment buy signal, I will immediately be putting a half position long gold back on. I will go into further detail on exactly what I am looking for in my gold article this weekend.
Things often feel their worst before they turn, and I believe this is true of the gold market currently. If I am wrong I have stops on my positions, but I don't remember the last time there were so many negative analysts on gold. For the time being the GDX is doing what we want it to, and attempting to bottom ahead of gold - a positive sign for gold bulls.
(Source: TD WebBroker Account)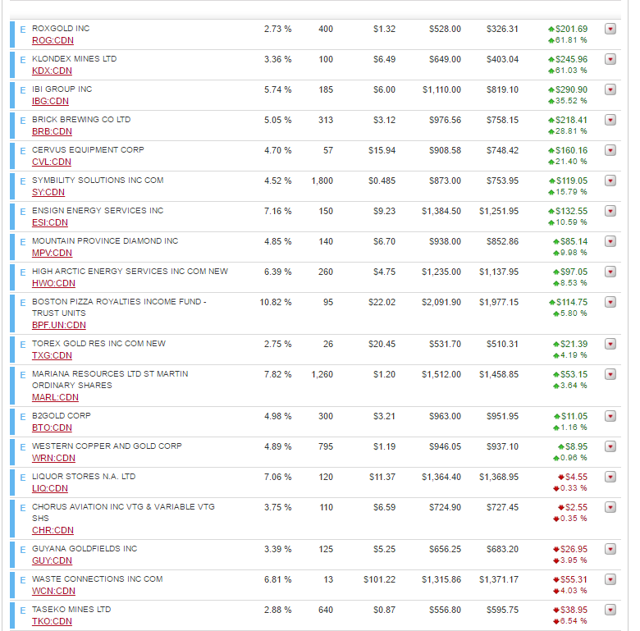 (Source: CIBC Investors Edge Account)
To provide readers with full transparency, I have shown my two main investment accounts above.
Disclosure: I am/we are long MRLDF, GUYFF, ROGFF, BTG, TORXF, KLDX, ICGQF, RDEMF, GSV, CGOOF.
I wrote this article myself, and it expresses my own opinions. I am not receiving compensation for it (other than from Seeking Alpha). I have no business relationship with any company whose stock is mentioned in this article.
Additional disclosure: If you liked this article and found it useful, please feel free to follow me by clicking on my name next to my avatar at the top of this article. I also invite you to follow me at www.twitter.com/TaylorDart01 where I routinely share my entries, exits, and stops on new positions, as well as updating followers on sentiment data on markets I am following.